The Real Reason Undertaker Gave Up His Basketball Career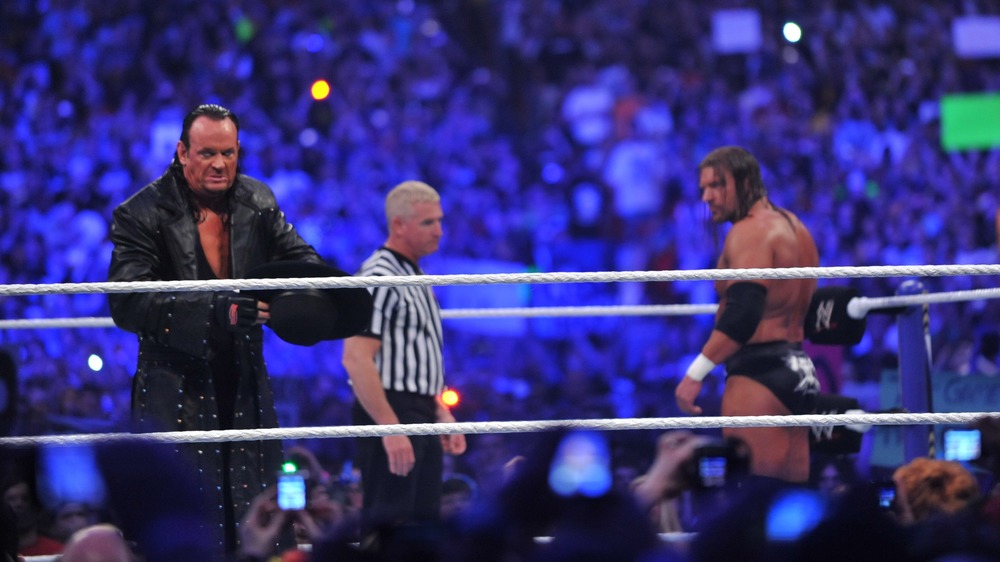 Moses Robinson/Getty Images
The Undertaker left the pro wrestling world reeling on Sunday, November 22, 2020, when he announced that he was finally retiring from the sport for good. His retirement came exactly 30 years to the day since his spectacular WWE debut at the same event, and throughout that time, he piled up the accolades like they were the bodies of the opponents he left beaten and broken along the way. Among these was a legendary clash with Hulk Hogan at the beginning of his career, while Hogan was at the pinnacle of the wrestling pyramid. "No one was too big," reads his official WWE bio, "and no one was safe from his gloved grip."
The Undertaker fittingly won all the inaugural bouts of the WWE's more macabre-themed fights: Casket Match, Buried Alive Match, and Hell in a Cell. He's been a WWE and World Heavyweight Champion several times over and had a winning streak so long and legendary that it's remembered simply as "The Streak." After such a stellar career in the ring, one thing's for sure: The Deadman was made for wrestling. At 6'10', the towering Texas native combined gigantic size with agile athleticism and a killer gimmick to truly dominate the sport for longer than most could ever dream of.
He almost ended up stomping around the basketball court, rather than the ring, before deciding to become a professional wrestler.
The Undertaker what bulking up for basketball when someone mentioned wrestling to him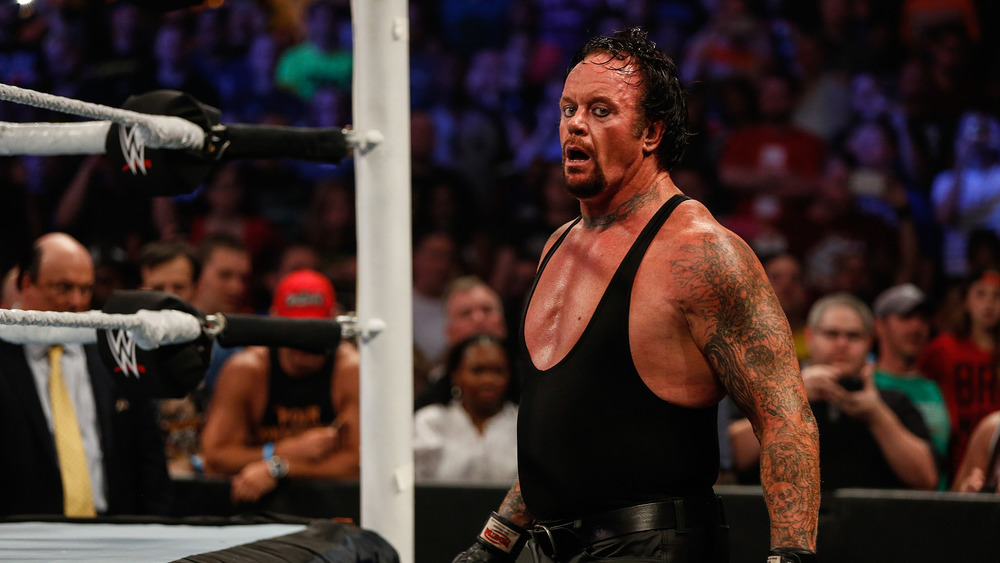 Jp Yim/Getty Images
According to The Guardian, Mark Calaway (his real name) enjoyed watching wrestling as a kid growing up in Houston, Texas, but lost interest as a teenager. At nearly 7 feet tall, young Calaway was a shoe-in for the basketball team. He played center in college and was offered contracts from professional teams in Europe.
But one day, while in the gym to bulk up, someone told him about wrestling camp. Calaway knew he was quick and athletic. He doubted his chances for long-term success in basketball, but he knew that his size and agility would help him stand out in the ring. "Most of the big guys were plodders," he said. "They'd walk around and knock the crap out of you; pick you up and throw you. I could do that while moving around nimbly, too. Once I started training I was like: '... this is what I want to do.' It was in my blood."
But Calaway's coach didn't like to see him go. Undertaker biographer A.R. Schaefer wrote that in 1986, his coach talked with him and said he wanted him to focus more on basketball. But Mark wasn't having it. Just like fellow big-time wrestler Big Show, he quit basketball — and college altogether — to focus completely on wrestling. He trained by day and worked as a bartender at night to get by.
Giving up basketball turned out to be the best decision The Undertaker ever made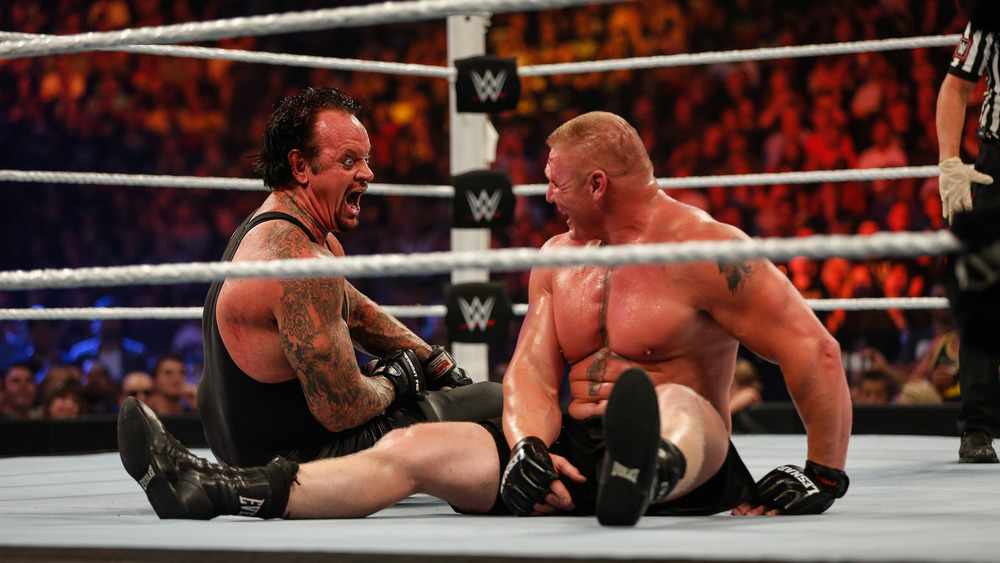 Jp Yim/Getty Images
Like most wrestlers, Calaway began on the independent circuit. He wrestled for a time in the Dallas-based promotion owned by his childhood wrestling hero Fritz Von Erich. He finally got a regular gig with the United States Wrestling Alliance in 1989. As Shaefer noted, Calaway moved to Memphis, Tennessee, and began wrestling under the name Master of Pain in the USWA. He won his first Heavyweight Championship in April of that year, defeating one of the promotion's most popular wrestlers, Jerry "The King" Lawler. From there, he went on to wrestle in the WCW for a year, but quickly moved on to the promotion he would take over with an iron death grip.
At the 1991 Survivor Series, just a year after his on-screen WWE debut, The Undertaker took on Hulk Hogan for the WWF Championship (it became the WWE in 2002). With a little help from Hulk's nemesis Ric Flair and The Taker's aptly named manager Paul Bearer, The Deadman stripped Hollywood Hogan of the World Championship belt. He became the youngest person to ever hold the title at that time. Although Hogan would take the title back in a rematch a mere six days later, the win skyrocketed The Undertaker to wrestling stardom and sparked off a career that was definitely more spectacular and spectral than anything he could have achieved on a basketball court.