What It's Really Like To Celebrate Christmas At The White House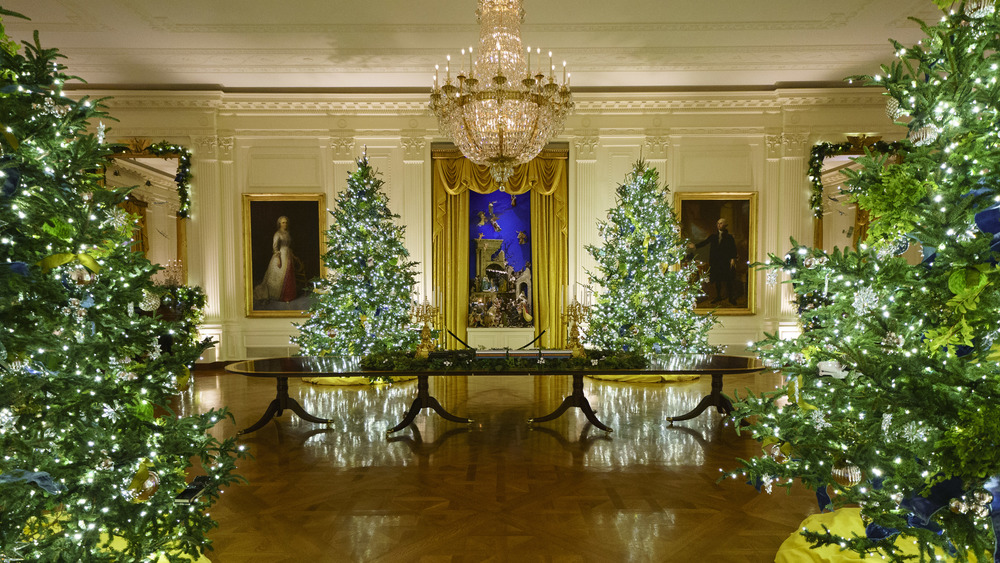 Drew Angerer/Getty Images
On December 1, 2020, First Lady Melania Trump unveiled this year's White House Christmas decorations; according to CBS News, these decorations "may just be the most anticipated of the Trump presidency," as it is the first holiday season following the release of tapes that contained "the first lady's expletive-filled 2018 complaints" about holiday planning at the White House.
For all the modern drama surrounding Christmas at the White House, the tradition had very humble beginnings. According to the White House Historical Association, pre-20th century presidential administrations didn't officially observe Christmas. The president and his family traditionally decorated "modestly with greens and privately celebrated the Yuletide with family and friends." The first White House Christmas tree appeared in 1889, during the presidency of Benjamin Harrison. 
Children living in the White House were often treated to a special celebration; Andrew Jackson held a children's "frolic" in 1834 that included an indoor snowball fight using specially made cotton snowballs. In 1903, Theodore and Alice Roosevelt held a Christmas "carnival" for 500 children that included dinner, dancing, music, and a sort of ice cream sculpture of Santa. A president didn't preside over a public Christmas celebration until 1923, however, when Calvin Coolidge oversaw the first lighting of a National Christmas Tree. In the 1950s, First Lady Mamie Eisenhower began the tradition of putting a Christmas tree in the White House's Blue Room, which remains the centerpiece of White House Christmas decorations to this day.
White House Christmas trees have themes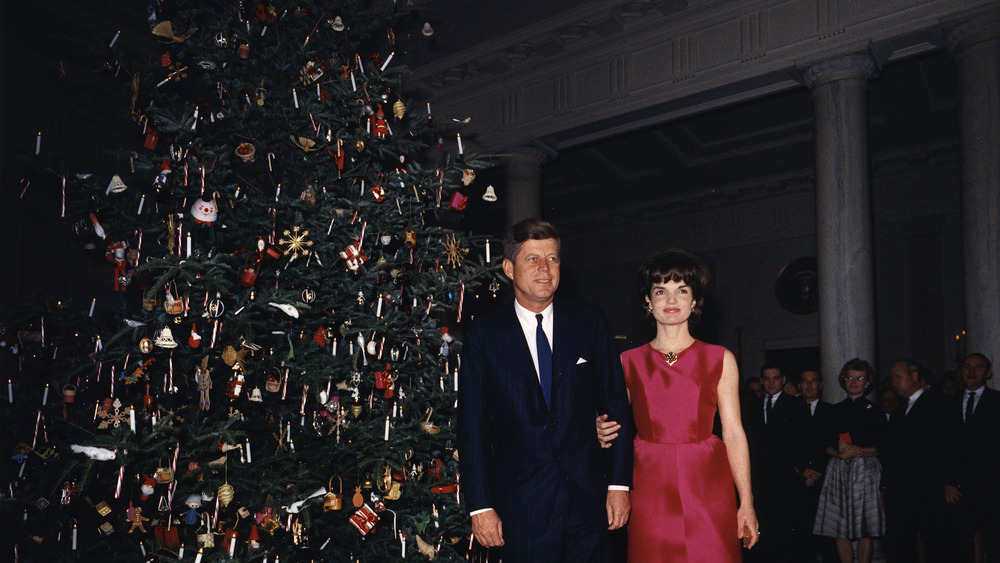 Darren Mccollester/Getty Images
In 1961, Jacqueline Kennedy began the tradition of selecting a theme for the Blue Room tree; she decided on the Nutcracker Suite, and decorated with ornaments depicting birds, animals, angels, and characters from the ballet. Other themes over the years include Laura Bush's 2002 theme "All Creatures Great and Small," which highlighted her love of animals as well as the many pets that had lived in the White House, and Michelle Obama's 2010 theme "Simple Gifts" because, per Obama, "the greatest blessings of all are the ones that don't cost a thing."
Since 1966, the National Christmas Tree Association has held a national competition in which growers vie to present the White House's Blue Room Christmas tree. This year's winner was a Fraser fir grown by Dan and Anne Taylor on their tree farm in Kearneysville, West Virginia, according to a press release from the National Christmas Tree Association. Since 1961, West Virginia has provided 4 of the Blue Room Christmas trees, per the White House Historical Association; North Carolina boasts the largest number of Blue Room trees, with a total of 13.