How Depeche Mode Scared Another Band Into Sobriety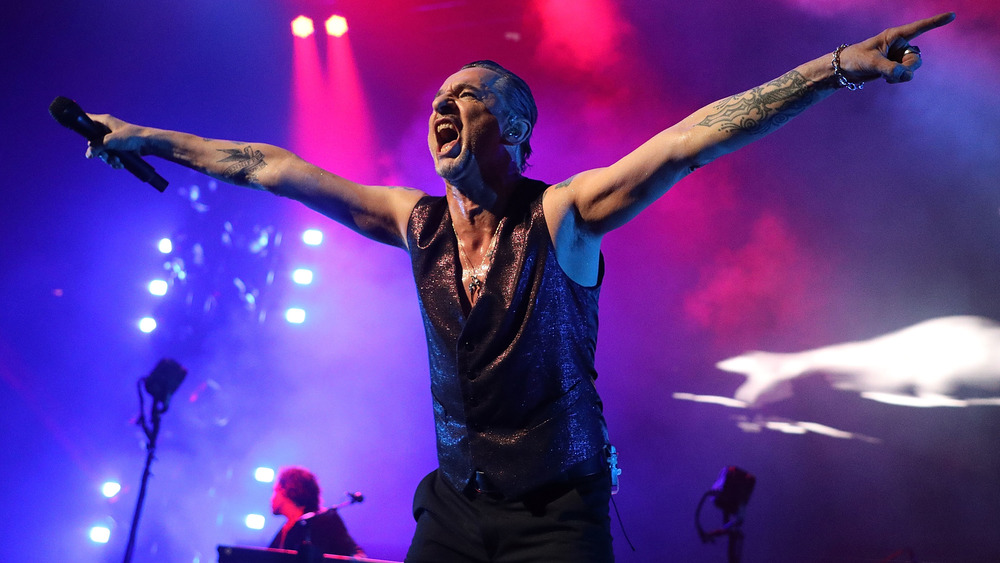 Taylor Hill/Getty Images
To say that Depeche Mode has had a bit of trouble with drugs in the past is to put things mildly. Much has been written about their rampant, crazed, 1990s drug phase during which audience members would throw bags of illicit substances on stage, as the Guardian says, or the time when frontman Dave Gahan overdosed on a speedball — a mixture of heroin and cocaine — the year after he attempted suicide in 1995, per MentalFloss, although Gahan called it a cry for help, not a legitimate attempt to take his life. As music's most successful synth pop/New Wave band — or as Uncut tellingly describes the group, "electro-sleaze" — Depeche Mode spiraled out of control after the group's rise to fame in the '80s. Members descended into alcohol abuse, drug addiction, and self-destructive behavior through the recording of 1997's Ultra. Thankfully, as the blog The Adventures of Miss Rocio recalled, Gahan has stayed clean since his speedball incident.
Imagine, then, Depeche Mode being so out of control that its members scared another band straight with their excesses. This was the case with Scottish rock outfit Primal Scream, who fused Rolling Stones-like songwriting with house and psychedelia by way of the UK's underground dance scene. The band's fourth album, 1994's Give Out But Don't Give Up, came out as Depeche Mode started a tour following the 1993 album Songs of Faith and Devotion. Gahan put in for Primal Scream to tour with Depeche Mode, and what they saw on tour changed them forever.
Depeche Mode's unintentional scared straight program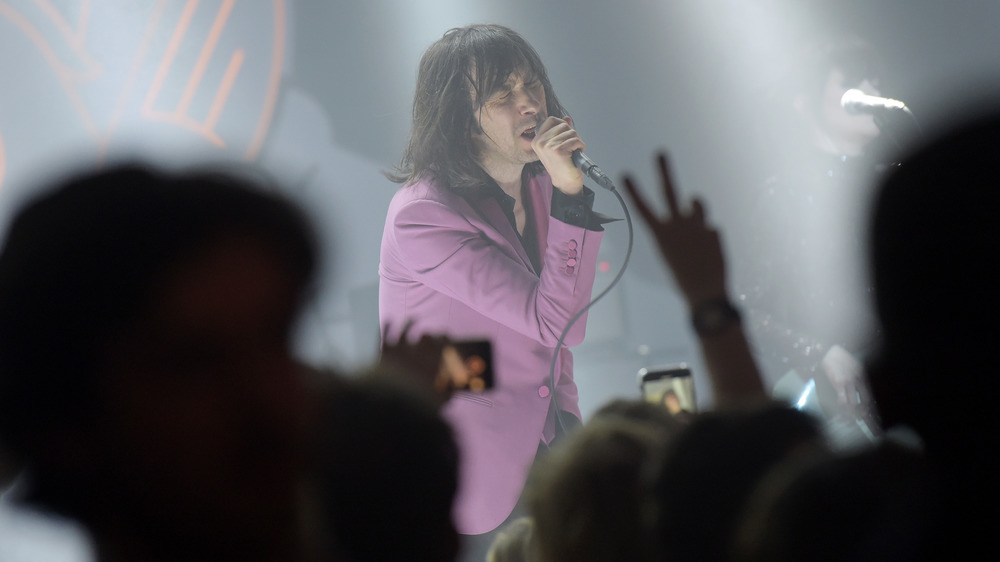 David M. Benett/Getty Images
It's important to note at this point that the members of Primal Scream were no stranger to drug abuse themselves. In an Express article, frontman Bobby Gillespie talked about drugs nearly destroying his life and music, and ruining his band's creativity rather than enhancing it. In a separate interview with the Guardian he went into detail: "We started off with speed, which was my drug of choice, then it was ecstasy then coke and pretty quickly we moved on to heroin." 
"It's like you're haunted. Drug addiction is a possession. The longer it goes on, the more extreme the behaviour and the self-loathing," Gillespie told Huck.
So how did such a hardcore user turn clean? Apparently even Gillespie's own experiences with drugs, possessive as they were, were so dwarfed by the Depeche Mode members' utter dependence that Primal Scream was scared straight. On the aforementioned tour, as the legend was retold on Reddit, Gahan was so messed up every night that he couldn't finish a single show to the end, leaving composer Martin Gore to play a solo track at the end of the night. It became overbearing, and intolerable, and Gillespie, specifically, started to rethink his choices.
In 2019, Gillespie said that he got totally clean "11 years ago," which puts the marker at around 1998. It took him some time to course correct, then, but in the end, personnel from both Primal Scream and Depeche Mode managed to kick their respective addictions.