Why Louis Armstrong Kept So Many Newspaper Clippings Of Himself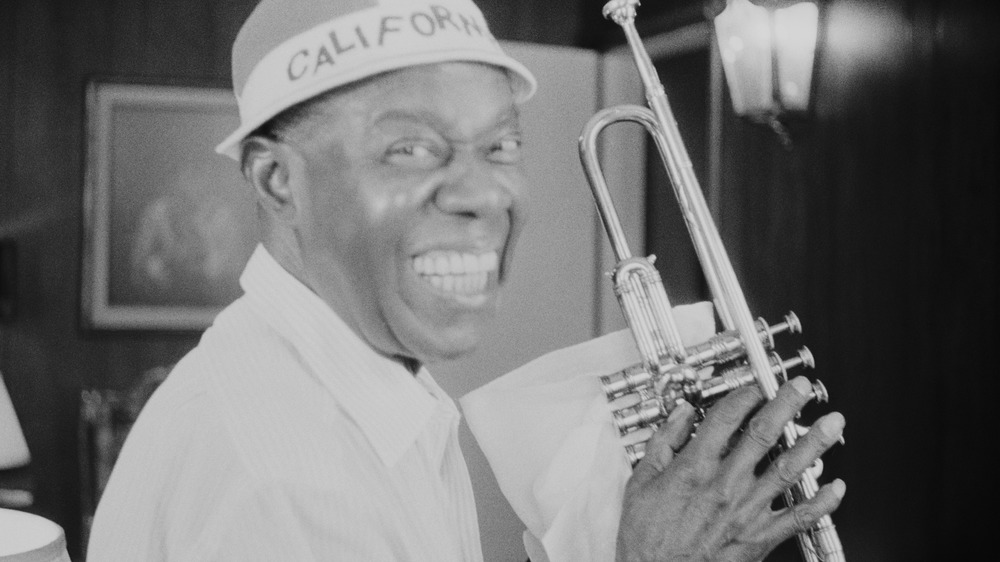 Express/Getty Images
Louis Armstrong — the man who brought us the inspirational "What a Wonderful World" and helped popularize and revolutionize jazz from the 1920s until his death in 1971 — was known for many things: the magical way he played a trumpet solo; how his voice caressed lyrics powerfully; for his vibrant stage presence and stunning smile. He was also known for collecting articles and other trivia about himself.
That's right, the jazz great liked collecting information about himself. Maybe because he was, as The New York Times said, "the first pop virtuoso of the recorded era ... who went on to become one of history's most famous entertainers."
Armstrong liked to keep things: his writings, letters, recordings and clippings and fans can see all of it on the internet because the Louis Armstrong House Museum digitized everything for public viewing after receiving a $3 million grant for the project. The result was a treasure trove for music lovers. As the New York Times explained, "All told, Armstrong's is not just one of the most well documented private lives of any American artist. It's one of the most creatively documented lives, too."
Armstrong was especially fond of clipping newspaper articles on himself — something he started doing in his 20s. He'd put them into scrapbooks and use the collection as a way of demonstrating his professionalism to club owners. Besides the practical reason of booking work with these collections, Armstrong was also watching how the media and the world perceived him.
A historical collection full of finds for Louis Armstrong fans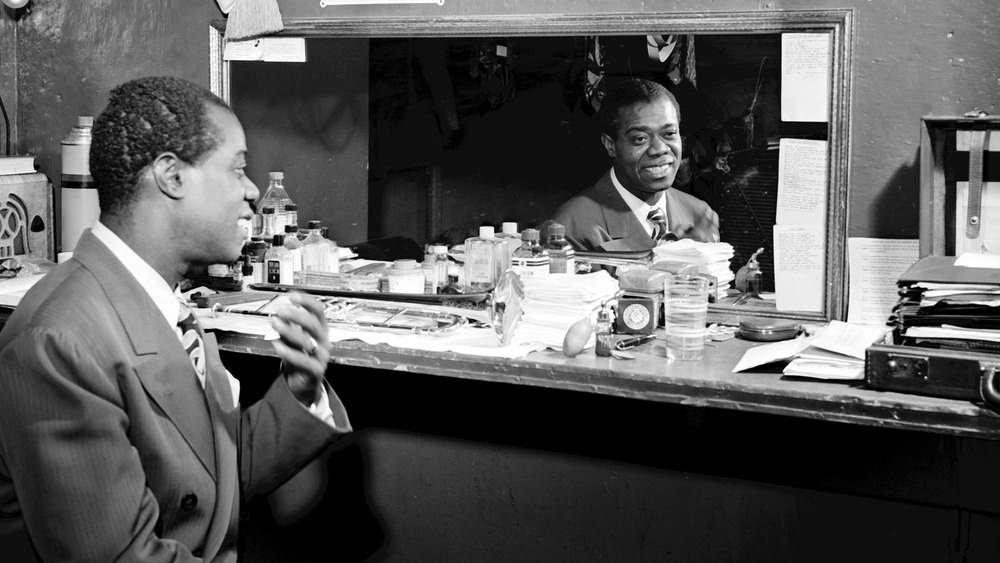 Donaldson Collection/Getty Images
The articles he saved weren't just about his music, either. He gathered together news pieces on things that happened to him, like the time his band got arrested in Arkansas when they shared a bus with their white manager and his wife in late 1931. As seen on the museum's website, the article entitled "Downtown Stage Troupe to Face Judge Instead of Arkansas Audience," as published in The Commercial Appeal, only mentioned Armstrong once — in the list of people charged by the authorities. 
The entire collection of items offers a historical perspective of Armstrong's life and the times in which he lived. He was also a great pen pal and often wrote letters to fans like this one to Madeleine Berard, which was six pages long and took him nine days to write. He also liked a good joke and would write informal "books" on his "Satchmo" (a nickname for the Jazz legend) stationery. Most of these were dirty jokes and poems other musicians told him during tours.
The museum's Louis Armstrong Collection contains about 1,600 recordings, 650 home recorded reel-to-reel tapes, 86 scrapbooks, 5,000 photographs, 12 linear feet of papers, letters and manuscripts, and much more. Whew. That's a lot of collecting.