How Was Christmas Celebrated During The Spanish Flu Of 1918?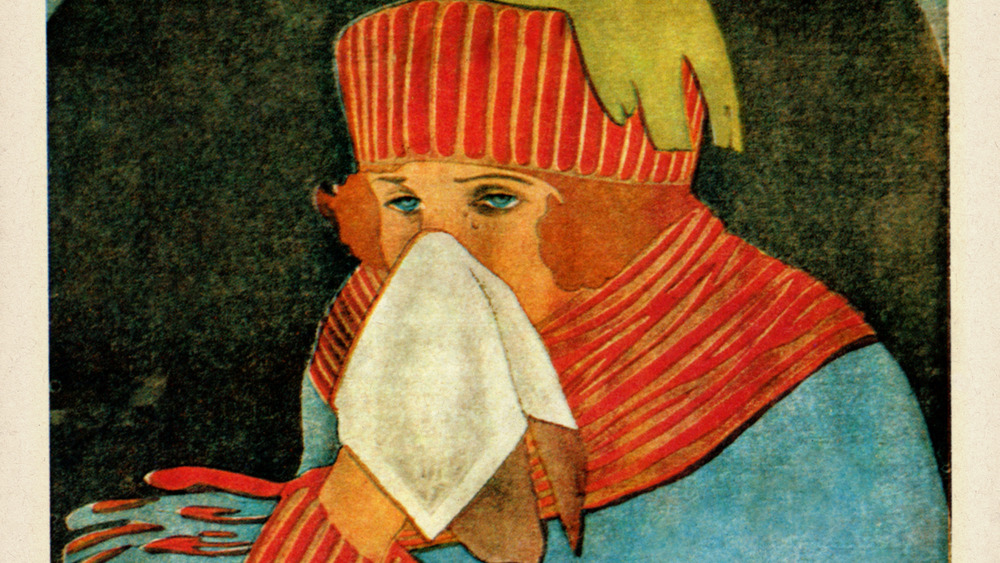 Fototeca Storica Nazionale./Getty Images
The holiday season of 2020 is missing many of its traditional gatherings and celebrations due to the global pandemic caused by COVID-19.
This is not, however, the first time in history that the holidays have been interrupted by a widespread and very contagious disease. Per the Green Bay Press Gazette, in 1918, in the midst of World War I, a flu pandemic, colloquially known as the Spanish Influenza or Spanish Flu, swept the globe. To help curb its spread, health departments ordered the closures of schools, theaters, bars, and churches. Christians were unable to celebrate Christmas by gathering to worship, to hear or participate in choir concerts, and other well-loved and important traditions used to mark the holiday by many.
On December 20, 1918, the Health Department observed that the numbers of flu cases had dropped enough to lift the seven week long ban on church services, although movie theaters remained closed. Per the Green Bay Press Gazette, in Wisconsin's Door County, "the churches swelled with the joyous music of the season once again."
Seattle reopened and suffered
Fototeca Storica Nazionale./Getty Images
Some cities experienced devastating public health after effects once they eased their lock down regulations. Crosscut reported that the city of Seattle had complied "with protocols familiar today" for several weeks, including "face masks, social distancing, the closure of all businesses, save ones serving essential needs of food and drugs, or workplaces devoted to the war effort, like the shipyards." After the Armistice ending World War I on November 11, 1918, people couldn't be stopped from gathering to celebrate, and on November 12, after five weeks of restrictions, the city reopened its businesses, schools, bars, and movie theaters.
The Armistice Day celebrations, coupled with people gathering for Thanksgiving, Christmas, and New Year's Eve, led to flu cases rising again. Out of the 5,000 Washington residents who died of influenza in 1918-1919, half of those died from January 1919 on. United States death rates suggest that the epidemic carried on through the winter of 1920, and that many people who lived through it suffered lasting effects.
History suggests that celebrating holidays during a pandemic by gathering in large groups, as one might during normal times, could have harmful and long-lasting effects.