The Truth About Eddie Van Halen's Temporary New York Subway Tribute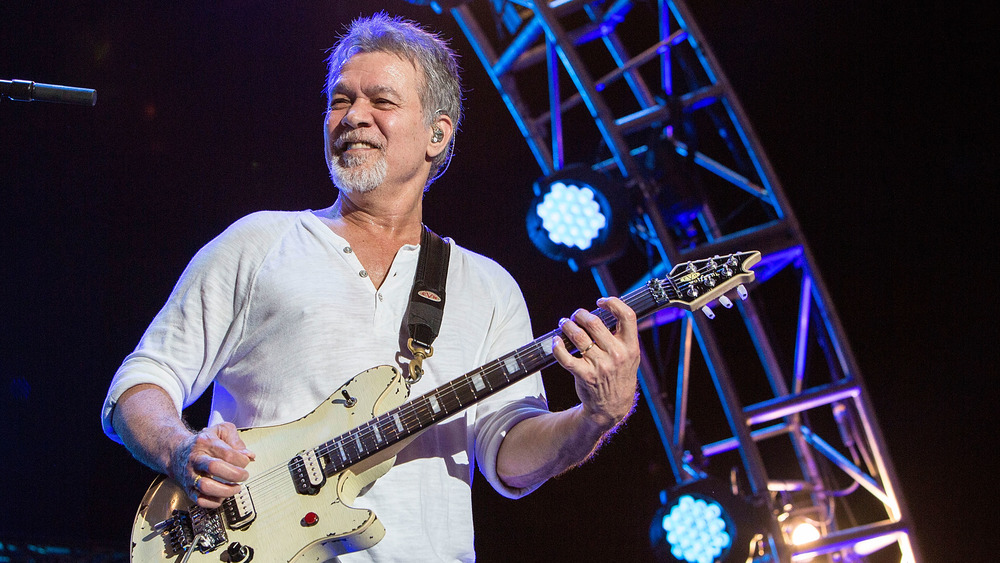 Daniel Knighton/Getty Images
This year the rock world lost one of the greatest guitarists in the history of rock. The death of Eddie Van Halen shook his fans to their cores in October. The legendary shredder died at age 65 after battling throat cancer for years. As the BBC reported the day after his death, tributes to the man who gave the world "Eruption" poured in from friends, family, fans, and other musicians who knew and idolized him. Kiss frontman Gene Simmons called him a "Guitar God," and Van Halen's on-again-off-again singer David Lee Roth posted a photo of Eddie and himself with the caption, "What a long, great trip it's been." Eddie's son Wolfgang, who broke the sad news to the world, said, "Every moment I've shared with him on and off stage was a gift. My heart is broken and I don't think I'll ever fully recover from this loss. I love you so much, Pop."
Other musicians who mourned on social media included Brian May, guitarist of Queen, who said, "those truly magical fingers opened a door to a new kind of playing," adding, "I treasure the moments we shared. His passing leaves a giant hole in my heart." Red Hot Chili Peppers bassist Flea wrote, "I love you Eddie Van Halen, an LA boy, a true rocker ... Break through to the other side my brother."
Eddie was also eulogized with a new trend that has become popular on the streets of New York City in recent years.
A street artist temporarily changed a subway sign to honor Eddie Van Halen
On the day of Eddie's death, a New York City street artist was also among those who paid tribute to him. Spin reported on October 12 that artist Adrian Wilson took credit for changing a sign at the Van Siclen Avenue subway station to read "Van Halen Ave" in homage to Eddie. But although Wilson claimed to have put the sign up on the day of Eddie's death, the guerrilla artwork apparently didn't get the same kind of traction as tweets from rock and roll royalty, and four days later the vandal artist seemed a little peeved at not having gotten the attention he'd hoped for. 
"Come on people!" he said on Instagram. "I even explained on TV how this works and how easy it is. A famous person dies, look up the name of a subway stop and put a sticker over it to memorialize the person. It's that easy! I left it 4 days for someone else to [make a sticker] head to Brooklyn and take the credit but nobody stepped up, so ok, I guess I've got to do it myself ... you're welcome." In spite of his petulant tone, we're lucky he got irked enough to toot his own horn, because the authorities didn't let the sign stay up for long. Wilson finished off his post with some news: "UPDATE: It's not there now."
The popular trend of subway vandalism art as tribute to pop culture icons
The "Van Halen Ave" sign wasn't Wilson's first go at defacing subway signage in this way. When former Supreme Court Justice and progressive pop culture celebrity Ruth Bader Ginsburg died in September, he altered a sign at the 50th Street Subway Station to read "Ruth St." In the Instagram post in which he took credit for it, Wilson said, "Let's have some young positive women filling that bench."
But he is not alone in paying his respects in this way. According to Variety, Spotify has taken over NYC subway stations a couple times in recent years. In April 2018, the music streaming platform transformed the interconnected Broadway-Lafayette and Bleecker Street Subway Station into a monumental tribute to David Bowie. Basically a museum exhibit in its own right, it was also meant to promote the Brooklyn Museum's "David Bowie Is" exhibit that celebrated the singer's life and music. The year before, Spotify painted the Union Street Station purple in honor of the music of Prince returning to the platform.
The trend is a fun way to remember the exceptional people who have contributed so much to our lives, and it looks like it is gaining popularity. Who knows which other celebrities will be honored in this way, and what creative tactics will be used to do so? We just ask that the next one not come for quite some time. No question: 2020 has been one rough year.