Why Trent Reznor Was Initially Hurt After Johnny Cash Did A Cover Of His Song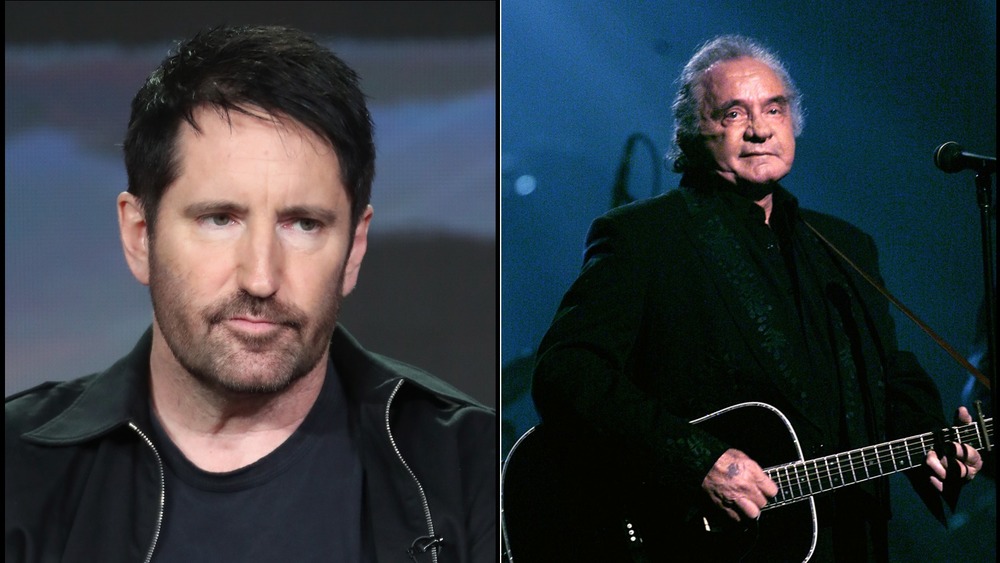 Frederick M. Brown, Scott Gries/Getty Images
Only a sourpuss like Trent Reznor could complain about a legend like Johnny Cash covering one of his songs. Anyone else would be honored that such a storied singer/songwriter liked their song enough to give it his own personal touch. Reznor's relationship to Cash's cover of the song "Hurt" is an emotional rollercoaster that's totally befitting the moody industrial rocker who has no problem holding a petty grudge for decades (see: his feud with Marilyn Manson).
According to Music Radar, Reznor was initially "flattered" by the idea of the Man in Black covering his song. But that was as far as it went in his mind. He apparently didn't expect anything to come of it. "Two weeks went by," said Reznor. "Then I got a CD in the post. I listened to it and it was very strange. It was this other person inhabiting my most personal song." But even though that inhabitant was the man who wrote "Folsom Prison Blues," "Ring of Fire," and "I Walk the Line," among so many other country music classics, Reznor didn't like what he heard. "I'd known where I was when I wrote it. I know what I was thinking about. I know how I felt. Hearing it was like someone kissing your girlfriend. It felt invasive." For a rock star who tries to project such a gritty image, the Nine Inch Nails frontman sure does have a touchy, sensitive side.
Trent Reznor eventually warmed up to Johnny Cash's cover of 'Hurt'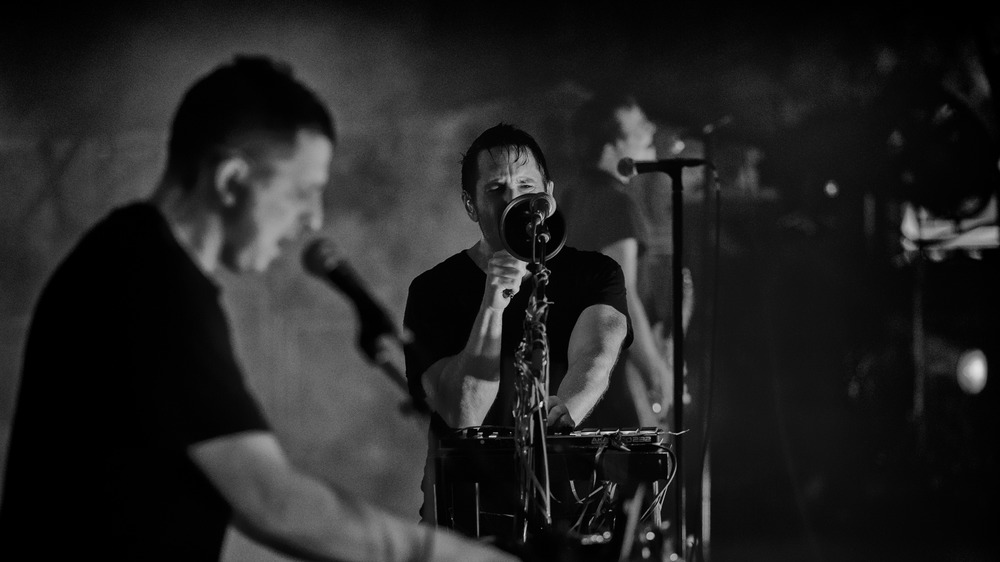 Christopher Polk/Getty Images
Although his first impression of the song made him feel like a whiny cuckold, Reznor was eventually able to realize the work of art that Cash had created from the track. The poignant music video for the song was what did it for him. "It really, really made sense and I thought what a powerful piece of art ... For anyone who hasn't seen it, I highly recommend checking it out. I have goose bumps right now thinking about it," he said, then patted himself on the back for his part in the whole thing. "I never got to meet Johnny but I'm happy I contributed the way I did. It felt like a warm hug."
After the video won him over, Reznor went on to say what he should have said the moment he heard that Cash was interested in recording it. "Having Johnny Cash, one of the greatest singer-songwriters of all time, want to cover your song, that's something that matters to me. It's not so much what other people think but the fact that this guy felt that it was worthy of interpreting. He said afterwards it was a song that sounds like one he would have written in the '60s and that's wonderful." The cover was released to critical acclaim, and as the Financial Times noted in 2019, the song pretty much became a Johnny Cash song. "That song isn't mine anymore," said Reznor.
Other artists were grateful Johnny Cash covered their songs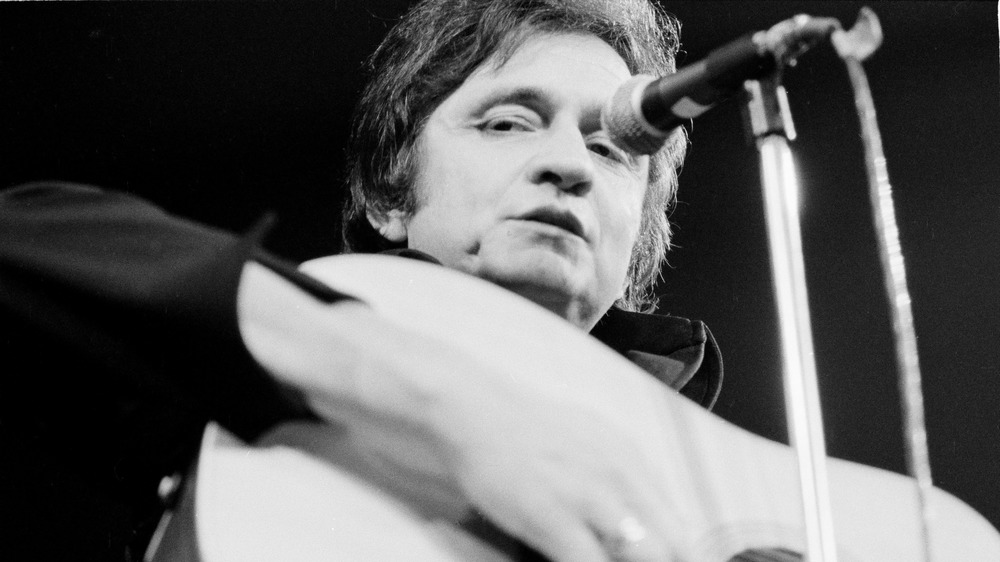 Michael Putland/Getty Images
As noted by Radio X, Cash worked with producer Rick Rubin on several soulful covers during the later years of his life, including songs by Tom Waits and Leonard Cohen for Cash's 1994 album American Recording. Two years later, American II: Unchained featured songs by Tom Petty, Beck, and Soundgarden. And he covered songs by Nick Cave and U2 for American III: Solitary Man, released in 2000.
By the dawn of the 21st century, Rubin was looking for more alternative material for Cash to cover. Another that piqued the critics' interest, for the contrast of its original form and creator from Cash's country style, was his cover of Depeche Mode's 1990 hit "Personal Jesus." He stripped the song down to just an acoustic guitar, piano, and his gruff voice, and it worked. "I heard that as a gospel song," said Cash, according to Country Thang Daily. "And if you think of it as a gospel song, it works really well."
For their part, the new wave rockers were unaware that he'd covered it before he recorded it, but when they did finally hear about it, they didn't whine like Reznor. "I think when you're somebody of Johnny Cash's caliber, you don't ask for permission," the band said. Because really, who could really have a problem that someone as cool as Johnny Cash wanted to record their song?