The Reason Twisted Sister's Dee Snider Decided To Record His Hit Christmas Song
Astrid Stawiarz/Getty Images
Dee Snider was the flamboyant, big haired, heavily made up lead singer for '80s metal icons Twisted Sister. He's hosted the syndicated radio show House of Hair since 1997, on which he plays hair metal, glam rock, and hard rock, punctuated by his catchphrase, "If it ain't metal, it's crap!" It's therefore pretty surprising that Snider is the author of a hit Christmas song, of all things — and Snider himself agrees.
In an interview with Ultimate Classic Rock, Snider laughingly declared, "Over 30 years ago, I'm not going to release a Christmas song! I would have punched you in the face for saying that Twisted Sister would do a Christmas album!" But his wife Suzette requested that he write a holiday tune — she pointed out that as a "classically trained counter-tenor" he was perfectly capable of doing so, even if it was far outside his usual heavy metal wheelhouse. He rose to the challenge and wrote what he calls a "legit Christmas song" called "God Bless Us Everyone," and had session musicians record it. The title later changed to "The Magic of Christmas Day." Boys II Men expressed interest in recording it, but it didn't work out. That was far from the end of the line for the song, however.
The surprising Dee Snider/Celine Dion connection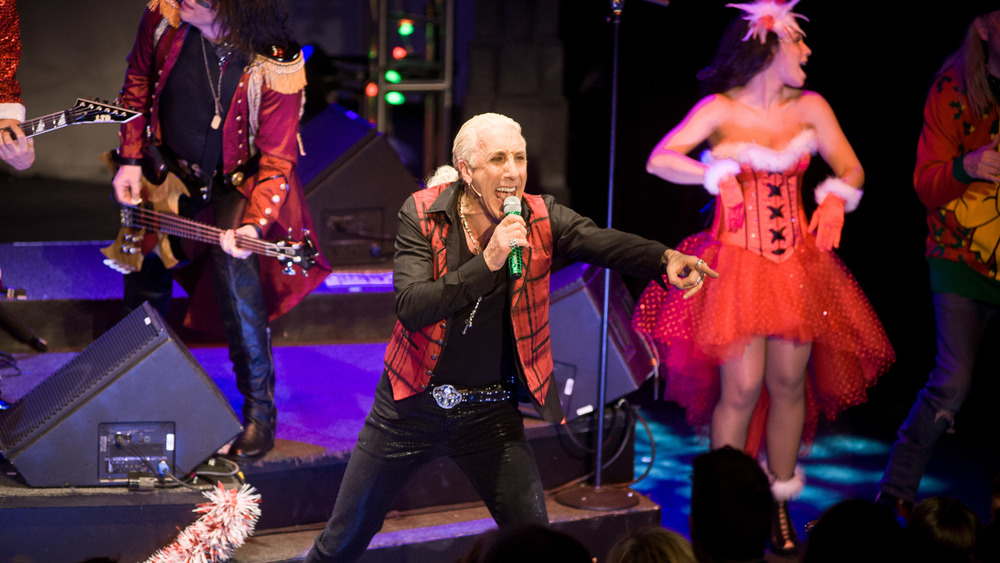 Timothy Hiatt/Getty Images
The early-to mid-1990s were not a prosperous time for Dee Snider, so it was exciting if unexpected news when he received a call from producer Ric Wake, who told him that none other than Celine Dion was interested in recording "The Magic of Christmas Day." Snider asked if she knew who'd written the song, and when Wake replied that he hadn't told her yet, Snider responded, "Do not tell her that Satan wrote her Christmas song. Just put it on the f*****' album!" Sure enough, the song is simply credited to "D. Snider," and the album, 1998's These Are Special Times, peaked at number two on the Billboard Top 100, number one on the Top Holiday Albums chart, and per RIIA, has sold over 5 million copies in the United States alone. Says Snider, "Saint Celine gave my family a gift, and now the song has taken on a life of its own." 
Snider has since embraced the song he thought he'd never be able to perform, incorporating it into his holiday musical Dee Snider's Rock and Roll Christmas Tale and recently recording a new version, sharing vocal duties with Halestorm's Lzzy Hale. Keeping the metal tradition going, Dokken and Foreigner bassist Jeff Pilson helped create the arena-friendly, rock anthem version of the song after Snider told him, "Look, think Queen, think Trans-Siberian Orchestra." Ultimate Classic Rock calls it "a new holiday classic which will find a home on many playlists for years to come."