The Tragic Death Of Reggie Lewis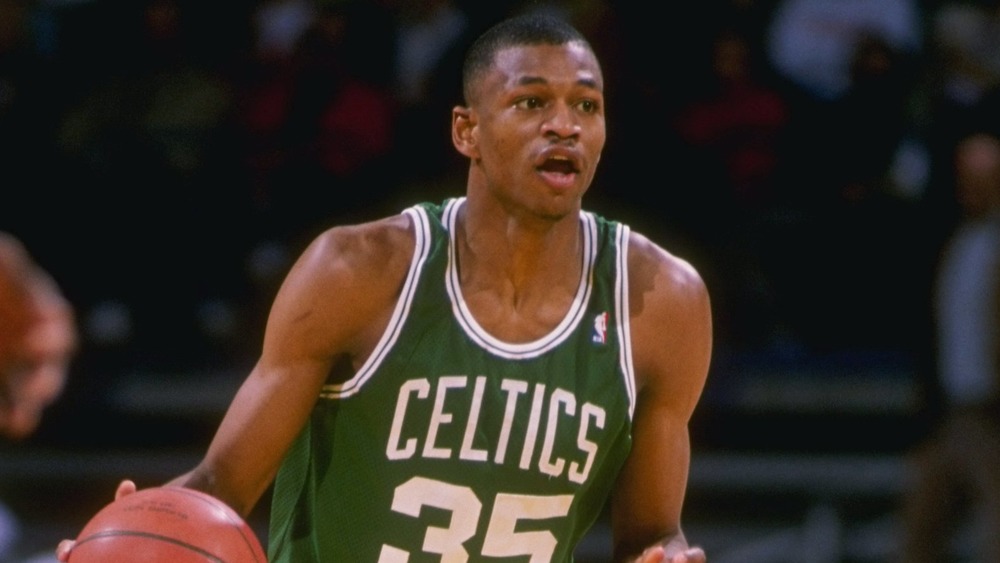 Jonathan Daniel/Getty Images
Baltimore native Reggie Lewis was on his way to becoming an NBA legend when the young basketball star tragically collapsed on the court, leading to a death that shook the sports world. The otherwise healthy 27-year-old managed to achieve a great deal during his six-year career with the association, becoming an All-Star, a Celtics captain, and a mentor to underprivileged youth.
Fellow Celtic Larry Bird had high praise for Lewis's work ethic. "When Reggie first came into the league, he really didn't know how to play the game. He shot the ball. That was about it," Bird told ESPN. "But he was a worker. He spent a lot of time improving his game. He loved it. You could always tell that."
Per ESPN, Lewis proved that he could pull off insane feats throughout his tenure. From 1988-1993, Lewis managed to block Michael Jordan four times in a single game and served as only the sixth player at the time to score 7,500 points, 1,500 rebounds, 1,000 assists, and 500 steals. The other five were all Hall of Fame inductees, so it's not a stretch to say that Lewis was on the path to greatness. Unfortunately, that path was cut tragically short.
Nobody foresaw his death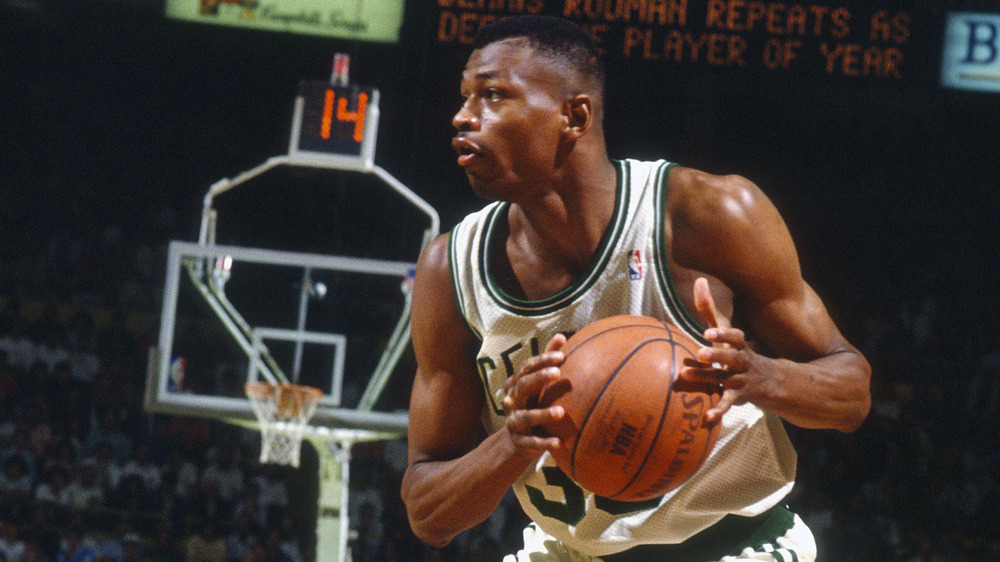 Focus On Sport/Getty Images
As ESPN reports, on July 27, 1993, Lewis collapsed on the basketball court during a practice at Brandeis University, just outside Boston.The All-Star was pronounced dead two hours later. His cause of death was cited as hypertrophic cardiomyopathy, a common athletic ailment where the heart thickens, eventually causing heart attacks and cardiac arrest.
Per CBS, Lewis had collapsed one time before, during a playoff game earlier that year against the Charlotte Hornets. He revived on his own, but was pulled from the game due to shortness of breath and dizziness. While a doctor diagnosed the athlete with hypertrophic cardiomyopathy in the spring (and deeming the disease career-ending), Lewis sought a second opinion from another area hospital, where another doctor gave the basketball star a less serious, non-fatal diagnosis.
The news of Lewis's untimely and unexpected death left a long-lasting hole in the Boston community and the sports world as a whole. His relative youth, his dedication, and his clear potential made his death all the more poignant. "He was on his way to being one of the best 2-guards in the league," said friend and former teammate Brian Shaw.