The Truth About Tom Brady And Rob Gronkowski's Relationship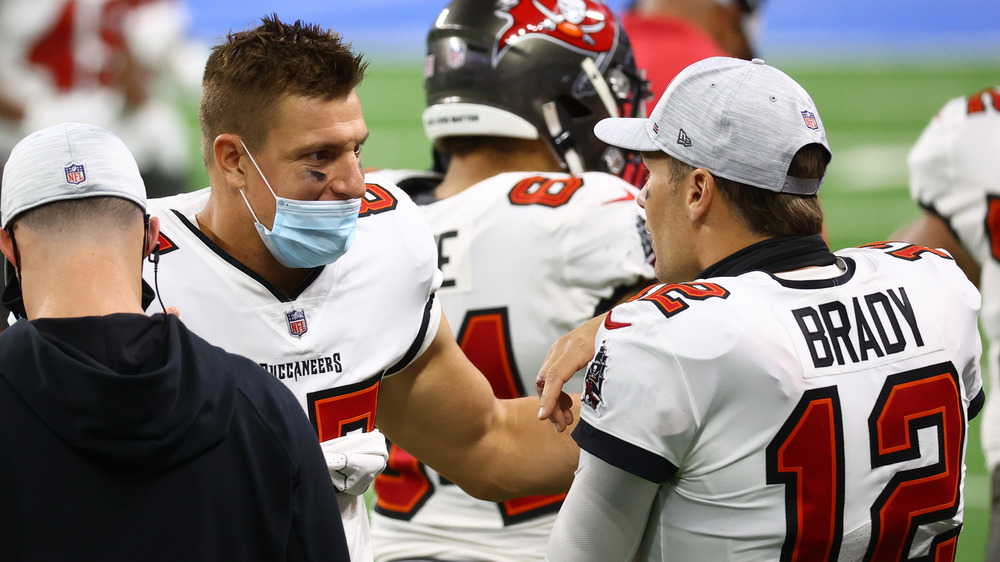 Rey Del Rio/Getty Images
Even if you're not the biggest football fan, you've got to love the story of a good old-fashioned American bromance. For the recent history of the Tampa Bay Buccaneers, which has seen the team achieve their first playoff appearance since 2007, per ESPN, is, at heart, exactly that.
The recent successes that the Buccaneers have enjoyed have in part been due to two signings that have together heralded a change in the team's fortune: the world-renowned veteran quarterback Tom Brady and skilled tight end, and until recently, frustrated talent Rob Gronkowski, both formerly of the New England Patriots. Brady's 20-year career with the Patriots saw him lead the team to nine Super Bowls, winning six, was saluted by the team owners, the Kraft family, and had billboards calling him "the greatest of all time," according to CBS Boston. Tom Brady, 43, spent a total of nine years playing alongside his 31-year-old teammate, known affectionately as "Gronk," forming what Sportscasting described as "one of the most unstoppable tandems in the NFL. Gronkowski himself earned three Super Bowl titles with the Patriots before shocking the world of football with the announcement of his early retirement in 2018, citing the toll that painful injuries were having on his mental health. "I want to be clear to my fans. I needed to recover. I was not in a good place. Football was bringing me down, and I didn't like it. I was losing that joy in life," Gronkowski said at the time, per ESPN. But thanks to his friendship with Brady, Gronk's return to football wasn't far away.
Tom Brady was key to bringing Rob Gronkowski to the Buccaneers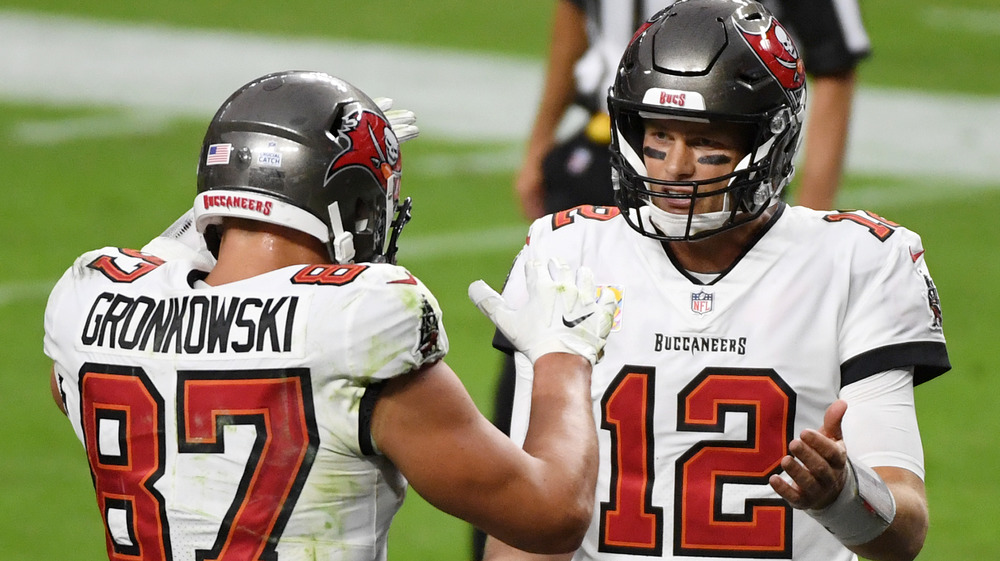 Ethan Miller/Getty Images
As reported by Nicky Swift, rumors that Rob Gronkowski's retirement wasn't necessarily permanent soon began to swirl: "The day that I retired, within 24 hours, there were already rumors that I was coming out of retirement," Gronk claimed on Watch What Happens Live with Andy Cohen.
But it was Tom Brady signing with the Tampa Bay Buccaneers in March 2020 that opened the path for Gronk's return to professional football, and Buccaneers coach Bruce Arians later told ESPN's NFL Live that Brady played an active role in bringing his former Patriot teammate to join him. "It was really Tom," Arians said. "Tom brought it up to me, and I didn't even think it was a possibility that [Gronkowski] wanted to come back ... [Brady] was adamant about, yeah, he really wants to play; he'd love to play with us."
Since then, the two have rekindled their partnership on the field, with the spotlight firmly on them as they enter the playoffs with the chance to pull off an astonishing second act and once again make it all the way to the Super Bowl.