Lamar Jackson's Net Worth: The Ravens QB Earns More Than You Think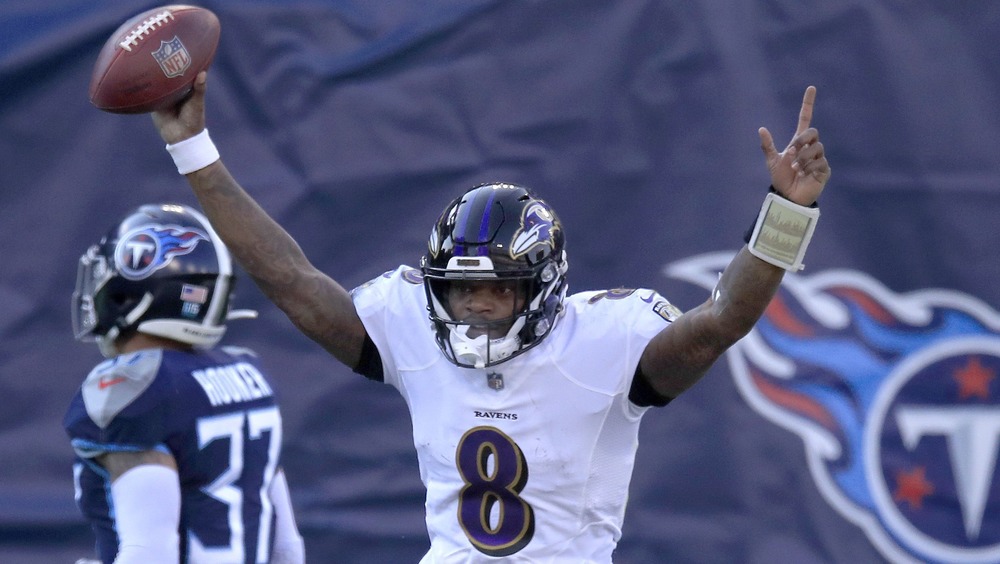 Andy Lyons/Getty Images
The Baltimore Ravens' 2020 season has been one of big highs (once again leading the league in regular-season rushing yards) and big lows (the small matter of that $250,000 fine imposed for lax COVID protocols and more than two dozen players testing positive). Now with Sunday's wild-card win over the Tennessee Titans, Ravens fans are looking ahead to the divisional playoff game against the Buffalo Bills while the rest of the country is busy sussing out the team's Super Bowl prospects.
One major factor that would-be analysts shouldn't overlook is Lamar Jackson. The Raven's quarterback is in just his second full season as a starter but had a record-breaking year. Selected by the Ravens in the 2018 draft following an injury to then-starter Joe Flacco, Jackson has since come into his own — even earning the title of the NFL's Most Valuable Player during the 2019 season. But now that we've established his MVP status to the league, it's time to take a look at just how valuable the Ravens think Jackson is: What's his net worth?
Record-setting play but not record-setting pay — at least not yet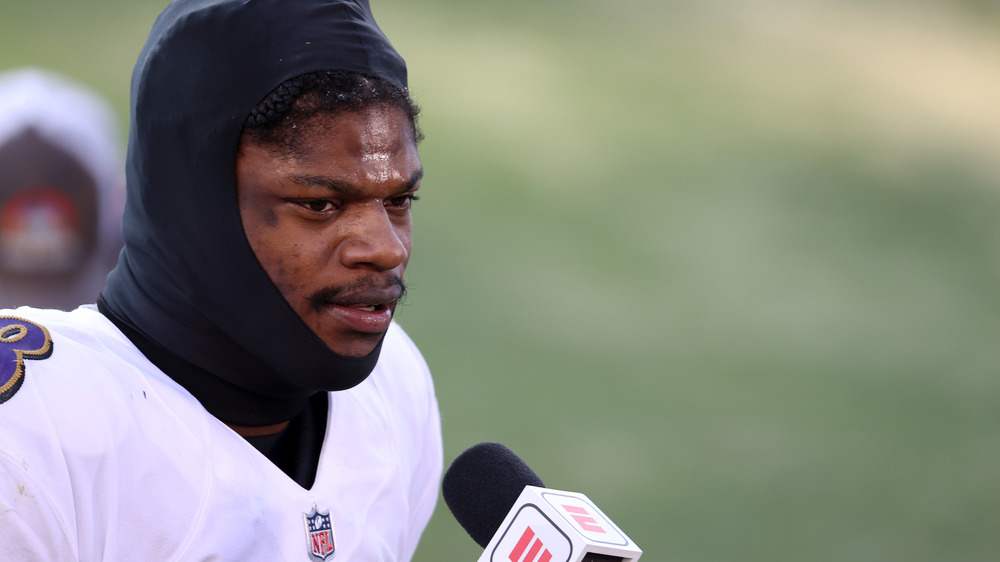 Andy Lyons/Getty Images
While Lamar Jackson has only been in the league for three seasons, he's more than proven his worth, setting records and racking up accomplishments along the way. That MVP award? Jackson was only the second player ever to win it by unanimous vote (following in the footsteps of Tom Brady). According to Sports Illustrated's FanNation, he's also the "only quarterback in NFL history to produce at least 3,000 passing yards and 1,000 rushing yards in a season." In 2020, Jackson also threw for a franchise-best 36 touchdowns.
But enough about stats, let's talk making history. At the start of the 2020 season, Jackson was part of an elite group that marked a historic milestone; he was one of ten Black starting quarterbacks to play the opening weekend of regular play, an NFL record. So Lamar Jackson's got the skills, stats, and stature, but has he got the salary? Er, not yet. Turns out he's still playing on his rookie contract, which at four years, $9.5 million (don't forget the $4.97 million signing bonus) isn't exactly pocket change but is smaller than some expect, given his remarkable output.
So while he may not be raking it in right now, as FanNation points out, Jackson's positioned for prime negotiating power when it comes time to talk extension. And who knows? He'll probably set a few more records before then.