The Truth About Tiger Woods' Navy SEAL Training
Mike Ehrmann/Getty Images
HBO's new documentary series on Tiger Woods, Tiger, depicts the legendary golf star at his best and worst, and shows how he conquered it all with a winning comeback — and victory — at the 2019 Masters.
The two-part series (part two premieres on January 17 — see HBO's preview) offers never-seen-before video footage and photographs, and lots of interviews with Woods' confidantes, including former caddy Steve Williams, golfer Sir Nick Faldo, and his father Earl's biographer, Pete McDaniel, according to HBO. Part one premiered on January 10. According to the cable channel, it "paints an intimate picture of the prodigy whose dedication and obsession with the game of golf not only took his fame and success to new heights, but also down a dark, spiraling road."
The documentary also examines Tiger's time with the Navy SEALs and talks about his fascination with the military, something many attribute to his father's military experience. As Business Insider reported, his dad served as a Green Beret. Tiger was named for Earl's friend Tiger Phong, an ARVN commander with whom Earl served in Vietnam. When Earl passed away in 2006 at the age of 74, Tiger "became obsessed with the Navy SEALs," according to the publication. 
Tiger Woods and his Navy SEAL training
Shutterstock
Woods started going to the group's training facilities and would do exercises with them, including skydiving, combat scenarios, and practice raids. Three months before his father died, according to a 2016 story by ESPN, Woods arranged a special tour at the Coronado BUD/S compound (Basic Underwater Demolition/SEAL training) where he spoke to students and admitted that as a child he dreamed of becoming a SEAL. 
He would visit the SEALs again almost a month after his father passed, going to a facility called La Posta, near San Diego. He was instructed on shooting the SR-25 sniper rifle and the Sig Sauer P226, a gun often used by the SEALs. His teacher that day was Petty Officer 1st Class John Brown, who told ESPN, "I definitely think he was searching for something. Most people have to live with their regrets. But he got to experience a taste of what might have been."
Woods continued visiting the SEALs and did various trainings with them, including some simulator practice at the Kill House where SEALs learned how to rescue hostages. He also constantly consumed books and documentaries about them, and played hour upon hour of the video game "Call of Duty."
A dream that never happened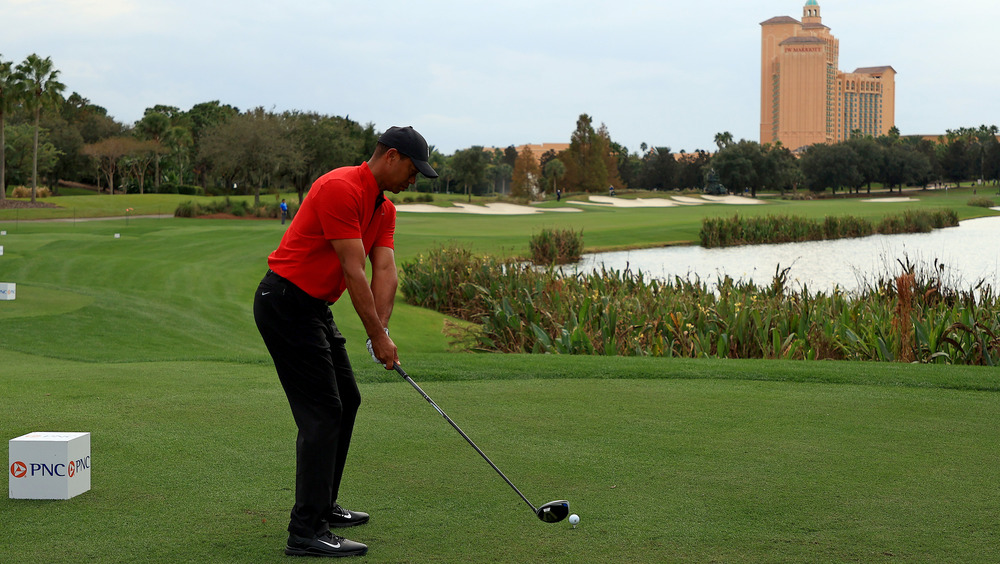 Mike Ehrmann/Getty Images
On his 31st birthday, Tiger went skydiving in San Diego with the SEALs, who presented him with a celebratory cake. He would often talk to friends about his desire to become one.
Many questioned his intentions. Tom Edrington of Bleacher Report said, "He probably wouldn't have passed the physical. Bum knee at an early age and lousy vision. That would wash him out immediately." The Navy Times pointed out in 2016 that Woods was long past the SEAL's required age limit of 30. 
But the possibility of "what if" is alluring — so much so that Golf wrote a 2017 fictional account of what could have happened had Woods decided to become a Navy SEAL: "Woods had an exceptionally prolific — albeit brief — career in professional golf, winning eight majors in eight full seasons on the PGA Tour before walking away from the game. His last event was the season finale in 2004, after which he shocked sports fans by enlisting in the U.S. Navy."
The 190-minute HBO documentary, directed by Emmy-winning Matthew Heineman (Cartel Land, A Private War) and Emmy nominee Matthew Hamachek (Amanda Knox), talks about this fascination with Navy SEALs and much more.