The Real Reason There Were Two Darrins On Bewitched
It's a question that continues to puzzle people 50 years after it happened: why did the TV show Bewitched suddenly and seemingly inexplicably replace the actor who played Darrin in the middle of its run?
Premiering in 1964, Bewitched starred Elizabeth Montgomery as Samantha, a free-spirited witch, who marries Darrin, played by Dick York, a mortal and neurotic businessman; they settled down in the suburbs, had a baby, dealt with nosy neighbors and in-laws, and lived a wacky, sitcom-perfect life. Per Neatorama, Dick York was a seasoned actor when he took on the role of Darrin, having appeared in an episode of The Twilight Zone and movies like Inherit The Wind and They Came To Cordura. His portrayal of Darrin, with "mugging and mild histrionics," played well off of Samatha's cooler, calmer persona, even earning him an Emmy nomination in 1968.
However, when York was cast, he failed to disclose to producers that he'd suffered a severe back injury while filmingThey Came To Cordura in 1959. As a result, he was in constant pain, relying on a steady intake of pills and shots to stay mobile. Writers began incorporating as many scenes as possible in which Darrin was reclining or lying down, but because of the character's slapstick antics, the constant physical comedy took its toll. One day, after filming a scene that required him to hang upside down 15 feet in the air, York collapsed and had to be rushed to the hospital. It was his last day as Darrin.
A tale of two Darrins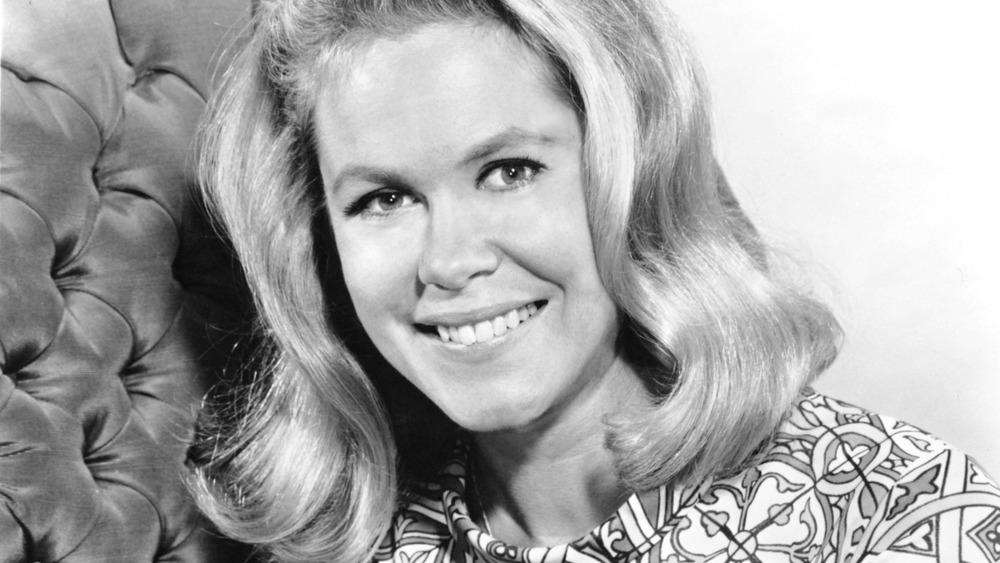 Michael Ochs Archives/Getty Images
Forced to replace Dick York, producers brought in actor Dick Sargent to take over as Darrin. Per Herbie J. Pilato in his article "Sargent/York—A Tale of Two Darrins," published on Medium, Sargent later claimed he'd been the original choice for the role, but had been under contract to another show at the time of casting. However, producer/director William Asher, who had been married to Bewitched star Elizabeth Montgomery (above) at the time of production, said in 1999 that York had always been the first choice for Darrin. Nevertheless, Sargent got his chance and played the character in a style very different than that of his predecessor. York had infused Darrin with "animated aplomb" while Sargent's portrayal offered viewers "a kinder-gentler Darrin."
In The Bewitched Book, Montgomery explained that Sargent's version of Darrin "was becoming a more easygoing presence" after spending so many years married to a witch "[s]o when he was suddenly confronted by witchcraft, the newness of the marriage was gone. It wasn't as shocking an experience." Sargent opined, "I think there was a stronger sense of warmth between Samantha and Darrin when I did the show." Regardless, according to Neatorama, viewers "were surprised at the switch and the ratings plummeted." During the final season with Dick York in 1969, the show was rated at No. 11; when Dick Sargent came in, the ratings quickly slipped to No. 24 and never recovered. Bewitched was canceled in 1972, but remains a well-loved pop culture touchstone to this day.