This Might Be Why These Supreme Court Justices Didn't Attend The Inauguration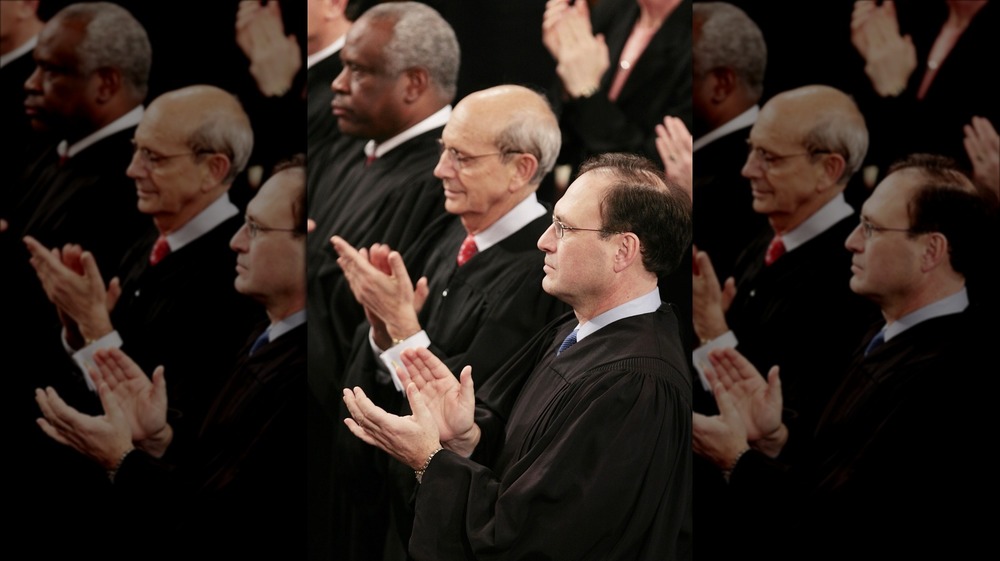 Chip Somodevilla/Getty Images
On January 20, 2021, Joe Biden was sworn in as the 46th president of the United States, at the tail end of a fractious, divisive four years under former President Donald Trump. President Biden's mannerly, respectful inauguration speech, viewable in full on YouTube, focused on unity and coming together despite differences. The inauguration's poet, Amanda Gorman, the youngest poet ever to present at an inauguration, shared Biden's sentiments of togetherness and light, as the BBC outlines. 
Since becoming president, Biden has already gotten to work and overturned 17 of Trump's presidential orders, as explained by The Guardian. He has also moved for the U.S. to rejoin the Paris Climate Accords. His cabinet, while yet undecided, is shaping up to be the most diverse in history, and includes openly gay, former Democratic presidential candidate Pete Buttigieg, per the BBC.
As video footage shows, those in attendance sat at socially responsible distances from each other and wore masks to help prevent the spread of COVID-19. Trump himself wasn't in the crowd, but he did leave a letter for Biden, as CNN says (a common custom for outgoing presidents), as well as recite a video message for his followers after spending the last days of his term largely out of sight, as The Washington Post relates. Also in attendance was President Obama and Michelle Obama, President Clinton and Hillary Clinton, President George W. Bush and Laura Bush, and former Vice President Pence.
Not in attendance? Three Supreme Court Justices: Stephen Breyer, Clarence Thomas, and Samuel Alito.
Vendettas, a pandemic, and a bomb threat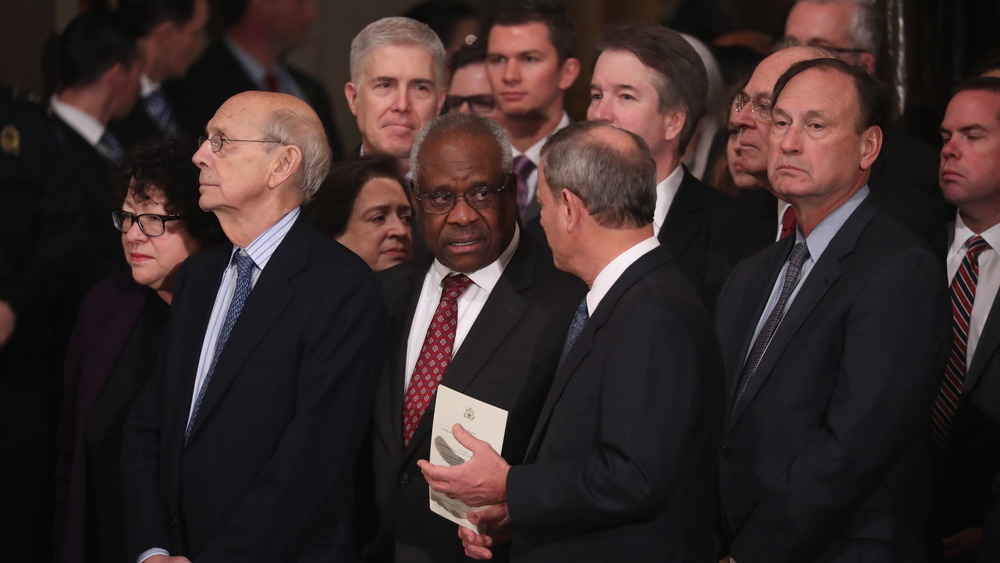 Jonathan Ernst-Pool/Getty Images
There's been some speculation regarding why Justices Breyer, Thomas, and Alito were not in attendance at President Biden's inauguration. Was it a snub? Some vendetta? After all, President Trump himself installed three justices: Neil Gorsuch, Brett Kavanagh, and Amy Coney Barrett. However, they were in attendance. Besides, SCOTUS has already demonstrated that it won't be bullied into playing partisan games, as it resoundingly canned Texas' lawsuit to overturn the election results in swing states, as NPR recounts. 
On the other hand, it's also been suggested, per The Washington Post, that the absent justices were striking back at Biden because when he was a senator, he voted against each of their appointments. Business Insider has also reported that the Supreme Court received a bomb threat, but this was at the Supreme Court Building, not the U.S. Capitol Building (and no evidence of a threat was found).
Realistically, though? We have only to look at one common-sense fact: Breyer, Thomas, and Alito are the oldest justices (82, 72, & 70, respectively, per Politico). They are among the most vulnerable group to the pandemic, and CNN states that justices have already been working from home. (President Jimmy Carter, now 96, also did not attend, by the way.) 
It makes sense to be cautious, anyway, given the recent attack on the Capitol Building on January 6. If staying safe means staying home, then by all means, justices: watch the inauguration from your couch like the rest of us.