Celebrities Pay Tribute To Hank Aaron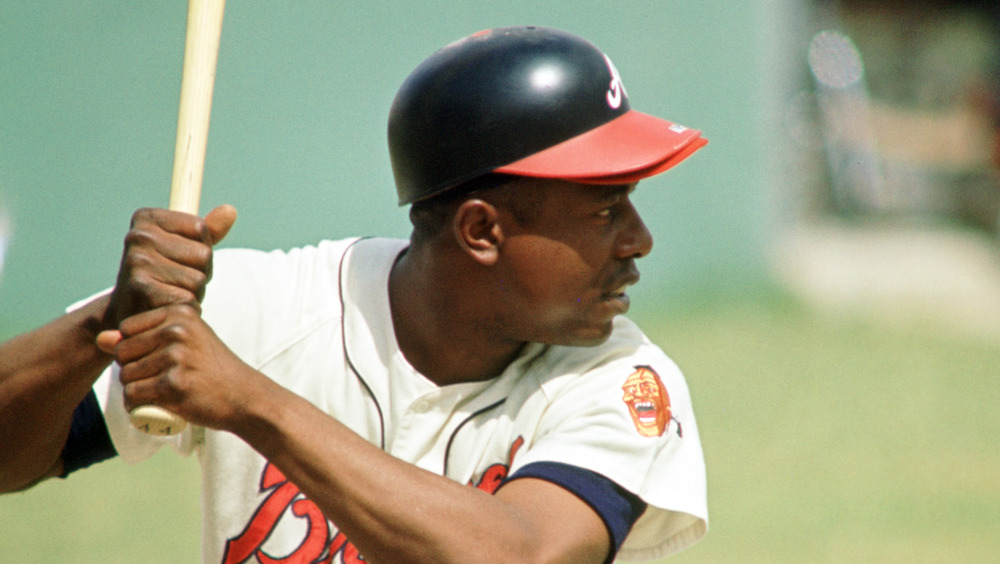 Ron Vesely/Getty Images
Hank Aaron died January 22, 2021 at the age of 86, reported USA Today. He was widely regarded as one of baseball's all-time greatest players. The home run king of the Atlanta Braves broke Babe Ruth's career home run record of 714 in 1974, and still holds several Major League Baseball records, including most RBIs (2,297), total number of bases (6,856) and most extra-base hits (1,477), and is the third best all-time hitter, per ESPN. His long and storied MLB career ran 23 seasons, from 1954 to 1976.
As news of his death spread, many celebrities took to Twitter to pay tribute to and honor Hammerin' Hank. Singer Lenny Kravitz tweeted, "Hank Aaron, my childhood baseball hero, has gone home. Watching him break Babe Ruth's record for most home runs on television was a monumental moment. As a young black child, he inspired me to push for excellence." Actor/director LeVar Burton also used Twitter to point out the virulent racism Aaron had to live and work with throughout his career: "Hank Aaron was as decent, kind and inspirational a human being as ever walked this earth. Leading up to breaking Ruth's record, he received roughly 3,000 pieces of hate mail a day... 3,000! BECAUSE OF THE COLOR OF HIS SKIN!" Bernice King, CEO of Martin Luther King Jr. Center for Nonviolent Social Change and daughter of Martin Luther King, Jr., tweeted a succinct, heartfelt tribute: "We will miss you. Your leadership. Your grace. Your generosity. Your love. Thank you, Hank Aaron."
The importance and greatness of Hank Aaron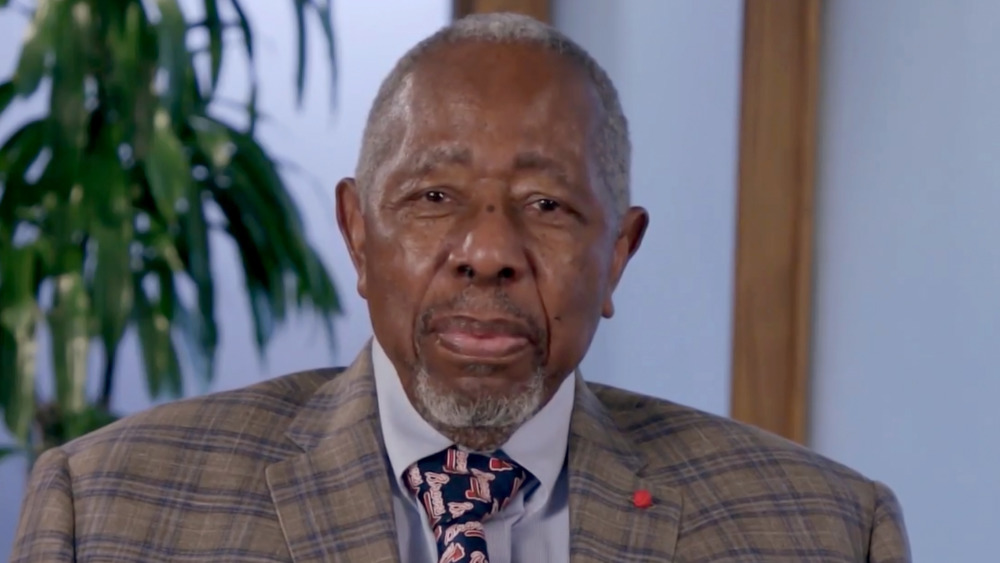 Arturo Holmes/Getty Images
Ron Gant, a fellow Atlanta Braves All-Star and current news anchor, talked about Aaron on Good Day Atlanta in a clip shared via Twitter by Fox 5 Sports anchor Cody Chaffins: "Not only was Hank Aaron my mentor, but he was also my hero... to me, the greatest player of all time... to think about how long Hank Aaron played the game, how consistent he was... he did it while people were threatening his life, threatening his family.... Not only was he an amazing baseball player, but a very, very strong human being as well." Documentarian Ken Burns, whose credits include the miniseries Baseball, tweeted, "Hank Aaron was not only one of baseball's greatest players, he was also a remarkable American hero, whose perseverance and forbearance in the face of unspeakable racism is a testament to the human spirit. We will miss him." 
Country singer Jason Isbell tweeted about Aaron's historical importance: "When I was a kid, learning about Hank Aaron's life and career meant learning for the first time that folks were still treated differently because of the color of their skin. Also it meant learning about an amount of dignity that I couldn't possibly comprehend." Atlanta mayor Keisha Lance Bottoms paid tribute via Twitter to Aaron's devotion to the city: "While the world knew him as 'Hammering Hank Aaron' because of his incredible, record-setting baseball career, he was a cornerstone of our village, graciously and freely joining Mrs. Aaron in giving their presence and resources toward making our city a better place."