Here's How Much Super Bowl Broadcaster Jim Nantz Is Really Worth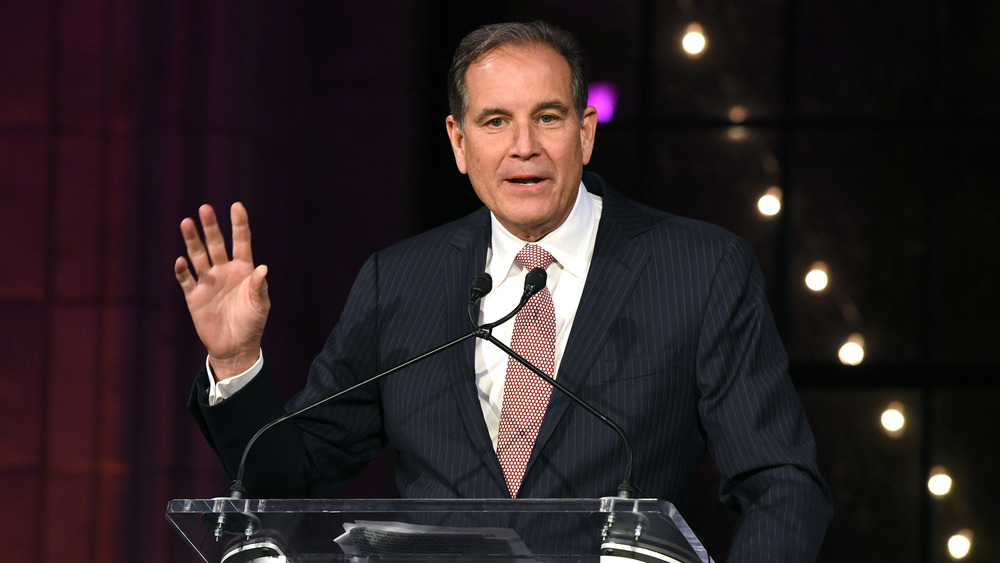 Michael Kovac/Getty Images
Veteran broadcaster Jim Nantz seems to pop up just about everywhere. He'll once again be calling the Super Bowl for CBS next Sunday of course — his sixth Super Bowl, reports Sportscasting.com. 
But you might have heard the 61-year-old host drop his famous "Hello, friends!" welcome on countless other broadcasts over his long career. If you're a basketball fan, you'll hear him call both NCAA and NBA games, though he may be most associated with his longtime gig hosting The Masters golf tournament, a job he's held since 1999.
He's earned his place at the top, putting in hours and perfecting his patter since he got his start as a sportscaster in Houston while earning the princely sum of $25 a broadcast, as KHOU-TV reported. These days, he's pulling down a lot more, with outlets such as Celebrity Net Worth reporting his net worth as high as $15 million. While that's an unimaginable fortune to most of us, Sports Illustrated says that Nantz reportedly hasn't been entirely satisfied with his take-home pay and is working to secure a contract that would substantially increase the size of his paycheck. Let's take a closer look at what that could look like.
The question of Jim Nantz's worth is a tricky one. Anecdotally of course, he's worth a lot. As one of the most-identifiable voices of CBS Sports and, as Viacom-CBS Sports Express relates, the youngest inductee into the Sports Broadcasting Hall of Fame, he's more than earned his bona fides.
How much is Jim Nantz worth?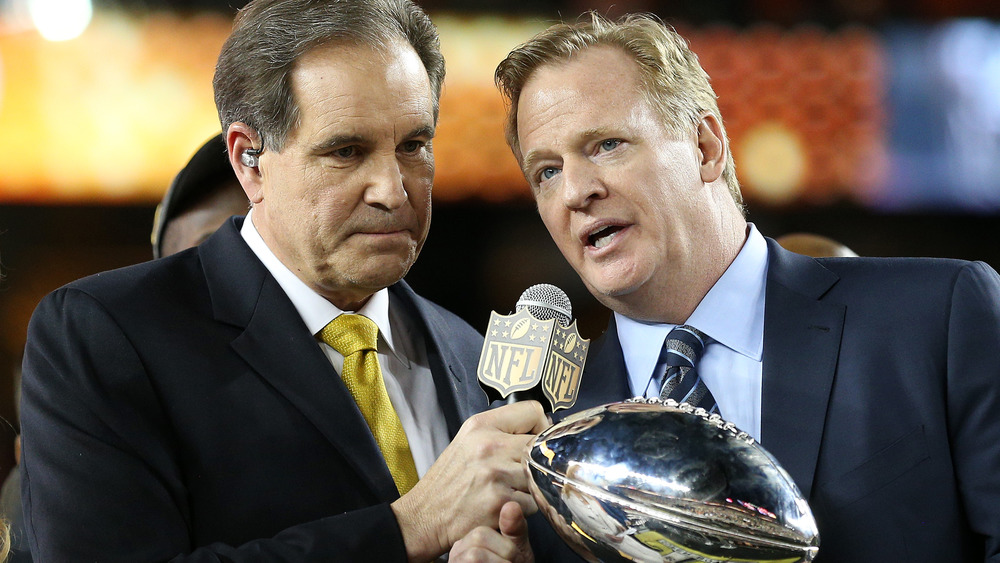 Patrick Smith/Getty Images
A contentious 2009 divorce, however, has taken a bite out of his budget. The ABA Journal wrote in 2009 that courts reportedly ordered Nantz to pay his ex, Lorrie (with whom he shares a daughter), $72,000 a month in alimony, along with $4,000 in child support, all to the tune of about $916,000 annually (again, per Sportscasting.com) until either Lorrie remarried or Jim Nantz died.
Nantz has since remarried and gone on to father two more children, but according to Ecelebrity Mirror, it's not known whether his ex ever married again — meaning we don't know if he's still on the hook for alimony.
What we do know is that Nantz is looking for a big raise. Various sources have reported Nantz is trying to renegotiate for "Tony Romo money," as the New York Post put it. That would mean Nantz could potentially make as much or more than Romo's $17.5 million annual salary with CBS. Considering Nantz makes $6.5 million right now (and calls much more than football), it's not an unreasonable request, especially with contemporaries like FOX's Joe Buck reported by the Post to be making $10.5 million. Of course, you'll soon get another chance to decide whether Nantz deserves the payout. He and Romo will be back in the booth next Sunday.