The Untold Truth Of First Native American Member Of Congress
Recently inaugurated Vice President Kamala Harris made history as the first female, first Black, and first Asian-American person to hold the position of Vice President of the United States of America. Some sources incorrectly named her as the first person of color to hold the second highest office in United States government, but that honor really belongs to Charles Curtis, who was also the first Native American member of Congress. Born January 25, 1860 in Kansas territory, Curtis' mother was a member of the Kaw Nation and his father was European-American, per the Library of Congress. Curtis was a registered member of the Kaw Nation and was also part Osage and Potawatomi. 
As reported by Smithsonian magazine, in 1873 the government forced the Kaw Nation to move to Indian territory in what is now Oklahoma. Curtis' Kanza grandmother convinced him to stay behind with his paternal grandparents to continue his schooling. As a teenager, he started working as a custodian for Topeka lawyer A.H. Case and read the law books at his workplace in his spare time. In 1881, Curtis sat for the Kansas bar and passed. He joined Case's firm as a lawyer and specialized in criminal law for three years before running for and winning the role of Shawnee County District Attorney. He was a popular politician thanks to "his personal charm and willingness to work hard." According to the Library of Congress, Curtis' story was often used as an illustration of a man "pulling himself up by his bootstraps."
Charles Curtis' surprising assimilationist policies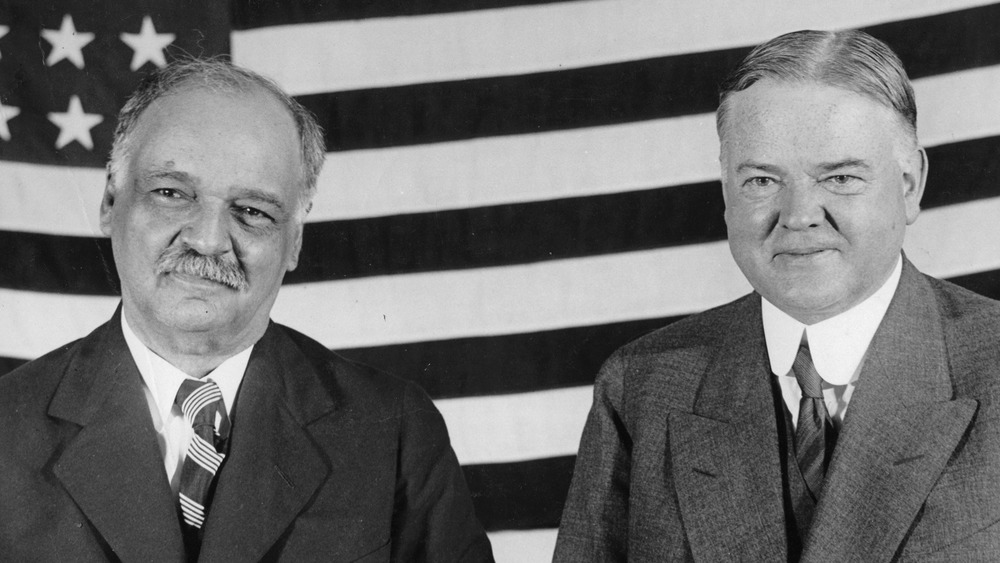 Imagno/Getty Images
Speaking with Smithsonian Magazine, Mark Brooks of the Kansas Historical Society's Kaw Mission site noted that in addition to his charisma and intelligence, Curtis was "light-complected, he's not dark-skinned like a lot of Kanza. His personality wins people over — unfortunately, racists can like a person of color and still be a racist, and I think that's kind of what happened with Charlie."
Curtis was elected as a state Representative in 1893 and served until 1907, when he resigned to fill an open Senate seat. He lost that seat in 1912 but was reelected in 1914 and served until 1926. He supported "veterans' benefits, high tariffs, women's suffrage, and assimilation." As Chair of the Senate Indian Affairs Committee, he wrote the Curtis Act of 1898, which modified the Dawes Act and "advanced Oklahoma's push for statehood and further limited the sovereignty of the five largest Oklahoma nations" — Cherokee, Chocktaw, Muscogee, Chickasaw, and Seminole Nations. He also supported boarding schools that separated Native children from their families to encourage assimilation into white culture. 
In 1924, Curtis (above, left) was elected Senate Majority Leader, and in 1928 he successfully campaigned as the running mate of Herbert Hoover (above, right), becoming the first person of color to hold the office of Vice President. When Hoover lost to Franklin Delano Roosevelt in 1932, Curtis returned to his law practice in Topeka, where he lived until his death in 1936.