The Truth About Four Seasons Total Landscaping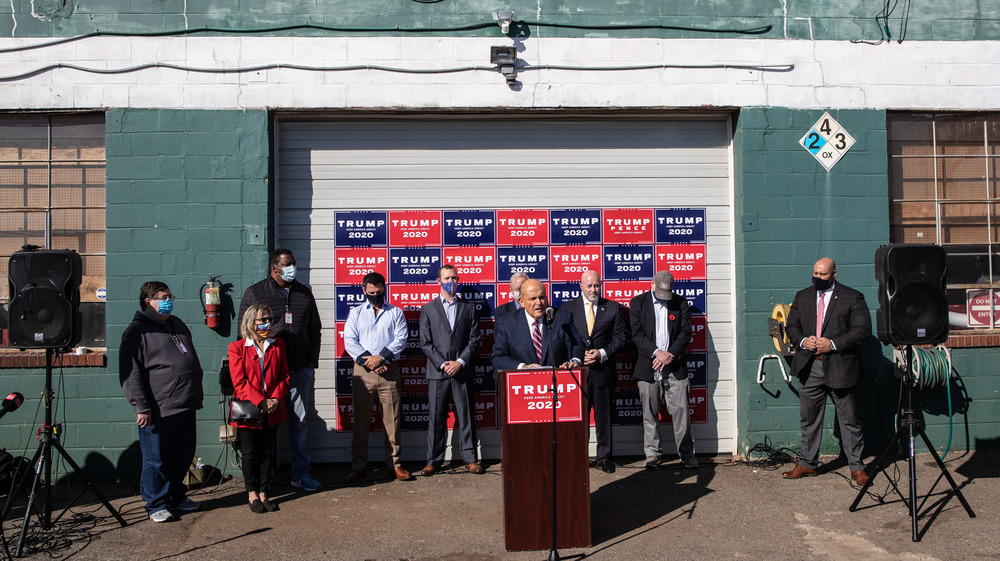 Chris Mcgrath/Getty Images
Four Seasons Total Landscaping was an unassuming small business in Northeast Philadelphia until November 2020. That was when former Trump lawyer Rudy Giuliani held a press conference there to protest Joe Biden's election win. Now, the company has seen what it's like to become a viral superstar, starring in a Super Bowl commercial for the freelance marketplace Fiverr and the subject of an upcoming documentary.
After the Giuliani press conference, people wanted to know more about Four Seasons Total Landscaping. Was it real? Did they know what was going on in the press conference? What was going on?
The company has been around for 28 years, their website notes. They really are a landscaping company and have maintained the lawns of many outdoor spaces in Philadelphia, including the Comcast Technology Center, the Philadelphia International Airport, and the Navy Yard. And it's not just lawn maintenance — the company also shovels snow for large properties.
The company is owned by Marie Siravo, who started Four Seasons Total Landscaping back in 1992. Her son, Michael, is the director of operations.
Four Seasons Total Landscaping is an unusual place to hold any press conference for sure. The owners maintain they would've gladly opened up their facilities for any campaign regardless of politics, Siravo told The Philadelphia Inquirer, it just happened that it was the Trump camp that called them first.
Four Seasons Total Landscaping sells merch now
According to The Philadelphia Inquirer, Four Seasons Total Landscaping director of Sales Sean Middleton received a call from the Trump campaign on November 7. They were looking for places along the I-95 corridor willing to host a press conference. The company agreed and moved some landscaping equipment around.
People thought the campaign made a mistake; after all, didn't they mean the Four Seasons Hotel in Philadephia? Middleton said they never misled the campaign, and they knew they weren't a hotel. 
After the press conference, calls started pouring into the company, though not many were inquiring about lawn maintenance. One of these calls was from Fiverr, Siravo said to Fox 29, and as the Super Bowl came and went, the landscaping company became even more well known.
Other than starring in a Super Bowl commercial and filming a documentary, Four Seasons also began selling merchandise. The company said the most famous people who've ordered merchandise include CNN anchor and native Philadelphian, Jake Tapper, Mike Myers, and Harry Potter actress Emma Watson.
And now, their famous garage door has become a tourist attraction too. Siravo said the company had planned to buy a larger property because of its growth, but because of their office's newfound fame, they've decided to stay.
And they also want to say that yes, they may entertain inquiries for press conferences.