The History Behind Joe Biden's Inauguration Bible Explained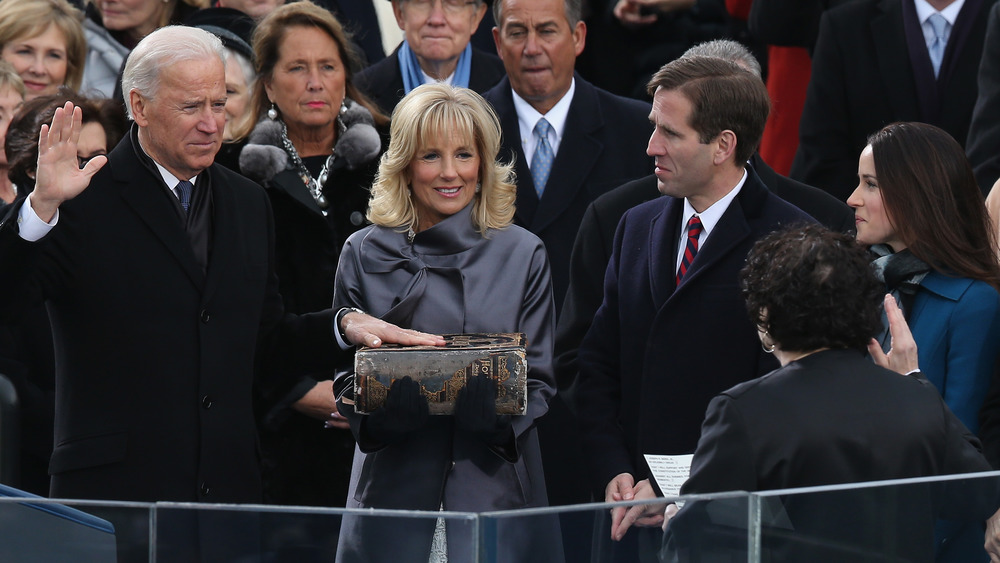 Alex Wong/Getty Images
When Joe Biden takes his oath of office on January 20, he will do so with his hand resting on a 127-year-old Bible. The Biden family Bible, which has been around since 1893, is the same Bible that all Biden family members who entered into politics have used to swear their service to the country. It's a hefty Bible being about five inches thick and has a Celtic symbol on the cover (per Today).
The Bible is significant, not just because Biden's used it since 1973, and his son Beau also swore on it in 2007, but because inscribed inside it are important dates for the family. This, of course, includes all the dates Biden swore an oath of office from his time as a senator to his time as vice president.
According to the Chicago Tribune, Biden refused to be sworn without the family Bible. His 2009 inauguration as a senator (which he resigned soon after becoming vice president formally) had to be delayed because they couldn't find the book.
Biden family Bible not the only historical Bible
Pool/Getty Images
Joe Biden has told interviewers that the family Bible is from his father's side of the family. His father hails from Irish immigrants who moved to the United States following the Great Potato Famine. The family Bible also holds a lot of religious significance for Biden, who is a Catholic, said Business Insider. His wife, Dr. Jill Biden, will carry Biden's family Bible on Inauguration Day. After comedian Stephen Colbert joked that Dr. Biden should work out to hold such a hefty tome, she laughed and said she's ready to take on the burden.
Biden is not the only politician who has used a historic and emotionally significant Bible to take their oath of office. ABC reported that many people choose important Bibles or religious books to represent their journeys. Barack Obama became the first person to swear his oath on Abraham Lincoln's Bible, and he doubled the historical significance by coupling it with Martin Luther King's traveling Bible.
Attorney General Loretta Lynch, meanwhile, placed her hand on Frederick Douglass' Bible while Presidents Warren G. Harding, Dwight D. Eisenhower, Jimmy Carter, and George H.W. Bush used George Washington's Bible in their inaugurations. So on Jan. 20, keep your eye out for Biden's hefty but historical family heirloom.