What Was The Net Worth Of Joe DiMaggio?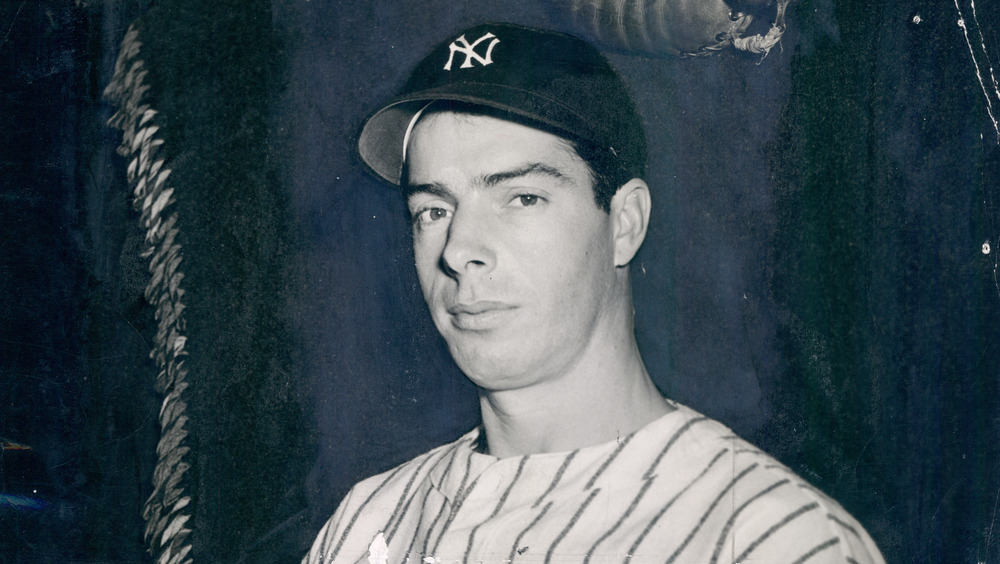 Sports Studio Photos/Getty Images
Joe DiMaggio is one of the most iconic and beloved baseball players of all time. Per Pinstripe Alley, not only does DiMaggio still hold the Major League Baseball record he set in 1941 with an incredible 56-game hitting streak, but he also went seven seasons having more home runs than strikeouts, a lesser-known but wildly impressive record that is unlikely to be beat any time soon. Furthermore, he was married to Marilyn Monroe, making his legendary status all the more paramount — despite the fact that they separated after just nine months of marriage. After Monroe died in 1962, DiMaggio sent red roses to her gravesite three times a week, until his death in 1999, as reported by Women Working. 
Despite his superstardom, DiMaggio didn't live luxuriously for most of his life. He was the first baseball player to receive an $100,000 contract, according to Pinstripe Alley; Celebrity Net Worth reports that by the end of his 13-season baseball career, he had made a total of $632,250 — about $8 million in today's money. However, "several failed marriages and bad business management" took their toll, and by 1983, he was worth just $200,000. He apparently rented a modest Florida apartment, drove an old car, and avoided using his air conditioner, buying new clothes, and eating out, carefully budgeting just $10,000 for his living expenses. How, then, did DiMaggio come to be worth a staggering $50 million by the end of his life? A meeting with lawyer Morris Engelberg changed everything. 
Morris Engelberg changed everything for Joe DiMaggio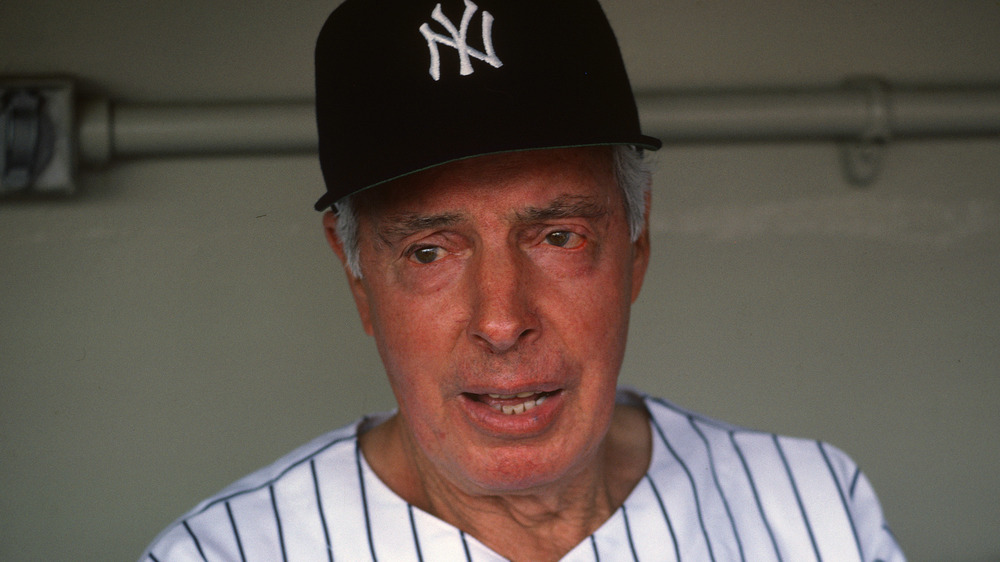 Focus On Sport/Getty Images
Per Sportscasting, Engelberg and DiMaggio were introduced by a mutual acquaintance in 1983. Engelberg realized that there was money to be made, thanks to DiMaggio's status as both a baseball legend as well as a pop culture phenomenon. DiMaggio started signing more memorabilia and merchandise while appearing in person at fewer trade shows, charging upwards of $150,000 for an in-person appearance. According to Celebrity Net Worth, Engelberg arranged a deal for DiMaggio with memorabilia company Score Board in which DiMaggio signed 1,000 baseballs and 1,000 photographs per month for two years for a fee of $9 million. 
Amazingly, Engelberg never took a fee beyond a "modest retainer" each year; apparently "he was obsessed with being friends with Joe and making him happy," and this was all the payment he needed. The two lived in mansions across the street from one another in a Florida gated community; thanks to Engelberg, DiMaggio's mansion was free of charge in exchange for his acting as spokesperson for the community and playing golf with certain VIPs a few times a week. Quite a change from the shabby apartment DiMaggio called home for years.
Engelberg ended up with quite a bit of DiMaggio memorabilia that he eventually sold for millions of dollars. He was at his idol and client's bedside when DiMaggio died and served as a pallbearer at his funeral, as reported by the Los Angeles Times.