This Is How Daft Punk Got Their Name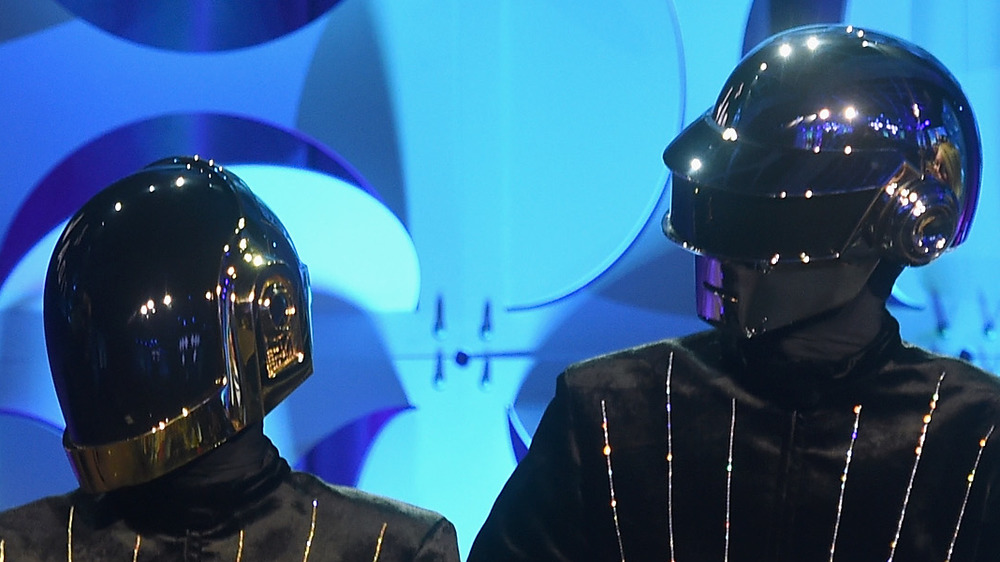 Jamie Mccarthy/Getty Images
Daft Punk said goodbye without saying it. The Parisian duo, who were responsible for some of the most celebrated and popular dance songs ever made, broke the news of the end of Daft Punk with an eight-minute video titled "Epilogue" (via YouTube). It was an excerpt from their 2006 avant-garde science fiction film, Electroma, in which two robots, representing Daft Punk's real-life Guy-Manuel de Homem-Christo and Thomas Bangalter, venture into a desert where one gets blown up. An image of two robot hands forming a triangle then flashes on-screen with the time-stamp: 1993-2021. No explanation was given for the cultural gut-punch, but their publicist confirmed: Daft Punk is no more. 
Bangalter and de Homem-Christo formed Daft Punk in Paris in 1993, playing an integral role in defining the style of house music known as French touch, as The Guardian notes. In 1997, they released their debut album, Homework, which was soon considered a pillar of the genre, with its monumental singles "Around the World" and "Da Funk." Fans would have to wait until 2001 for the follow-up album, Discovery, which catapulted the duo into global superstars, with singles "One More Time" and "Harder, Better, Faster, Stronger." Daft Punk seared their style into the memory of the public, Rolling Stone notes, as they began making appearances in robot gear, which became their trademark. Later, they released their third album, Human After All, followed by a live LP Alive 2007, and the Tron: Legacy soundtrack.
Daft Punk's name came from a music magazine
One of the keys to Daft Punk's appeal was a sense of mystique in everything they did. From their music, to their videos, to their very appearance, everything was meant to have an element of mystery. "When you know how a magic trick is done, it's so depressing," Bangalter told Pitchfork in 2013. "We focus on the illusion because giving away how it's done instantly shuts down the sense of excitement and innocence." 
One of those mysteries was the very name of the group. Until 2019, that is, when The Telegraph explained how a number of iconic groups got their names — including Daft Punk. When Bangalter and de Homem-Christo first started out with another member, they named themselves "Darlin'" after the title of a Beach Boys song. But a weekly British music magazine changed all that. In a review of the duo's music, Melody Maker described their music as "a daft punky thrash." Darlin' disbanded a short time later, and Bangalter and de Homem-Christo continued on under the name of Daft Punk.