What Did Dwayne Johnson Actually Look Like At Age 10?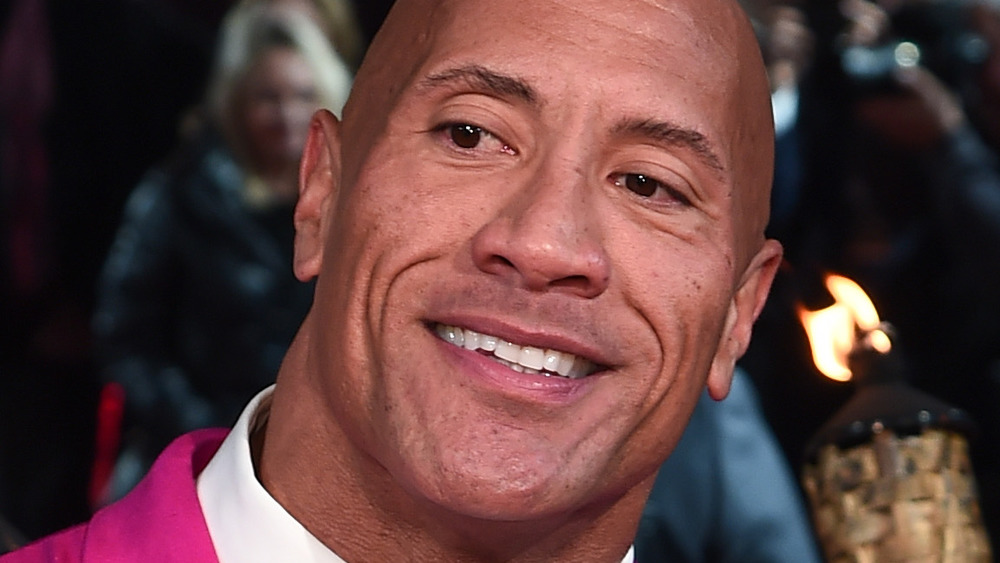 Eamonn M. Mccormack/Getty Images
Dwayne "The Rock" Johnson has had one wild ride of a life. He grew up in a family of professional wrestlers, and according to his official WWE bio, he was the promotion's first-ever third-generation superstar (his dad was a tag team champion). Still, even with his lineage of wrestling royalty, his journey from "little Dewey," as his godparents nicknamed him, to the jabroni-stomping king of the ring was unprecedented. And the move from there to the heights of Hollywood stardom was simply spectacular. And it's now that story that is the subject of the new NBC sitcom Young Rock.
Now that his younger life is on display for the whole world, people are wondering how accurate the show really is. They're asking things like, did the kid who would grow up to be The Rock really call wrestling fake? And what did Dwayne Johnson actually look like at the ages he is portrayed on the show? The actor who plays 10-year-old little Dewey is Adrian Groulx, and it appears as though he's doing a pretty fantastic job. But, does he really look like Dwayne Johnson at that age? Let's take a look and see.
Adrian Groulx does a pretty good young Dwayne Johnson
Take a look through some of Dwayne Johnson's mom's old photo albums and you'll see that Adrian Groulx really does look quite a bit like a young Rock. A couple weeks before the pilot aired, Johnson did a bit of promotion on his Instagram account that revealed the likeness between the two. The first photo in the post was one of Groulx as little Dewey in a retro T-shirt sporting the year 1982, while the second photo was of young Dwayne rocking a stylish Hawaiian shirt for what appears to be a school photo. "A little bucked tooth, afro'd 10 year old 'Dewey' played by the loveable @AdrianGroulx," reads the caption. "Taking Hawaii by storm and trying to sneak a nip of tequila at the dinner table whenever I could. This is where my wild life all began."
Johnson also showed how much Adrian looks like his 10-year-old self in an Instagram post from September 2020. "At 10yrs old, I was rambunctious as all hell ..., was already girl crazy ... and loved pro wrestling — especially the part when the wrestlers would bleed," he wrote, adding that he sees Adrian as his hero, because the young actor helps him look back fondly on that specific period in his life. Stay tuned to Young Rock to see just how little Dewey ended up becoming "The Most Electrifying Man in All of Entertainment."