The Truth About Damian Lillard's Rap Career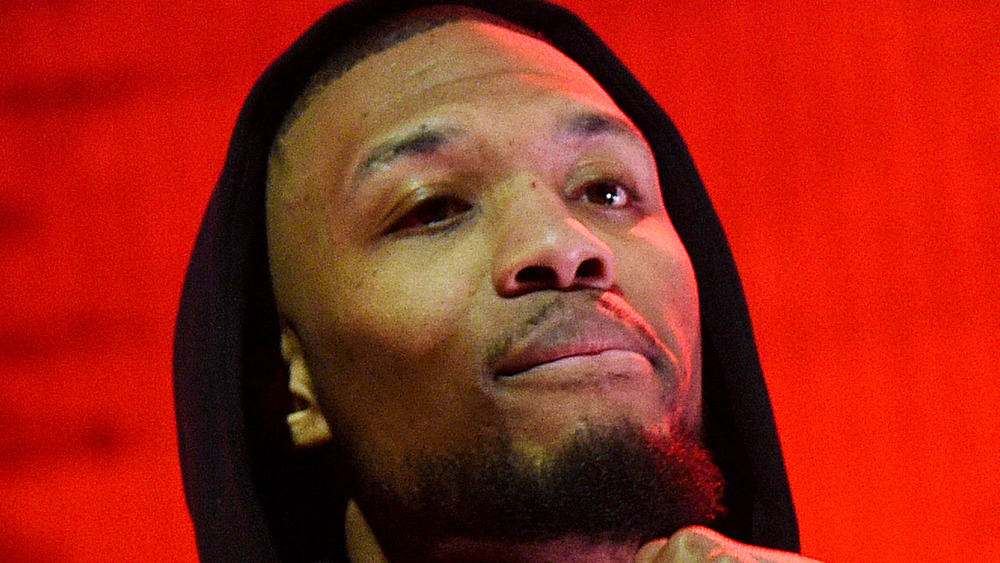 Kevin Mazur/Getty Images
Portland Trail Blazers point guard Damian Lillard, or simply Dame Lillard, is one of the most prominent players in the NBA. He's achieved what no other Blazers player has done before him, which is score 61 points in one game — the highest ever in the franchise's history (per NBA). As a player, Lillard is known for his stunning buzzer-beating scoring in some of the most crucial games of his career. Currently he has a total of three final-second game shots, scoring his most recent last month, according to CBS Sports. And he ties basketball legend Michael Jordan with the most buzzer-beaters in the NBA postseason (via The Ringer). Averaging about 30 points and 8 assists per game, says ESPN, it is undisputed that on the court, Lillard is a star.
But off the court, Lillard has another thriving career. When he's not playing basketball, he's in the studio recording music as a rapper. His recent Hulu commercial (posted on Youtube) probably introduced people to his rap skills, but since getting drafted into the NBA, Lillard has released three musical project under an alter ego.
A star on the court and in the studio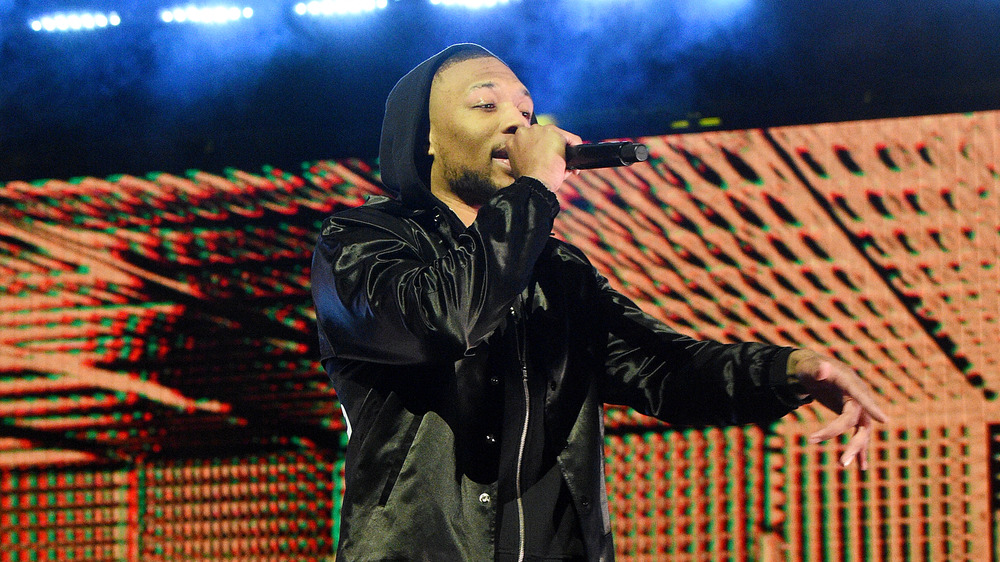 Kevin Mazur/Getty Images
It's already been established that Lillard and his success in athletics makes him a household name, particularly for fans of basketball. But his rap name — Dame D.O.L.L.A — probably is not as known.
The origin of his musical stage name was coined during his college days. In a video interview with Genius (also on YouTube), Lillard said his roommates often called him Dame Dolla. He chose to stick with the name, but give it a little twist. "When I was trying to figure out what I was gonna call myself as a rapper, I didn't just wanna be Dame Dolla. I made an acronym ... and I came up with Different On all Levels the Lord Allows," he said.
The Oakland native apparently started rapping way before he had an interest in basketball. And clearly his love for music never left him, even after getting drafted. In 2016, Lillard debuted his first full studio album, titled The Letter O, which featured actor and singer Jamie Foxx, and multi-platinum selling artist Lil Wayne. He would release two more albums, Confirmed and Big D.O.L.L.A in 2017 and 2019, respectively.
He even performed (via another YouTube post) one of his singles during the 2020 NBA All-Star weekend. While his musical career has earned him some non-sports-related waves, Damian Lillard is not the first or only NBA player who's stepped up to the mic, according to Esquire – LeBron James and Kevin Durant among them.