Real-Life Amityville Horror Killer Dies While Serving Time
The man behind one of the most shocking massacres in New York state has died in prison — the cause of death. however, has not been officially released, pending autopsy. Ronald DeFeo Jr., the killer who infamously murdered six members of his own family, died at the age of 69 on March 12, reports CNN. He was serving six life sentences for the sextuple murders of his entire family at the Sullivan Correctional Facility.
Before the Long Island Serial Killer began wreaking havoc in the suburban New York region of Long Island, DeFeo Jr. committed one of the most shocking crimes to take place there years earlier. In 1974, the town of Amityville was the location of the brutal murders, which later inspired the eponymous The Amityville Horror book and subsequent movie. 
On November 13 of that year, DeFeo, who was apparently under the orders of 'voices' from the Devil, used a rifle to gun down his mother, father, two younger sisters, and two younger brothers as they slept in the night. The next day, the 23-year old went about his day as if nothing happened before he "discovered" and reported the deaths, but soon after, authorities discovered the box he kept his rifle in and concluded that DeFeo was responsible for his relative's deaths. 
DeFeo Jr. was allegedly dealing with a mental illness and his attorney tried to get an insanity defense. But it wasn't enough to convince a psychiatric expert that he was not conscious of his actions. A jury found DeFeo Jr. guilty and he was served with six 25-years-to-life sentences in 1975.
The Amityville Horror inspired entertainment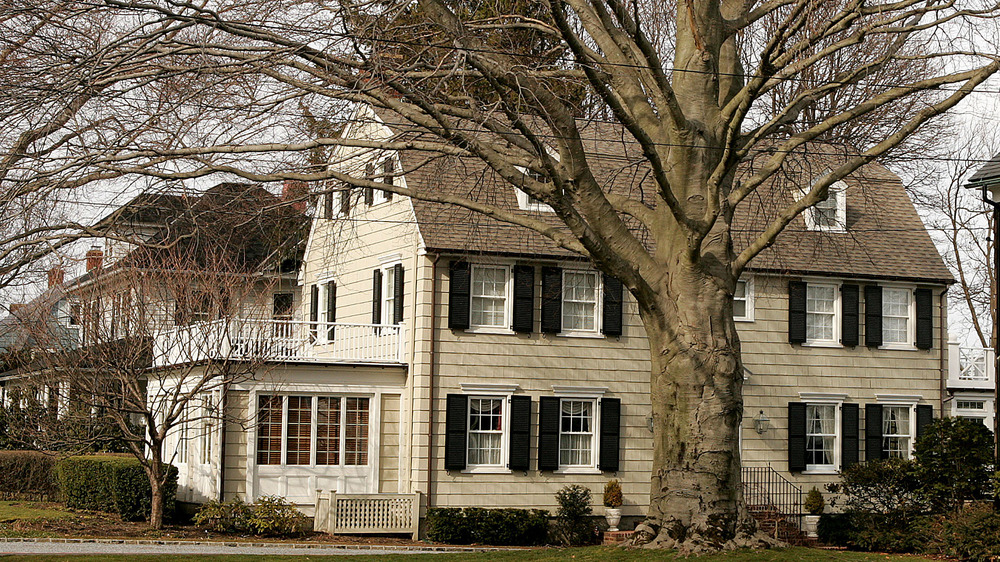 Paul Hawthorne/Getty Images
Despite the nature of the crimes, the former DeFeo home at 112 Ocean Avenue (now 108 Ocean Avenue) would become the site of a lot of unwanted interest, and it became known as a famous horror house. A book titled The Amityville Horror would bring even more attention to the locale and the crime in 1977, when author Jay Anson wrote the true story about the Lutz family moving into the home just a month after DeFeo was sentenced in December 1975. 
The Lutz family became well-known for fleeing the home after spending just 28 days in the house. They reported odd happenings and claimed behavioral changes in some members of their family while being in the house, per Oxygen. The book was one of the most popular books in 1977 and was a best-seller, says Biblio.
In 1979, a movie based on the book with the same title was released. It brought the Lutz family story to the big screen and even more growing interest. It was a success at the box office and was one of the top-grossing films that year (via Box Office Mojo). A remake of the film would renew interest in the Amityville house and story in 2005.