Details You Should Know About The Popemobile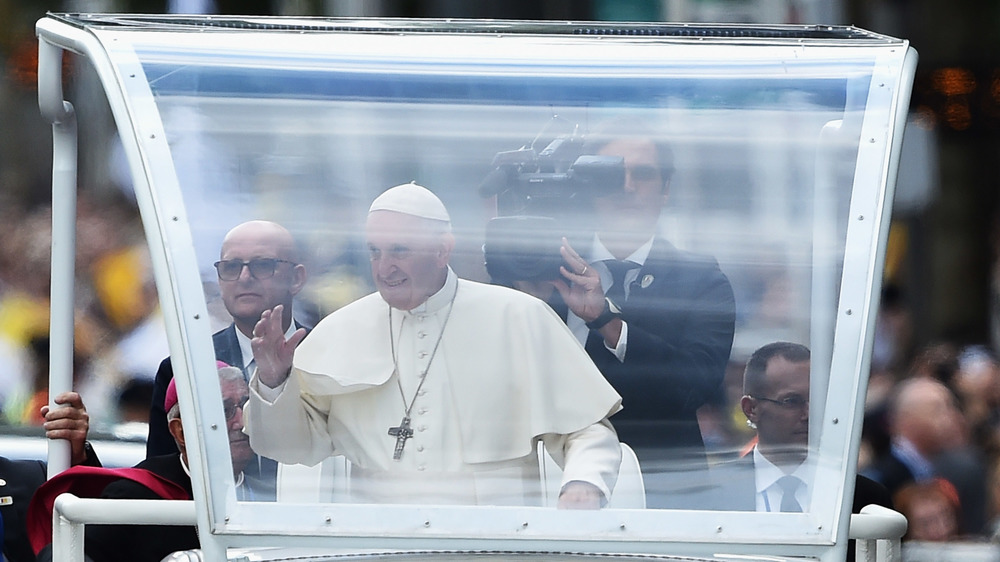 Charles Mcquillan/Getty Images
If you see Pope Francis during one of his many public appearances, there's a good chance that you'll see him riding in what's come to be known as the Popemobile. According to a 2008 Newsweek article, "Popemobile" isn't the official term for the motor vehicles used by the pope during public appearances — the term has come into common parlance because there is no official name for the fleet of cars. Popemobiles are a relatively modern development. 
Per CNN, Pope Pius XI "became the first ever recipient of a Mercedes-Benz state car" in 1930, when he was presented with a luxurious, custom-built Nurburg 460 Pullman complete with silk carpeting and a roof lining embossed with a dove motif. The traditional papal transport during state visits remained "the sedia gestatoria, a glorified sedan chair carried on the shoulders of various papal attendants." This is obviously a slow-moving, inconvenient way for the pope to move through a crowd, and it fell out of favor at the end of Pope Paul VI's reign in 1978. The first post-sedia gestatoria Popemobile was a simple "lightly modified Polish FSC Star flat-bed truck" used by Pope John Paul II for his first trip as pope back to his home country of Poland. In 1980, Mercedes was asked to create a bespoke model, just like its 1930 offering, and a 230G was apparently "christened the Popemobile" and was used by John Paul II for his first trip to Germany.
What makes a car a Popemobile?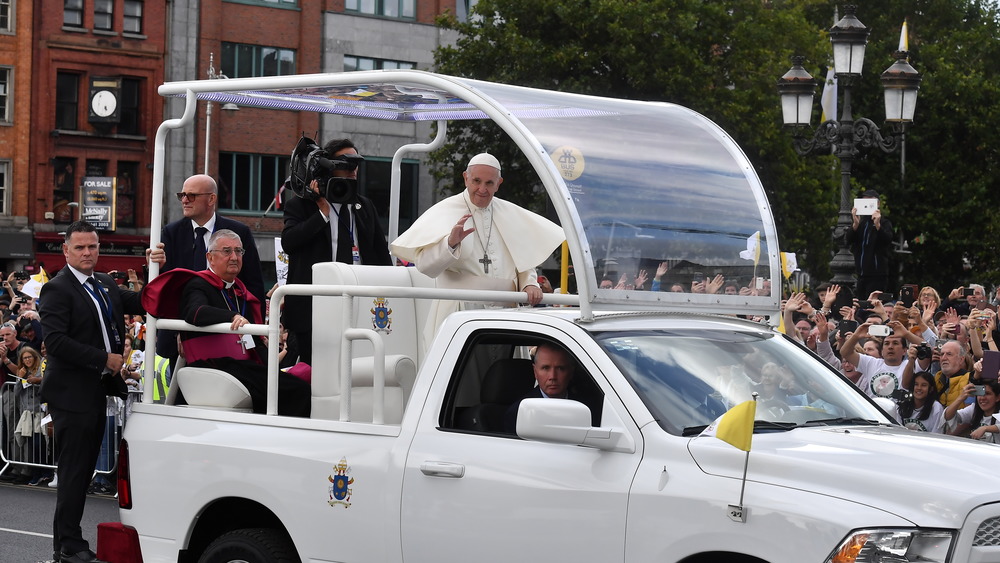 Charles Mcquillan/Getty Images
Today, Popemobiles focus more on security than luxury. Per Smithsonian Magazine, bulletproof glass and heavy armor became part of the standard Popemobile design after Mehmet Ali Agca tried to assassinate Pope John Paul II in 1981. Woe to the person who referred to it as the Popemobile near John Paul II, though; he reportedly "thought it sounded 'undignified.'" Newsweek noted in 2008 that then-Pope Benedict XVIused "a custom-built two-door Mercedes ML 430 that was donated to the Vatican in 2002" featuring "a six-foot-tall glass enclosure built to showcase the pontiff," calling it "by far the fanciest and sleekest papal car ever built."
A lot changed with the election of Pope Francis in 2013. From the beginning, he was determined to be a different kind of pope who was perhaps more informal and down-to-earth than some of his predecessors. Vatican Radio reported in 2014 that Pope Francis "said he eschews a bulletproof Popemobile because it is a glass 'sardine can' which serves as a wall between him and the people." When he visited the United States in 2015, his Popemobile was "a retrofitted Jeep Wrangler," per The Washington Post. Other brands used during various trips around the world include Mercedes, Toyota, Isuzu, Kia, Hyundai, Land Rover and Jeep. In Naples, Italy, he'd used a vehicle with open sides that allowed for a local pizzaria to deliver a pizza directly to the Popemobile.
According to Deadline, Discovery+ will stream a documentary on Pope Francis, titled Francesco, beginning March 28.