How Many Victims Did Accused Serial Killer Billy Chemirmir Actually Have?
Billy Kipkorir Chemirmir was a Kenyan man with permanent resident status in the U.S. who was suspected of killing 22 people, mostly women, over the span of two years in their North Dallas senior living communities and homes, according to the Associated Press. Dallas Police say starting in 2016 Chemirmir suffocated elderly women to death and stole their jewelry and other valuables to sell at pawn shops. While investigators believe Chemirmir is responsible for nearly two dozen murders, including that of one man, he was convicted of just two slayings in April 2022. Chemirmir received life sentences for the murders of Lu Thi Harris, 81, who died March 20, 2018, and Mary Brooks who was killed January 31, 2018.
But Chemirmir's sentence was cut short when he was slain by his cellmate on September 19, 2023. According to the Dallas Observer, a representative from the Texas Department of Corrections told them that the unnamed cellmate was in prison for a murder conviction, but details about the killing were still under investigation and not immediately released. 
Though Chemirmir was only convicted of two homicides, families of his other suspected victims spoke out upon the news of his death. According to NBCDFW,  Shannon Dion, daughter of Doris Gleason, said, "My mother died in fear. This man did not have a peaceful passing. There is some relief in feeling he didn't get off easily." A nephew of a suspected victim called the murder "jailhouse justice," and Loren Smith, the daughter of murder victim Phyllis Payne, said, "We certainly don't condone murder, but one of the things we said was, 'it's over.'"
How Chemirmir was caught
According to the Dallas Police Department, alleged serial killer Chemirmir was arrested for capital murder while under surveillance for an unrelated crime. DPD wrote on their police blog that on March 20, 2018, while they were surveilling Chemirmir they saw him throw something in a dumpster. A little while later he was arrested on a warrant. When they searched him they found money and jewelry, and they went to see what he threw in the dumpster. It was a jewelry box, police said, and there was a name inside. They matched the name to an address and went there to do a welfare check.
That's when officers found the body of 81-year-old Lu Thi Harris, who they say was dead "from homicidal violence." Police say they found more of Harris' belongings in Chemirmir's home, and they charged him with her murder. Billy Chemirmr was eventually indicted on 22 capital murder charges — 13 of those in Dallas County and nine in Collin County.
Victim's belongings were found in Chemirmir's home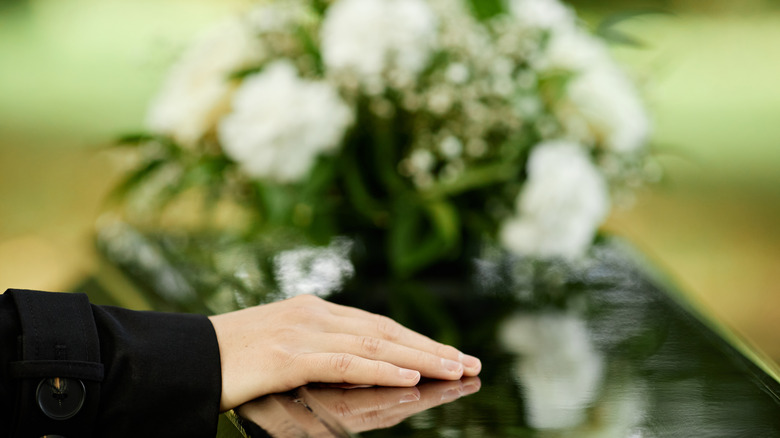 Seventyfour/Getty Images
Accused serial killer Billy Chemirmir's alleged murders go back to May 2016, as a long list of senior deaths that families thought were suspicious or that were unsolved homicides were ultimately attributed to him. The Texas Observer reported that police found valuables belonging to multiple dead women in his home. They also discovered that Chemirmir used a fake ID to pass a background check and that he'd trespassed at a senior center. 
Chemirmir denied the accusations. His attorney, Phillip Hayes, said at the time that most of the evidence was circumstantial. He told the Dallas Morning News, "It seems like every unexplained death they come up with, they're pinning on him. If you look at all of it, it doesn't stand up."
But with several residents in senior living communities dying under suspicious circumstances within weeks and months of each other, family members who believe Chemirmir killed their mothers, aunts, and grandmothers said police should've done more instead of letting cases go cold. Cheryl Kerr, daughter of alleged victim Glenna Day, told NBC Dallas/Fort Worth, "You would think after the third death, there would be some flags. ... The fourth death? How about the fifth death? The sixth one?" The people Chemirmir is suspected of killing range in age from 76 to 94 years old, with the majority in their 80s, per WFAA.