Here's How Prince Philip And Queen Elizabeth II Were Related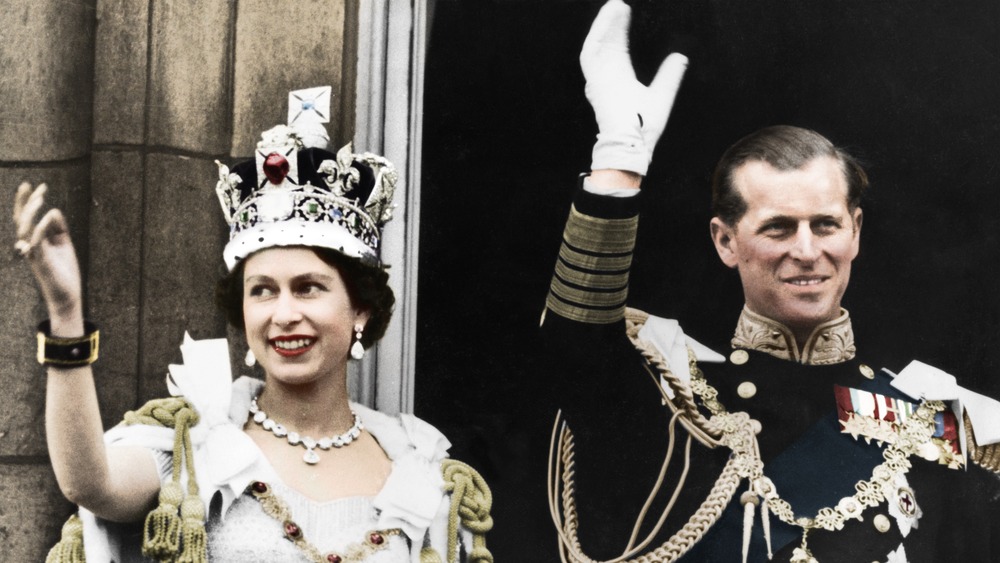 Print Collector/Getty Images
It's not uncommon for members of the British royal family to be related to their spouses. Per Express, even Prince Harry and his wife — Meghan Markle, Duchess of Sussex — are very distantly related, despite the fact that Harry is, of course, the grandson of the British Monarch, Queen Elizabeth II, and Meghan is American with no previous connection to British royalty. Harry and Meghan reportedly share a common ancestor from the 15th century, a man named Ralph Bowes, who had "extensive estates," including a castle. That's a pretty random, very distant connection. 
Less random and distant was the family connection between Queen Victoria, for whom the Victorian era is named, and her husband Prince Albert. Victoria reigned from 1837 to 1901 and was married to her first cousin, Prince Albert of Saxe-Coburg and Gotha. As reported by Royal Museums Greenwich, Victoria's mother and Albert's father were brother and sister. The lives of Victoria and Albert were intertwined from their very beginnings: They were born just three months apart and were delivered by the same midwife. Reportedly, they didn't meet until they were introduced by their uncle Leopold I at Victoria's 17th birthday party, at which point they almost instantly fell in love. 
Queen Elizabeth II and her late husband Prince Philip also met when they were very young; oddly enough, they are both related to Queen Victoria. Per ThoughtCo, Queen Elizabeth is a direct descendant of Queen Victoria; Victoria is her great-great-grandmother. Queen Victoria is also the great-great-grandmother of Prince Philip.  
Queen Elizabeth and Prince Philip: Literal kissing cousins?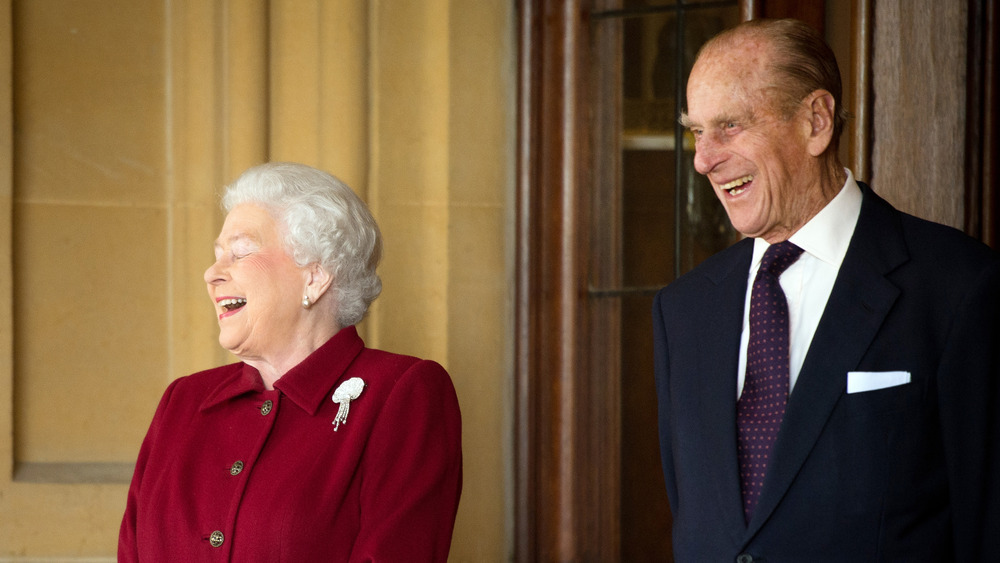 Wpa Pool/Getty Images
If they shared a great-great-grandmother, that means Queen Elizabeth II and Prince Philip were third cousins. Per the Independent, Elizabeth is descended from Queen Victoria on her father, George VI's, side; his father was George V, whose father was Edward VII, whose mother was Queen Victoria.
Philip is related to Queen Victoria on the side of his mother, Princess Alice of Battenberg; Alice's mother was Princess Victoria of Hesse and by Rhine, whose mother was Princess Alice of the United Kingdom, whose mother was Queen Victoria. That's a lot of Georges, Alices, and Victorias to sort through to get to the shared branch on the family tree! 
Elizabeth and Philip met at the wedding of Princess Marina of Greece and Denmark and the Duke of Kent in 1934 when she was seven-year-old Princess Elizabeth of York and he was 12-year-old Prince Philip of Greece and Denmark. Despite their youth, "it was said by news outlets at the time that Elizabeth, who at that point was not meant to ascend to the throne, and Prince Philip, could make a suitable match." They reconnected in 1939 after Elizabeth had become heir to the throne, announced their engagement on July 8, 1947, and married on November 20, 1947.