The Truth About The Pope's Plane
Shutterstock
When it comes to transporting the pope, the so-called "PopeMobile" is usually what comes to mind, but did you know that there's a papal plane, too? In a manner of speaking, anyway.
When someone travels as much as the pope, it makes sense that they'd have a whole fleet of transportation options. AVGeekery refers to papal planes as "the ultimate PopeMobile," and reminds readers that like the land-bound vehicles used by Pope Francis, there's actually a variety of planes used to get him from place to place. Bear in mind, however, that the Vatican doesn't own its own plane. When Pope Francis leaves his home in Vatican City to travel a large distance, they usually charter a plane from Alitalia, the Italian national carrier. Alitalia has a special flight number reserved for the Pope, AZ4000, and when Pope Francis is on board, the plane is referred to as "the papal plane" or "Shepherd One." 
When the pope is in a country other than Italy, he flies the host country's national carrier or a major airline. American Airlines serves as his United States transport. Other carriers include LATAM, Air Baltic, TAP Portugal, Aeromexico, Etihad, LOT Polish Airlines, and Sri Lankan. The airline must "possess a strong safety record ... and [also] needs a long-haul aircraft available to ferry the pope around."
High-flying popes since 1964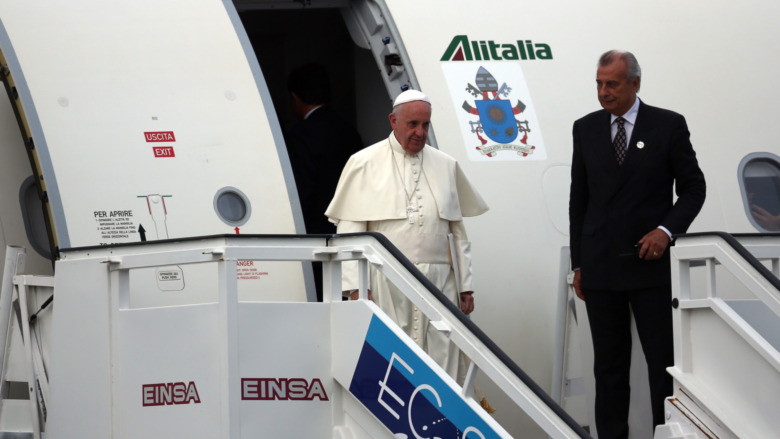 Carl Court/Getty Images
Per The Points Guy, the first papal flight took place in 1964 when Pope Paul VI traveled from the Vatican to Israel. Apparently "a pope leaving the Vatican, much less taking a then still rare jet, was huge news" at that time, but travelling soon became one of the many duties to be carried out by the pope. By the time of Pope (now Saint) John Paul II's death in 2005, he had visited 129 countries and traveled over 725,000 miles.
When the pope flies, he traditionally sits in the front row of the aircraft by himself, while his advisors fill up the rest of the business section. Members of the press who are flying with the pope pay business class airfares, but must sit in the coach section. This reportedly helps fund the cost of the chartered flight and keeps Italian taxpayers from having to subsidize the pope's travel. The apparent lack of a line item reserved for air travel within the Vatican's "significant reserves," per Investopedia, remains a mystery, but then again, "the Vatican is the smallest country in the world with an economy (and most everything else) shrouded in secrecy."