The Flowers On Prince Philip's Coffin Have A Secret Meaning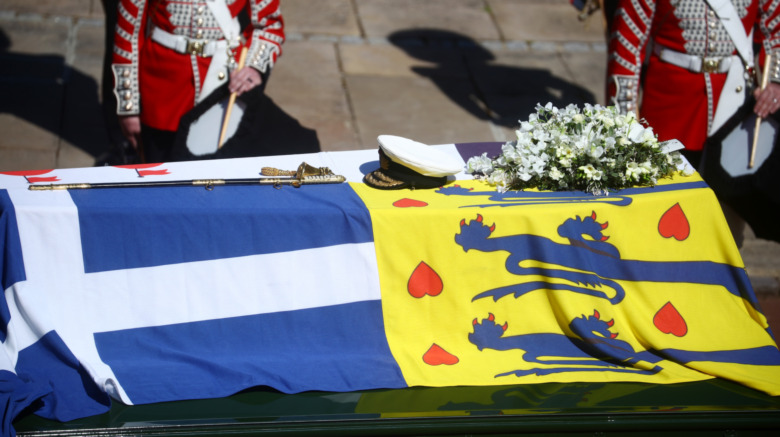 Wpa Pool/Getty Images
As the royal British family laid their beloved patriarch Prince Philip, Duke of Edinburgh to rest on April 17, the world also watched on. The small, solemn ceremonial funeral at St. George's chapel consisted of just 30 guests, most of whom were tight-knit and close relatives of the late prince. Though much smaller in attendance than previous royal funerals, it was a moving display of the family honoring his last wishes, despite a global pandemic further tightening regulations.
Several main members of the family present were, of course, his wife and long-time partner Queen Elizabeth II, his children Prince Charles, Prince Andrew, Princess Anne, and Prince Edwards, and a few grandchildren, including Prince William and Prince Harry. But all eyes were on the queen, who is now a widow after 73 years of marriage. 
Although many viewers probably didn't give it much thought, a poignant moment seen during the service was the flowers on Prince Philip's coffin. In addition to Philip's naval cap and his Royal Navy Officer's sword, the casket was decorated with a gorgeous spray of flowers that were personally selected by the queen herself (via BBC). While flowers are standard to most funerals or memorial services, these particular flowers had a secret meaning, from the flower types themselves as well as the chosen color — and the queen's devotion to her husband was written all over the selections.
The meaning behind the flowers on Prince Philip's coffin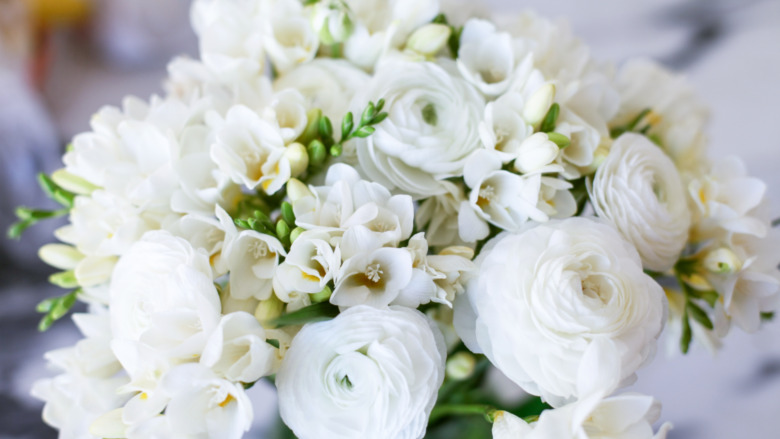 Shutterstock
Prince Philip's coffin was adorned with his unique flag — a combination of flags that represented his Danish and Greek heritage (he was formerly the Prince Philip of Greece and Denmark), his British nationality, and his title as Duke of Edinburgh, which he earned upon his marriage into the royal British family (via BBC).
On his coffin laid a set of flowers that were personally chosen by the queen. And they all were white flowers in a variety of shapes and sizes — freesia, jasmine, lilies, sweet peas, roses, and wax flowers (via Hello Magazine). Each flower has a secret meaning, and as we can imagine, meanings that meant a great deal to the queen.
According to Flower Meaning, both jasmine and roses mean a final goodbye, freesias mean trust, lilies usually mean innocence and are often seen at funerals because they also express sympathy, wax flowers signify everlasting love, and sweet peas traditionally have been used for gravesites, but also mean that the deceased was very special and dear to the person who chooses them. Roses, in particular, are especially significant, as they are the flower of Prince Philip's birth month (June).
Why are Prince Philip's flowers from the queen all white?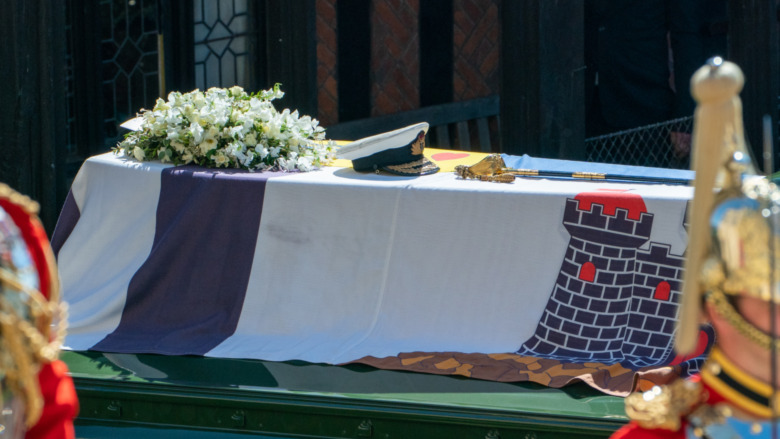 Wpa Pool/Getty Images
The wreath was striking because all of the flowers were white, with nary a red or pink petal to be seen — and there was a good reason for that. The meaning behind all the different flowers being white? As explained by City Flowers, white shouldn't be thought of as a simple absence of color. White, when looked at from a scientific point of view, is really made up of all colors (via Britannica).
White flowers can also represent faith and can be used to represent religious feelings (via Floral Queen). And finally, white symbolizes reverence and purity, and the fact that the queen specifically chose them demonstrates her grief (via Bloom Nation).