The Eerie Quotes And Carvings You Can Find In The Paris Catacombs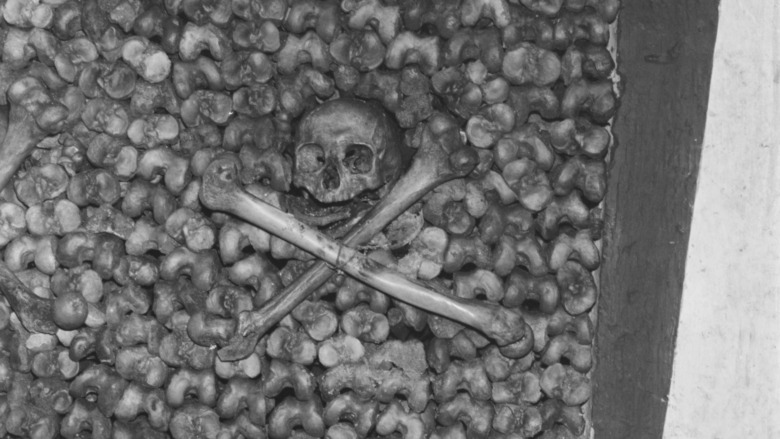 Michael Ochs Archives/Getty Images
The Paris Catacombs date back to 1786 when, according to their official website, major public health problems tied to the city's cemeteries led to a decision to transfer their contents to an underground site. Officials decided upon the former Tombe-Issoire quarries and began excavating human remains from the Saints-Innocents Cemetery in 1785. The underground site's official name is "Paris Municipal Ossuary" but it became known as "the Catacombs" almost immediately in reference to the Roman catacombs "which had fascinated the public since their discovery." The Catacombs opened to the public in 1809. 
Just before the 1809 opening, Inspector Hericart de Thury oversaw an extensive rearrangement and redecoration in which the previously scattered bones were organized within the walls. The design uses "rows of tibiae alternating with skulls" with fragments of bones piled behind the façade. The idea was to "encourage visitors toward introspection and a meditation on death." This is emphasized by the words carved above the entrance to the ossuary, per Mental Floss: "Arrête, c'est ici l'empire de la mort." This translates to "Stop, this is the empire of the dead."
Numbers here mean nothing; the crowd is lonely
The walls of the catacombs are lined with an assortment of signs, some factual, as the one above that simply lets people know that the bones in these Catacombs are from the former Magdeleine Cemetery, were deposited in the western ossuary in 1844, and transferred to the Catacombs in 1859. Others are more philosophical and, as they are primarily focused on the topic of death, a bit eerie.
The blog Une Flâneuse à L'étranger (A Wanderer Abroad) featured several photographs of the signs and translations from French to English. The catacomb's signs feature fragments of death-centric poetry from writers such as Alphonse de Lamartine, whose poem "Pensées des Morts," or "Thoughts of the Dead," reads, in translation: "So all things pass upon the earth/Spirit, beauty, grace, talent/Ephemeral as a flower/Tossed by the slightest breeze/They were as we are/Dust, the wind's plaything/Fragile as men/Feeble as the void." Another epitaph quotes poet Antoine-Marin Lemierre; in translation it reads, "It is in these places of oblivion, it is among these tombs/That time and death come to cross their scythes./So many dead piled and pressed under the Earth!/Numbers here mean nothing; the crowd is lonely."
Of course, some visitors have left behind some unwelcome commentary of their own upon visiting "the empire of the dead." An article in The Washington Post notes the name "Fernando" etched into a skull's forehead. Fortunately, per the author, "[t]here is very little defilement in the tunnels. A few names carved into signs or the stones of the walls, almost nothing on the bones themselves."