How Much Groucho Marx Was Worth When He Died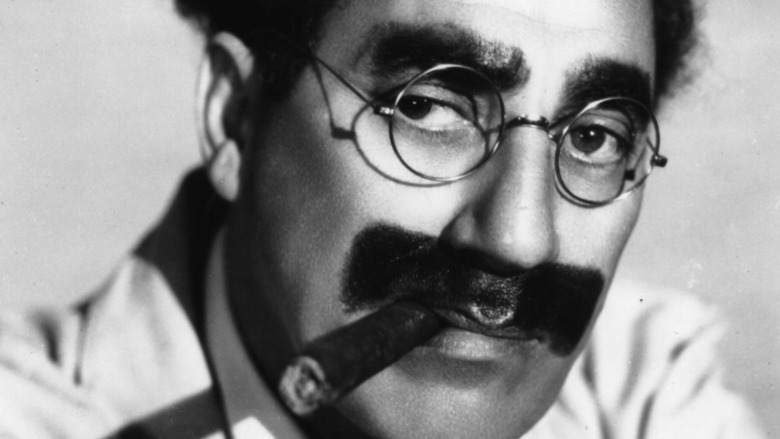 Hulton Archive/Getty Images
Even someone who's never seen a Marx Brothers movie would probably recognize Groucho Marx. Those heavy eyebrows, glasses, and mustache are still iconic enough to be made into the well-known "Groucho glasses" costume. Marx's onstage persona was also instantly recognizable and much imitated. Known for quipping while gesturing with a trademark cigar, Marx's ribald one-liners (some real, some fake) live on, per Today I Found Out. 
Born Julius Henry Marx in New York City in 1890, Marx started out as a singer, but he and his brothers were encouraged by their mother, Minnie, to perfect their vaudeville act, per Biography. Renamed "Groucho" by a fellow comedian because of his personality, his brothers took on the stage names Chico, Harpo, Gummo, and Zeppo, and they began performing as the Marx Brothers. Their breakthrough came in 1914 and by 1920, they were theatrical celebrities with a string of Broadway hits, including "I'll Say She Is," "The Cocoanuts," and "Animal Crackers." They went on to make hit movie versions of several of their Broadway plays, including "The Cocoanuts" in 1929, followed by a string of movies throughout the 1930s, including "Animal Crackers," "A Night At The Opera," "Horse Feathers," "Duck Soup," and "A Day At The Races." Interestingly, their debut film, "Humor Risk," may have been destroyed by Groucho in a fit of rage. 
Groucho started hosting the radio show "You Bet Your Life" in 1947. It moved to TV in 1950 and was one of the first and most popular quiz shows and featured funny questions that sparked quippy conversations. Marx hosted the show until 1961 and, though it was arguably his last major gig, Marx was not quite ready for retirement.
A long, contentious court battle over Groucho Marx's estate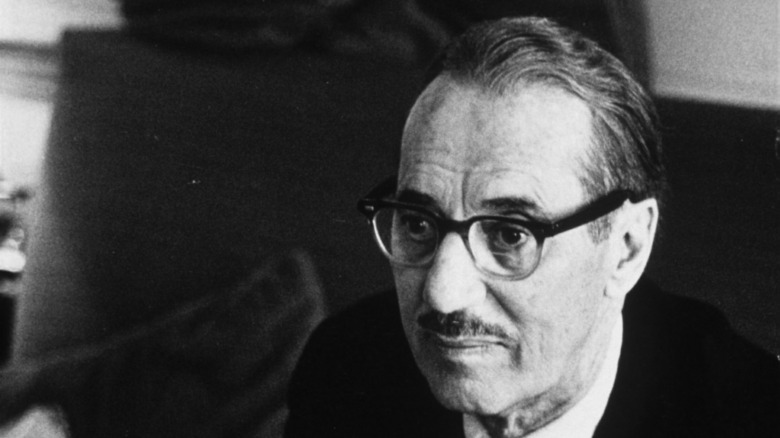 Michael Ward/Getty Images
Post-"You Bet Your Life," Groucho Marx briefly hosted the game show "Tell It to Groucho" before largely retiring from show business. He was married and divorced three times; he and his first wife, Ruth, were married from 1920 to 1942 and had two children, Miriam and Arthur. His second wife was Kay Gorcey; they had one child, Melinda. He and his third wife, Eden Hartford, were married from 1953 to 1969. Finally, he and actress Erin Fleming, who worked as Marx's secretary, were together from 1971 until the end of his life.
Marx died of pneumonia on August 19, 1977. Per Celebrity Net Worth, his estate was worth $2.8 million, or $12 million in modern dollars when adjusted for inflation. As reported by Entertainment Weekly, Fleming and Marx's children began fighting in court before the comedian's death, as Marx's family thought Fleming was abusing their father. Marx's children didn't convince the judge of their ability to care for their father, and responsibility for his care was awarded to his grandson Andrew. Upon Marx's death, Fleming and the Marx family continued their legal battles; per the Washington Post, a jury ruled against Fleming in 1983 and ordered her to pay the estate's executor, the Bank of America, $471,843.