The Truth About Che Guevara's Death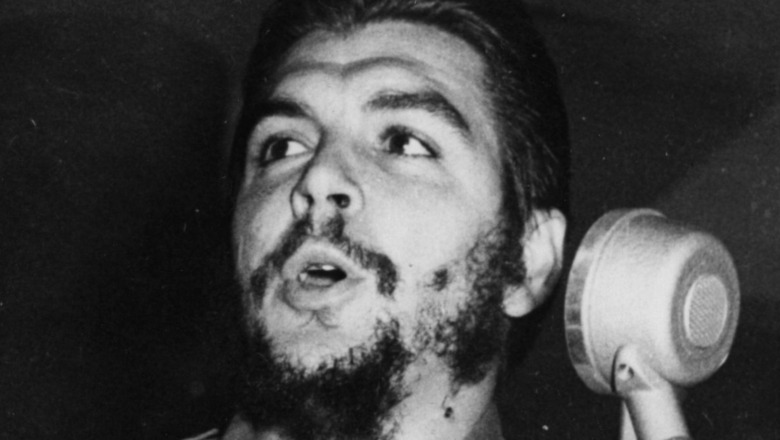 Keystone/Getty Images
Argentine-born Marxist revolutionary Ernesto Guevara de la Serna — better known as Che Guevara — was a very wanted man by the time he was shot to death at age 39 in Bolivia on October 9, 1967. A key leader in the Cuban revolution with Fidel Castro, Guevara was an anti-capitalist who worked to inspire nations in Latin America and Africa to take up guerrilla warfare to overthrow what he considered oppressive regimes. While Guevara's biggest victory in that realm was the Cuban revolution, that revolution was also the beginning of the United State's involvement in seeking to snuff him out. 
According to History, the U.S. government had backed Cuban dictator Fulgencio Batista, who Castro, Guevara and their rebel compatriots overthrew on January 1, 1959. Castro nationalized American-owned property in Cuba, History reported, and took up alliances with the Soviet Union and the Communist party. The actions of the new regime in Cuba, with Guevara working as president of the National Bank of Cuba, and then as minister of industry, per the BBC, pushed the U.S. to launch the Bay of Pigs Invasion in April 1961 in an effort to overthrow Castro's regime. The United States invasion attempt failed, and Guevara thanked them for their efforts. According to Unredacted, Guevara told a White House aide later that year he "wanted to thank us [the United States] very much for the invasion — that it had been a great political victory for them — enabled them to consolidate — and transformed them from an aggrieved little country to an equal."
The CIA was instrumental in helping to kill Che Guevara
Che Guevara left Cuba in 1965, writing a letter to Castro that said, "I have fulfilled the part of my duty that tied me to the Cuban revolution ... and I say goodbye to you, to the comrades, to your people, who are now mine," per PBS. He planned to continue to fight imperialism in Africa and South America.
After a failed uprising in the Congo, Guevara ended up in Bolivia. And so did the CIA. According to The Nation, the CIA was involved in "covert efforts to train and assist the Bolivian special forces in eliminating Guevara and his small band of guerrilla fighters."
On October 8, 1967, during a gun battle between Guevara's guerrillas and Bolivian soldiers, Guevara was captured and taken to a schoolhouse. The next day he was shot to death, executed with an M-2 automatic rifle, per The Nation. His body was on public display for 24 hours before it seemingly vanished, according to the South Florida Sun-Sentinel. 
Guevara's body had been buried in a secret location so that those who idolized him would not have a place to enshrine his memory, according to the Sun-Sentinel, but the CIA operative involved, Gustavo Villoldo, decided Guevara's hands should be cut off and preserved in formaldehyde to preserve the fingerprints to prove he was dead. Thirty years after his unceremonious burial in a mass grave, his body was exhumed and is now in a mausoleum in the Cuban city of Santa Clara.