The Musical Instrument You Didn't Realize Roddy Piper Played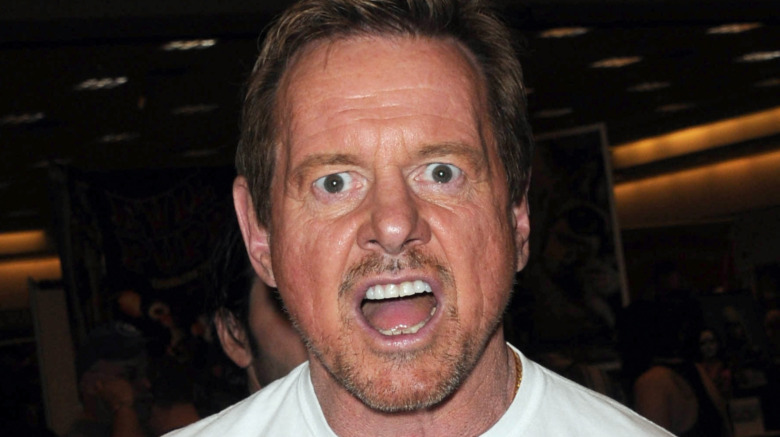 Albert L. Ortega/Getty Images
"Rowdy" Roddy Piper was one of the quintessential stars of the 1980s "Golden Age" of professional wrestling. "Hot Rod" was one of the WWE's best villians with his, well, rowdy antics, endless feuds with other wrestlers, and wild interviews in the "Piper's Pit" segments of WWE broadcasts that often turned violent.
Born Roderick George Toombs in 1954 in Saskatoon, Saskatchewan, Canada, he had a difficult childhood and set out on his own as a teenager, per Biography. At the age of 15, he was living in a youth hostel. A priest told Piper he could earn $25 by competing in a wrestling match, and a star was born. 
After a stint in NWA Hollywood Wrestling, he moved on to Portland, Oregon, followed by Georgia Championship Wrestling, where he was an "antagonistic commentator" who started a feud with Greg "The Hammer" Valentine. Roddy and The Hammer settled their differences in the first professional wrestling pay-per-view event in November of 1983. He came to the WWE (then the WWF) in 1984 where, according to the organization's website, he made history again by headlining the first WrestleMania at Madison Square Garden in a tag team with Paul Orndorff against Hulk Hogan and Mr. T.
Piper claimed to be a teen bagpipe prodigy
As an unhappy child, Roddy came up with an unusual but effective way to cope with his feelings of anger and aggression. Per Biography, he learned to play the bagpipes at age 6. In fact, he was so attached to his bagpipes that he brought them to that very first $25 wrestling match as a gimmick, which led to him being introduced as "Roddy The Piper." In a 2014 interview with the Portland Tribune, Piper claimed to have played with other young pipers at the Rose Bowl when he was 12, and coming in "fifth in the world" in a bagpipe competition at age 14. 
Even the kilt that was part of his signature look came from a band he was in that consisted of "four bagpipers, a bass drummer, and two snares," which sounds amazing, honestly. He worked the bagpipes into his act at one point, kicking off his first match in Portland by playing the Scottish national anthem in a manner he called "just horrible. I'd literally torture (fans) until they booed me." The showmanship and dedication to the antagonistic wrestling heel storyline is truly impressive.
Piper died of a heart attack in 2015; he was 61 years old.
A&E's Biography continues its "WWE Legends" series with an episode on "Rowdy" Roddy Piper on Sunday, May 2.