The Tragic Death Of Evelyn McHale
We may receive a commission on purchases made from links.
Evelyn McHale jumped to her death from the 86th story of the Empire State Building on May 1, 1947. Amateur photographer Robert C. Wiles captured the young woman lying on her back on the crushed roof of a car where she landed. The photograph was later published in Life Magazine and became known as "The Most Beautiful Suicide," per Rare Historical Photos.  
The haunting photograph captures McHale just after she landed. Her ankles were crossed. Her white-gloved hands clutched a pearl necklace. Her eyes were closed — her lips slightly parted. She looked relaxed and at peace in her death as she lay motionless atop the pulverized metal.
According to the website Codex 99, the troubled 23-year-old was originally from Berkeley, California, but her family had moved to D.C. and New York during her childhood and teen years. Her mother reportedly dealt with depression in the 1930s, and McHale felt that she took after her mother, at least that's what she purportedly wrote in a note. 
Other parts of the note hint at McHale feeling like she was not worthy, even as she seemed to have things going for her in 1947. She was living with her sister in New York and working as a bookkeeper. McHale was also engaged to be married to a 24-year-old named Barry Rhodes. The couple was set to tie the knot in June that year, per Codex 99.
Evelyn McHale's fiancé thought she seemed fine the morning she killed herself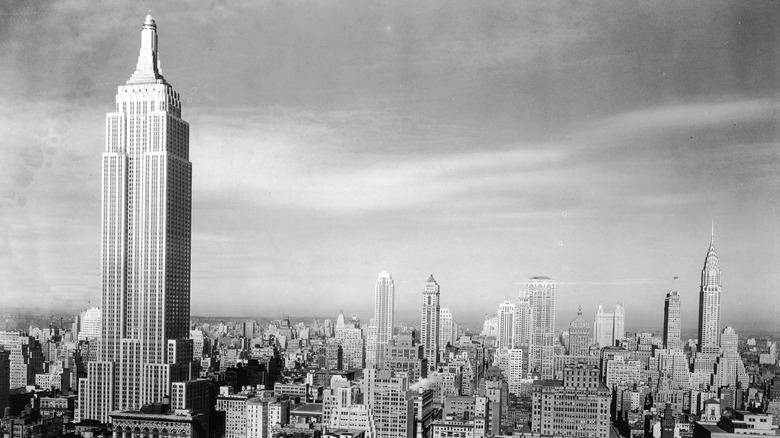 Hulton Archive/Getty Images
It's unclear whether her sister or other family members knew Evelyn McHale was dealing with depression, but she seems to have hidden it from her fiancé.
Rhodes said McHale spent the night with him the evening before she jumped off the Empire State Building and seemed fine. "She often voiced fears of not being a good wife [but] when I kissed her goodbye she was happy and as normal as any girl about to be married," Rhodes told reporters, per Codex 99.
McHale then left Rhodes and headed toward the Empire State Building, stopping to write a note, per Codex 99.  
Rare Historical Photos reported that a detective found McHale's coat and purse on the observation deck where she left it before she jumped. The purse held a suicide note, several dollars, a makeup kit, and family photos.  
If you or anyone you know is having suicidal thoughts, please call the National Suicide Prevention Lifeline​ at​ 1-800-273-TALK (8255)​.