The Truth About Crime Boss Paul Castellano
Often called "Big Paul" because of his imposing stature, mob boss Paul Castellano liked to act as if he were running a Fortune 500 company, not a criminal enterprise. Brooklyn-born Castellano, however, came from humble beginnings. His father was a butcher who ran an illegal lottery game on the side, according to Selwyn Raab's book "Five Families: The Rise, Decline, and Resurgence of America's Most Powerful Mafia Families." Castellano helped out with both family businesses after dropping out of school in the eighth grade. At the age of 19, he had his first run-in with the law. Castellano served time in prison in 1934 for robbery.
Castellano had become enough of a player in the criminal underworld to earn an invitation to the notorious Apalachin, New York meeting held at the estate of Joseph "The Barber" Barbara in 1957. The event was attended by a veritable who's who of organized crime at the time, including Joseph Bonanno, according to the New York Post. The police raided this Mafia summit, and Castellano earned some points with the higher-ups for refusing to testify about this event (via The New York Times). At the time, the 42-year-old Castellano said that he was the president of the Allied Retail Butchers Association in Brooklyn.
Paul Castellano became boss of bosses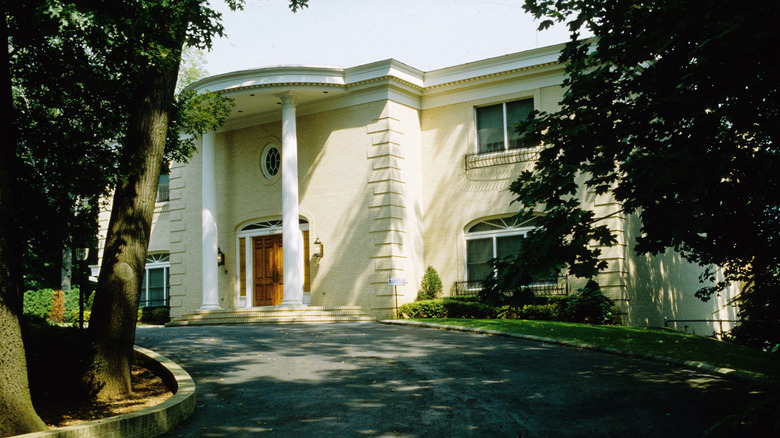 Yvonne Hemsey/Getty Images
In 1975, Castellano faced another possible prison sentence after being indicted on loan sharking and tax evasion-related charges. But the case against him crumbled after the prosecution's key witness declined to testify (via Britannica). Castellano's rise through the Gambino crime family may have been helped by some personal connections. He was the brother-in-law of Carlo Gambino, who was the top boss from 1957 until his death in 1976 (via the Mob Museum). Gambino picked Castellano to be his successor, skipping over his underboss Neil Dellacroce and stirring resentment in the likes of rising mobster John Gotti.
Known as the boss of bosses, Castellano was criminally conservative, opposing drug dealing by crime family members and violence against women (via The New York Times). He liked to invest some of the proceeds from gambling, loan sharking, and other illegal efforts into legitimate businesses. Projecting the image of a successful CEO, he lived with his family in a grand mansion on New York's Staten Island. Castellano became more reclusive, choosing to reign over his criminal enterprises from his home, and it proved to be his downfall. The FBI was able to get a listening device into his home, and the information gathered there was used to indict him, along with several other crime figures, on racketeering charges
Violent death of Paul Castellano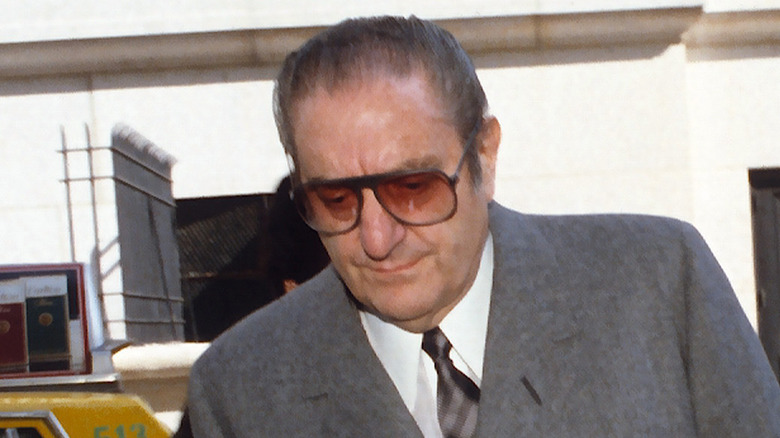 Yvonne Hemsey/Getty Images
Castellano went on trial in 1985, but he didn't live to hear the jury's verdict. The 70-year-old Castellano and his underboss, Thomas Bilotti, were heading into Sparks Steak House in midtown Manhattan on the night of December 16, 1985. Three men approached them and gunned them down in the street, according to the New York Daily News. Each man was shot six times. This merciless execution of these two men became one of the most infamous mob hits in history. At the time, the FBI feared that it was the beginning of a mob war.
John Gotti had sent the trio of assassins after Castellano (via the New York Daily News). Some reports indicate that Gotti took out Castellano to avoid being punished for selling heroin against Castellano's orders. In the wake of Castellano's death, Gotti soon assumed control of the Gambino crime family. But eventually he got his comeuppance for his role in this brutal execution. Gotti was convicted of racketeering and five murders, including the killing of Castellano, in 1992, and he was sentenced to life in prison (via the Mob Museum), where he died in 2002.