The Tragic Death Of John Entwistle
Al Pereira/Getty Images
Usually, there are three members of The Who's classic lineup who get mentioned when people discuss the band's legacy. Roger Daltrey gets a lot of love from fans for his soaring vocals and onstage charisma, Pete Townshend is fondly remembered for the many guitars he smashed onstage (and for being a pretty darn good axeman, too), and Keith Moon's unrestrained, yet complex drumming technique and wildman offstage antics live on more than four decades after his death. 
John Entwistle, meanwhile, doesn't get as much attention even if he rightfully should. "The Ox," as he was called, held down the rhythm for The Who, and as the band's website notes, he was unique for his time as a "lead" bassist whose innovative skills were showcased on classics such as "My Generation." He even got to write a few songs for the group, including the catchy novelty "Boris the Spider" and the hard-hitting live staple "Heaven and Hell."
On June 27, 2002, the news broke that Entwistle, 57, was found dead that morning in his Las Vegas hotel room. This came as a shock, considering how he was on tour with The Who with the band getting ready to play a series of dates in the U.S. According to Louder, Entwistle wasn't in the best of health at that time, as he was suffering from high blood pressure and hearing problems. But in the end, neither of those conditions directly contributed to the bassist's untimely death.
John Entwistle died of a drug-related heart attack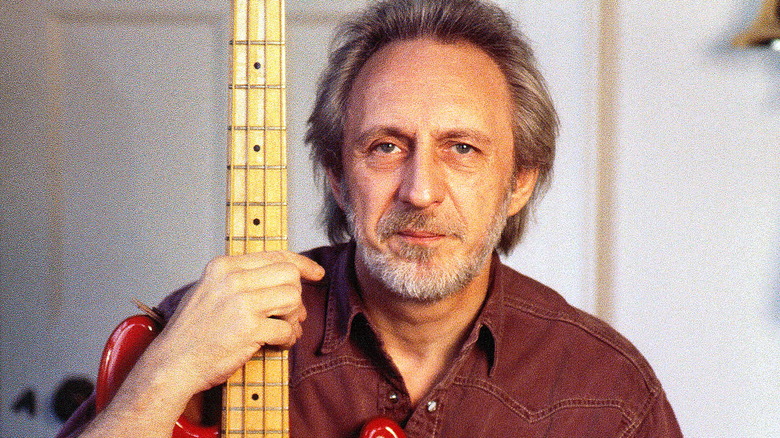 Michael Putland/Getty Images
As reported by The Guardian, John Entwistle had spent the evening of June 26, 2002, with bandmates Roger Daltrey and Pete Townshend, having a few drinks at the bar of the Hard Rock Hotel in Las Vegas. At around 3 a.m., the bassist finished his last drink and went to his room with an exotic dancer named Alycen Rowse, whom he had known from previous Las Vegas trips. Entwistle apparently did cocaine while he was in Rowse's company, and as she later recalled to Glide Magazine, there was something that made her feel unusually concerned while they tried to get some sleep. "Even when John and I were just kind of lying in bed, I was on top of the covers, thinking, 'I just want to go home to my own bed,' but John was like, 'Come on darlin', stay the night.' Well, something inside me, which I couldn't pinpoint at the time was just eating away at me," Rowse explained.
When Rowse woke up on the morning of June 27 at around 10 a.m., she found that Entwistle, whom she had heard snoring just a few hours earlier, was "unresponsive and cold to the touch." She was unable to revive the musician, and neither could the paramedics who arrived soon after. Entwistle's cause of death was confirmed in December 2002, with officials declaring that he died from a preexisting, yet undiagnosed heart condition that was triggered by his cocaine intake.
No one was aware Entwistle had a heart condition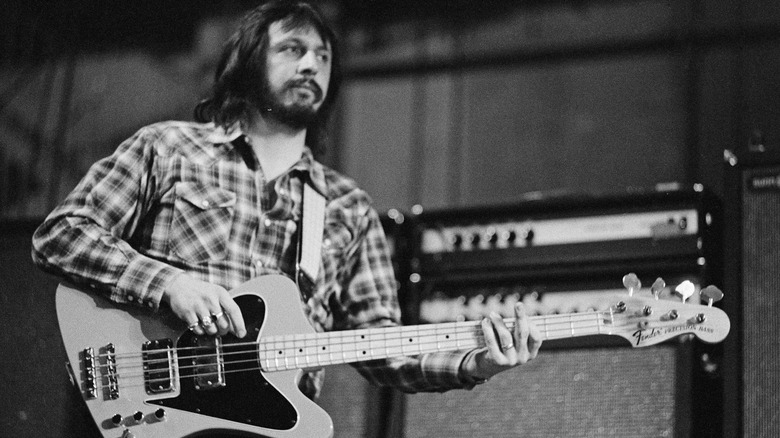 Michael Putland/Getty Images
As pointed out by The Guardian, Entwistle's heart condition was so serious that while he was found to have "significant but not grossly elevated" cocaine levels in his blood, it was enough to have caused him to die suddenly in his sleep. Specifically, the bassist had a severe case of ischemic heart disease, which may have been aggravated by the fact he smoked about a pack of cigarettes a day. However, his son Chris Entwistle told Louder that no one, not even his father, was aware that he had such a condition.
"It turned out that one of his arteries was a hundred per cent blocked, and another seventy-five per cent," he said. "High blood pressure is a family trait. His mother had it, as do I, but we had no idea about the problems with his heart, and nor did he. We were told they would only have been found out with an electrocardiogram, which he never had because it hadn't seemed necessary. He was very rarely ill."
Looking back on his father's death, Chris Entwistle added that it "wasn't the worst way to go," as he was informed by the doctor who did the autopsy that John likely "wouldn't have felt a thing."