The Children Of Bodom Album Alexi Laiho Thought Was The All-Time Best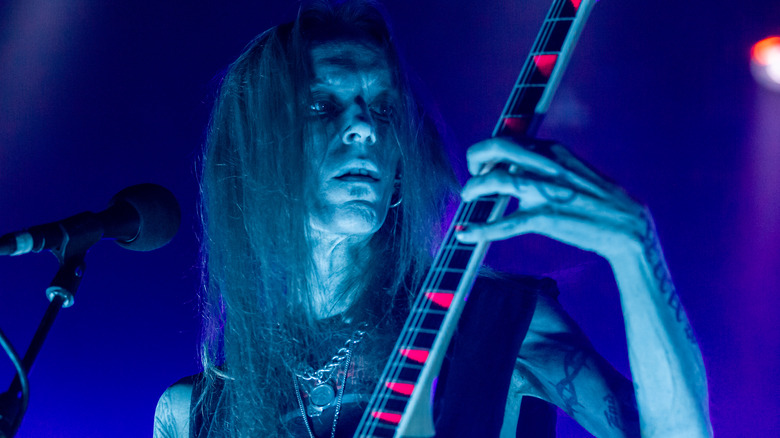 Miikka Skaffari/Getty Images
In the music world, Children of Bodom certainly weren't the modest type. Quite rightly, too: by the time their 2019 split rolled around, they had unleashed around a quarter of a century's worth of powerful Finnish metal.
And what a discography it is. From 1997's "Something Wild" to the release of "Hexed" in 2019, they launched 10 studio albums during their remarkable time together. Along the way, they developed a dedicated following at home and around the world. Naturally, every fan will have their own pick for Children of Bodom's greatest album, but which release did frontman Alexi Laiho consider their very best?
In February 2019, Kerrang asked him that very question, and he wasted no time in ranking each of the band's studio releases. Choosing the bottom spot was incredibly difficult for Laiho ("This is ... brutal ... it's like I've got to pick my least favorite kid"), but he settled on "Relentless Reckless Forever," the band's seventh album, which dropped in 2011. He stated that there were a few tracks on it that he enjoyed, but in hindsight, he felt the band were trying something different just for the sake of it and that the result was "just a whole lot of riffs at high speed that don't make up a song."
A mighty metal legacy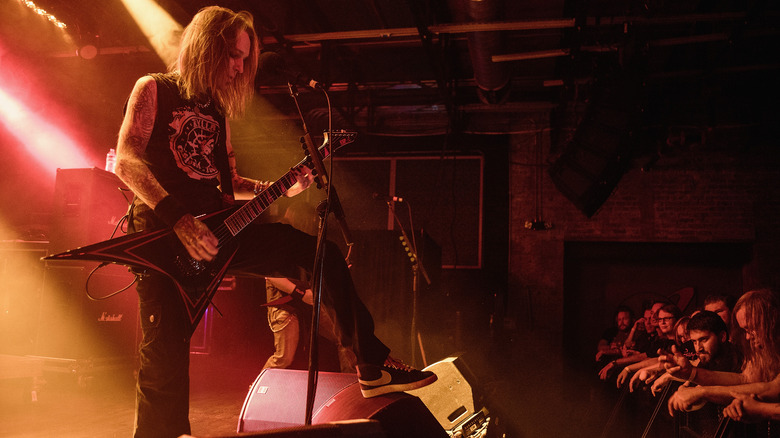 David A. Smith/Getty Images
2000's "Follow The Reaper," album three, took the middle spot, marking for the musician a time when "the band grew a lot and just got better and better and more and more attention from everywhere," he told Kerrang. Though he also gushed about the band's last album, "Hexed" ("I loved recording and writing this new record and I love the way it sounds"), it came second to Laiho's all-time favorite: 2003's "Hate Crew Deathroll," their fourth effort.
"That's the album that ... broke everything for us: the shows got bigger, festivals got bigger, and we sold a lot of records," he said. It was personal, as it allowed Children of Bodom to perform in places they never dreamed of, Laiho stated, and it also brought fans some of the band's most notable songs, such as "Needled 24/7." What a choice.
Sadly, Laiho died on December 29, 2020, at the age of just 41. According to legal widow Kimberly Goss (per Arrow Lords Of Metal), a forensic report concluded that his liver and pancreas had been damaged by his drinking and there were opioids and painkillers in his system at the time of his death.