Tragic News Hits Anthony Kiedis Of Red Hot Chili Peppers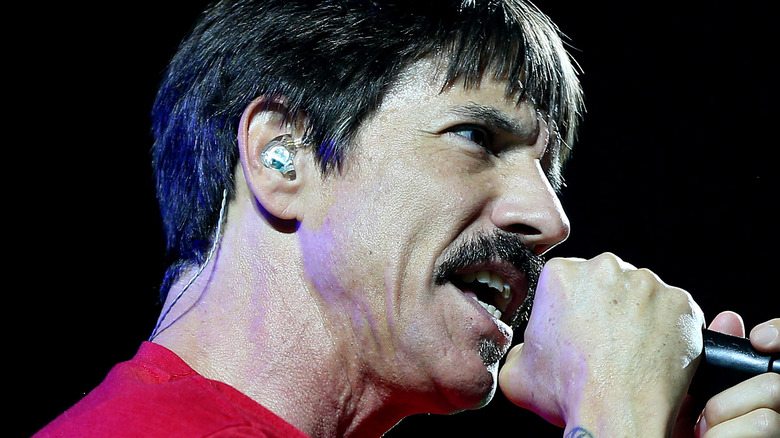 Don Arnold/Getty Images
Anthony Kiedis of Red Hot Chili Peppers had a close relationship with his father, Blackie Dammet, even if he did raise him in an unorthodox way. Still, when Dammet died on May 12, 2021, it had to hurt. 
Dammet, whose real name is John Kiedis, died of dementia. He'd been living with the debilitating disease for several years, and in 2017 Kiedis seemed to have made peace with the situation. At a show that year, he took a moment to talk about his father's imminent death and ask the audience to show some love. In a YouTube video, Kiedis says, "My father is fixing to die, and that's okay. He had a wild, great journey and a hell of a colorful badass life. But, he's sick, and he's gotta die now. He's pretty lost. He's just a spirit. But I would like for everyone to just to take 10 seconds to send him some love. Send his spirit some love because pretty soon he's going to be sailing on ..." Yet Dammet lived for nearly four more years. 
According to the Facebook page "We support Blackie Dammet," where his death was announced, "Blackie was a flamboyant, larger than life, character who blazed his own trail through life. His life certainly wasn't conventional — nor was his method of parenting — and had its rollercoaster of ups and downs, but in later years he very much found his place leading the tribe of RHCP rockinfreakapotomi as president of the official fan club."
Growing up with Dammet involved sex, drugs, and rock 'n' roll stars
Anthony Keidis grew up quickly after he moved to Los Angeles to live with his dad when he was about 11 years old, according to what Dammet told Rolling Stone in 1994. Dammet said, "Back then, I was working with Alice Cooper and John Lennon, and I was quite the crazy maniac. So he grew up in kind of a wild and hectic environment. I always knew he'd do great things." 
According to Rock Music Revival's reporting on Keidis's 2004 autobiography, "Scar Tissue," Keidis lost his virginity to Dammet's 18-year-old girlfriend, once smuggled $30,000 of his dad's drug money on a plane, and started smoking pot with Dammet, a drug dealer and drug addict, when he was around 12 years old. 
Kiedis was also regularly around celebrities, like Sonny and Cher, who allegedly bought drugs from his dad, per Rock Music Revival. Thanks to his dad, Kiedis also met David Bowie, the Talking Heads, and Blondie as a kid. Kiedis later wrote two Red Hot Chili Pepper songs to Dammet, "Savior" and "The Hunter," according to Exclaim.
In a video put together for YouTube commemorating the life and death of Dammet, Dammet is reading the lyrics to "Savior" and gets choked up as he reads the words, "Now you see what I came for/no one here is to blame for/Misunderstand, all in a hand/Just like you cause you made me all that I am."
The reporter asks — what does that lyric mean to him? Dammet replies, "Well, that he forgives me for whatever ..."