23% Of People Aren't Fans Of This Hit AC/DC Song
Michael Ochs Archives/Getty Images
The world renowned hard rock band AC/DC is beloved by rock music fans globally. The Australian group was founded in 1973 and remains one of the best rock bands of all time. According to Guitar World, they are also one of the top-selling bands in the U.S. In fact, they've been so influential, you'd be hard-pressed to not find AC/DC named in a list as one of the greatest acts in rock music (via Rolling Stone). The group was originally created by brothers Angus and Malcolm Young, Colin Burgess, and Larry Van Kriedt. Different members would join and leave the group over the years, save for the Young brothers.
They earned international status with the popularity of several songs, many of which are rock music classics. To date, they've charted seven hit songs on Billboard's Hot 100 chart, but their sole No. 1 hit song is "Highway to Hell," a song that's been heard in countless films, television shows, and commercials. And surprisingly it earned that top spot just last year. Even though one might expect the band to have had more hit singles, AC/DC is still known for countless and well-recognized songs. That made us curious, and we surveyed our readers to tell us which of the band's popular songs they did not like.
The least favorite AC/DC song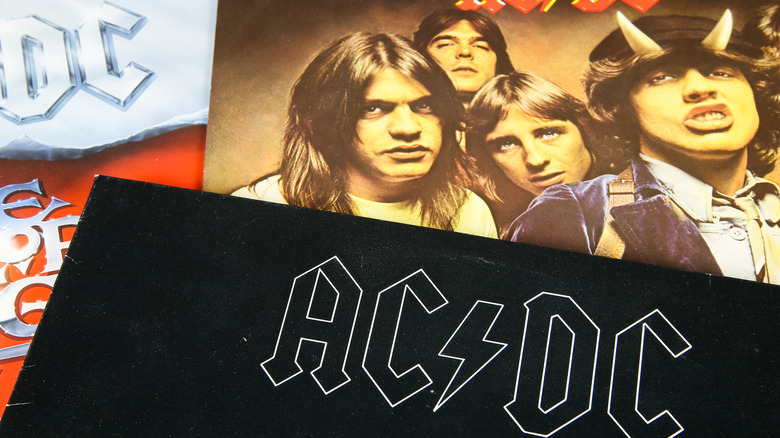 Shutterstock
We surveyed 688 people on what was their least favorite AC/DC song. While most of our participants leaned more toward hating one particular song, the results were somewhat close. Based on our survey, fans say "Shoot to Thrill" is the least liked AC/DC song, as 23.40% of respondents chose that tune. Maybe it's because despite being on the band's best-selling album, "Back in Black," the 1980 song was not released as a single and didn't have a video. But apparently it still got a lot of radio play, per Song Facts. 
In second place, 19.77% of respondents chose "Dirty Deeds Done Dirt Cheap" as another non-favorite track, and coming in third with 19.33% of the vote was "It's a Long Way to the Top."
Shockingly, two of AC/DC's most recognized and Billboard charting songs, "Back in Black" and "Highway to Hell," got 13.66% and 12.21% of the vote, respectively. These songs charted last year (that's how popular they are).
And last but not least, only 11.63% of participants chose "Thunderstruck."