This Was Bret Hart's Biggest Challenge In Life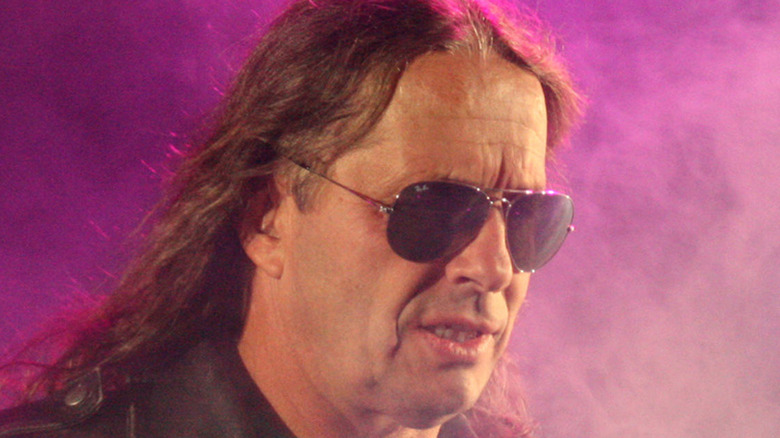 Gallo Images/Getty Images
Fans who were around in the 1980s and 1990s probably know him best as the "Excellence of Execution," a technical wrestler who was never the biggest but was always among the most skillful in-ring competitors during his heyday. Younger viewers, meanwhile, might be most familiar with how he tends to give present-day matches a four out of 10, as documented by Wrestling News World. In any case, Bret "The Hitman" Hart has had an illustrious career that has seen him get inducted into the WWE Hall of Fame for his many achievements, including multiple world championships and tag team titles. And we shouldn't forget the fact that he feuded with some of professional wrestling's biggest names back in the day, including "Stone Cold" Steve Austin, Shawn Michaels, and his own younger brother, Owen Hart.
Despite all those accomplishments, Hart has also dealt with myriad trials and tribulations along the way. Due to the so-called "Montreal Screwjob" at the 1997 Survivor Series, he left WWE on acrimonious terms, only to have an underwhelming run with rival company WCW — publications such as WhatCulture have since pointed out how the Hitman was not booked to be the main-event talent he was during his time in WWE. Owen Hart's accidental death at WWE's Over the Edge pay-per-view in 1999 was another crushing blow, as was Bret's forced retirement due to post-concussion syndrome. However, there is one thing that Hart considers the biggest challenge he has ever faced in his life.
Bret Hart's recovery from his 2002 stroke was his 'most challenging battle'
As quoted by Sportskeeda, Hart revealed on the 27th episode of his "Confessions of the Hitman" podcast in November 2020 that he was greatly affected by the stroke he suffered in 2002, and that he had a hard time throughout the recovery process that followed. "Hands down, the most challenging battle I ever had; that's for sure," he explained. "I've talked a lot about my stroke over the years. As difficult as it was, I've always been really proud of how I recovered through it." Hart then said that he "willed [himself]" to keep fighting and that he envisioned himself as the hero he was "pretending to be" as a pro wrestler in order to give himself strength to handle the ordeal.
As Hart's career-ending concussion was caused by an errant kick to the head from Bill Goldberg, he also theorized that the unfortunate accident might have been a risk factor in his stroke, which happened while he was riding his bicycle near the Bow River in Alberta. He recalled only being able to see out of his left eye when he had his stroke, but due to his condition, he ended up seeing "a million stars," much like he did when he was concussed by Goldberg a few years prior.
Fortunately for the Hitman's fans, Hart appeared to be in good health at the time the episode aired, as he ended his discussion of the topic by rating his health as a "nine out of 10."