The Tragic Death Of James Taylor's Older Brother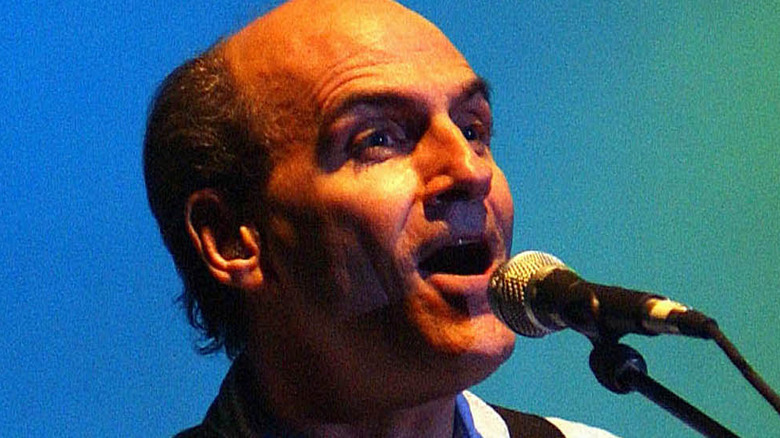 Getty Images/Getty Images
Singer James Taylor had to say goodbye to his oldest brother Alex on March 12, 1993, sadly also James' 45th birthday. Alex Taylor died just days after suffering a heart attack at King Snake Records Studios in Sanford, Florida, according to Variety. Alex reportedly had been working on a third album for the label when he became ill on March 7. He quickly fell unconscious and remained in a comatose state until his death.
Alex Taylor was only 47 years old when he died. According to James' audio memoir, "Break Shot," Alex had been an alcoholic and his history of substance abuse had contributed to his death (via Rolling Stone). James also explained that his father had been an alcoholic as well. Alex left behind his wife, Brent, and his son, James. Named after his famous uncle, James inspired the song "Sweet Baby James." Alex was a longtime resident of Martha's Vineyard, Massachusetts (via Greensboro News & Record).
Alex Taylor
A love of music seemed to be a genetic trait of the Taylor family. Alex, James, sister Kate, and brother Livingston made singing and performing a part of their lives. James and Alex teamed up together for a short time in the 1960s as The Fabulous Corsayers with three friends, according to Rolling Stone. The Taylor brothers shared vocal duties in the group. "We played mostly proms and a few fraternity gigs 'cause we lived in a university town," James Taylor told Rolling Stone. "And we were cheap."
Unlike his more famous brother, Alex Taylor only put out a few albums in his lifetime. Taylor had a bluesy vocal style that helped him earn a contract with the Macon, Georgia-based label Capricorn (via Music Museum of New England). He befriended fellow southern rock act the Allman Brothers Band and sometimes opened for the group. Taylor put out his first record, "With Friends and Neighbors," in 1971, which featured songs by his brother James and Gregg Allman of the Allman Brothers Band (via Discogs). He followed up that release with 1972's "Dinnertime," on which he offered listeners his take on songs by Randy Newman and Bob Dylan. His musical output tapered off after that, and his last commercially released record, "Voodoo in Me," was released in 1989 (via All Music).