The Eerily Similar Deaths Of Duane Allman And Berry Oakley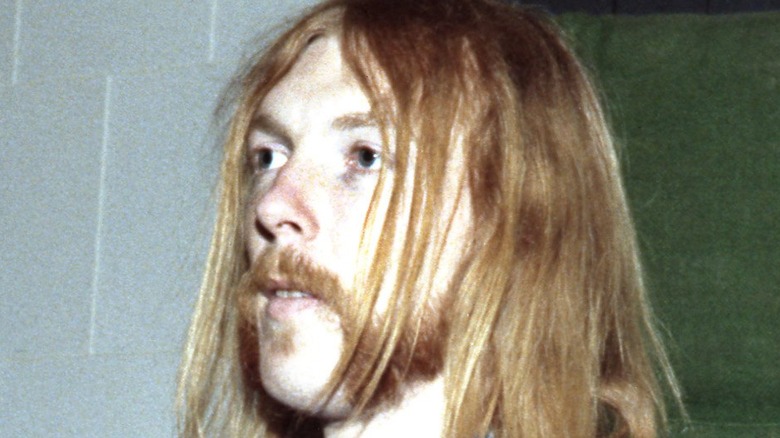 House Of Fame Llc/Getty Images
The Allman Brothers Band were Southern rock royalty. They made 30-minute live jams cool during their heyday, and that arguably made them much more fun than, say, the Grateful Dead noodling on yet another extended live version of "Dark Star." However, the Allmans were more than just a must-see live act; songs such as "Ramblin' Man," "Whipping Post," and the instrumentals "Jessica" and "In Memory of Elizabeth Reed" have long been staples of classic rock radio despite mostly clocking in at over five minutes.
During their early years, however, the Allman Brothers Band faced a pair of tragedies that would have forced most other bands to call it a day. These tragedies were the deaths of founding members Duane Allman and Berry Oakley, who both died just as the band was at the pinnacle of their success. Although there were many doubts whether the band could continue, that's just what they did; per Ultimate Classic Rock, the group hired a pianist (Chuck Leavell) instead of replacing Allman with another lead guitar prodigy. Meanwhile, Lamar WIlliams was brought in soon after Oakley's death, right in time for the release of their 1973 album "Brothers and Sisters."
Credit where credit is due — it's no small feat that the Allman Brothers Band lasted as long as they did following those losses. However, fans still can't help but take note of the eerie similarities between the deaths of Duane Allman and Berry Oakley. 
Duane Allman was only 24 when he died in a motorcycle accident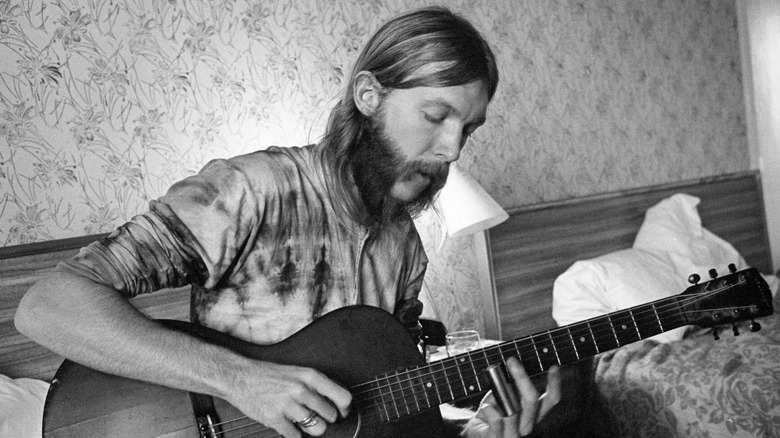 Michael Ochs Archives/Getty Images
During the fall of 1971, the Allman Brothers Band was enjoying what Rolling Stone's Jon Landau described as their "first real vacation in more than two years." Their third release, "At Fillmore East," had just cracked the top 20 of the Billboard album charts, and it was a well-deserved break for a band that was clearly on the rise. And on the late afternoon of October 29, 1971, Duane Allman was leaving the band's "Big House" in Macon, Georgia, after wishing Berry Oakley's wife, Linda, a happy birthday.
At around 5:45 p.m., tragedy struck while Allman was riding his motorcycle; noticing a truck passing in the same direction, he swerved furiously to avoid it. However, he had apparently seen the vehicle a bit too late, resulting in the bike skidding and flipping in the air before landing on Allman and moving another 50 feet. While the guitarist was reportedly conscious when an ambulance finally arrived, he was pronounced dead three hours later at the Macon Medical Center. He was only 24 years old.
As cited by Rolling Stone, attending surgeon Dr. Charles Burden revealed that Allman's injuries — a collapsed chest, a ruptured coronary artery, and a "severely" damaged liver — would have left him with "very little hope" of survival.
Berry Oakley's death: Same age, same part of town, similar circumstances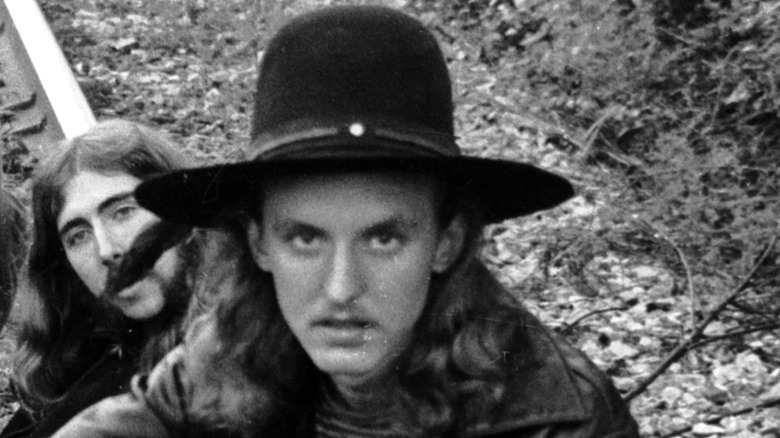 Michael Ochs Archives/Getty Images
Out of all the members of the Allman Brothers Band, perhaps nobody was more affected by Duane Allman's death than Berry Oakley. "The sparkle that was Berry was simply gone," drummer Butch Trucks recalled in a 2011 blog post. "He drank himself into a stupor almost daily. We continued to tour but Berry's heart just didn't seem be 100% into it any more."
On November 11, 1972, just one year and 13 days after Allman's death, Oakley was involved in a very similar motorcycle accident that took place just three blocks away from the scene of the mishap that killed the guitarist. Oakley's accident also involved a large vehicle, as he crashed into a bus after losing control of his bike. And in yet another chilling similarity, Oakley was also 24 years old at the time of his death. According to Ultimate Classic Rock, the bassist initially returned to the Allmans' Big House after refusing medical treatment, but when it became clear that he was severely hurt, he was taken to the same hospital where Allman died, and later succumbed to his injuries. His cause of death was listed as cerebral swelling due to a fractured skull.
Even in death, Allman and Oakley remain inextricably linked to each other. The two musicians were buried side-by-side at Macon's Rose Hill Cemetery, and many years later, city officials honored them by designating part of State Highway 19 as the Duane Allman Boulevard and renaming a nearby structure to the Raymond Berry Oakley III Bridge.