Celebrities Who Are Still In Prison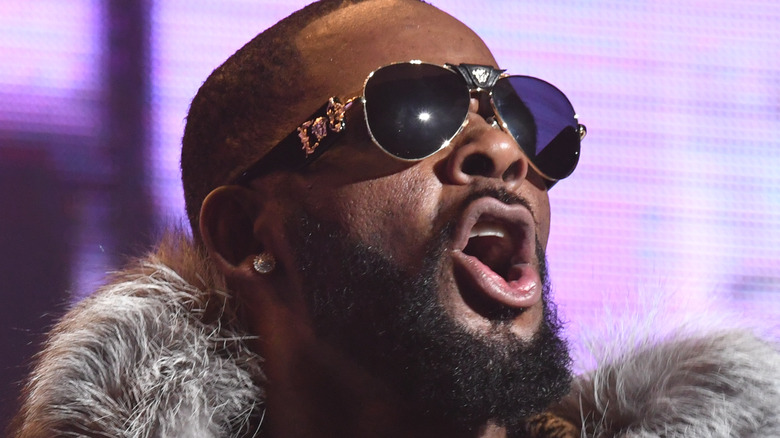 Shutterstock
Even famous people break the law. Many celebrities have gone to jail over the years, including comedian Tim Allen, domestic guru Martha Stewart, and actor Kiefer Sutherland. A good chunk of these stars committed minor offenses involving DUI charges or financial crimes. They serve rather short sentences and are often (but not always) able to pick up their lives where they left off. Society can be very forgiving when it comes to those who do their time and repent their crimes. 
Then there are the celebrities whose criminal activities are on an entirely different level, necessitating several years in prison. They've committed crimes that are so bad, it's next to impossible for fans to forget what they did. The men and women in this list have been involved in sex crimes, trafficked huge amounts of drugs, and even committed murder. Some admit that they broke the law, while others continue to maintain their innocence. Either way, they're stuck behind bars for a very long time.
It's unclear what they will do when they're released from prison. Some may die while serving out their sentences, while others may disappear from public scrutiny. Regardless, their legacies are forever linked to their poor choices in judgement.
The following article includes mentions of domestic abuse and sexual assault.
Suge Knight can't be paroled until 2037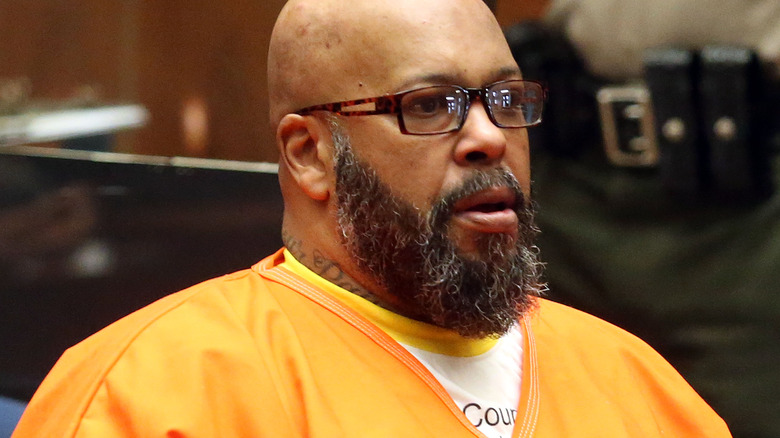 Frederick M. Brown/Getty Images
Hip-hop star Marion Hugh "Suge" Knight Jr. was the CEO of Death Row Records, and in January 2015, he had an altercation with a man named Cle "Bone" Sloan, who worked on the biopic "Straight Outta Compton," according to The Cinemaholic. The fight got so intense that Knight ended up grazing Sloan with his vehicle and running over a man named Terry Carter, who died from his injuries. Knight initially claimed his actions were in self-defense and that he was being chased by two armed men.
Three years later, Knight entered a plea deal and was sentenced to 22 years in prison for voluntary manslaughter and six years for a third strike violation, which totaled 28 years behind bars. He has been serving time at the Richard J. Donovan Correctional Facility in San Diego County, California, since 2018 and isn't eligible for parole until 2037. 
Not long after he was sent to prison, Knight claimed that Dr. Dre was behind a plot to assassinate him. He told The Blast it was a murder-for-hire scheme with a paper trail and proof that Dre was involved in a plan that would "get rid" of Knight. 
Subway star Jared Fogle had inappropriate relationships with minors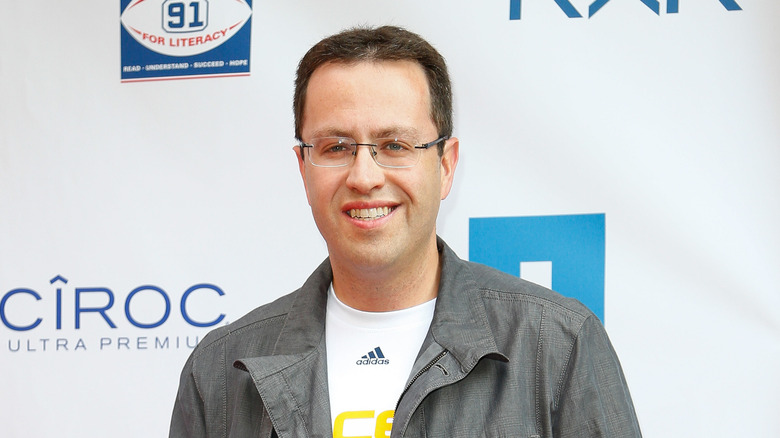 Shutterstock
You probably remember a man named Jared Fogle from the Subway sandwich commercials. When he was just 20 years old, he weighed over 400 pounds. He decided to change his life in 1998 by exercising and eating two sandwiches from Subway every day. He lost more than half of his body weight in less than one year, according to the Los Angeles Times. He then appeared in a Men's Health article and soon became a spokesman for Subway, appearing in his first commercial for the sandwich shop in 2000. He had parlayed his weight loss into an income-earning gig.
A few years later, things took a very dark turn.
During a plea deal with authorities in 2015, he confessed to receiving child pornography and having sex with minors, according to NPR. He was involved in interstate travel to pay for sex and possessed 400 videos of illicit pornography. Even worse, many of the videos were sent to him by the head of his charity, according to prosecutors in the case against him. Fogle was sentenced to over 15 years in prison and won't be eligible for parole until he's served at least 13 years. Fogle was also reportedly ordered to pay restitution to 14 minors that he assaulted, to the tune of $1.4 million.
If you or someone you know may be the victim of child abuse, please contact the Childhelp National Child Abuse Hotline at 1-800-4-A-Child (1-800-422-4453) or contact their live chat services.
TV star Michael Jace killed his wife in front of their young children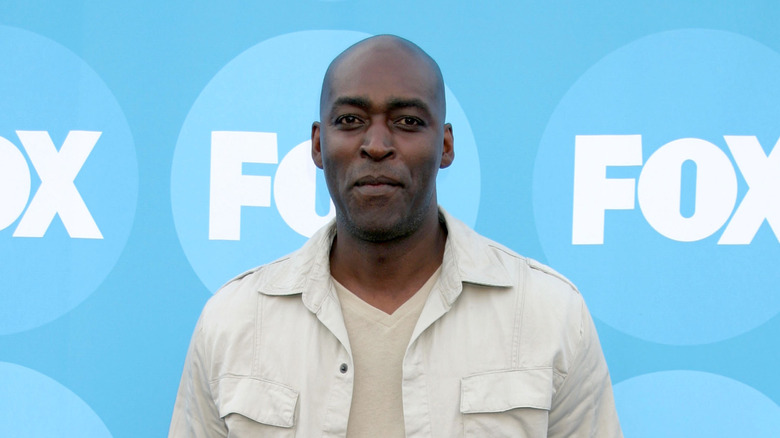 Shutterstock
Michael Jace, who you may know for the television police drama "The Shield," shot his wife in front of their two children in their Los Angeles home in 2014. He was sentenced to 40 years in prison for the murder, reported CNN. The motive for the killing appeared to be jealousy. His wife, April Jace, wanted a divorce, and the 53-year-old actor was convinced she was dating another man.
When April returned to their home on May 19, 2014, Jace shot her several times while their sons, ages eight and five, looked on. He called 911 and his father-in-law after the incident and admitted to the crime. Jace had a history of violent behavior: A friend of his first wife revealed in a sworn statement during a 2005 custody case that he had choked and hit his wife and slammed her against the wall.
Jace's acting career spanned two decades. He also appeared in the show "Southland" and played basketball legend Michael Jordan in the made-for-TV movie "Michael Jordan: An American Hero."
If you or someone you know is dealing with domestic abuse, you can call the National Domestic Violence Hotline at 1−800−799−7233. You can also find more information, resources, and support at their website.
At least 87 women accused Harvey Weinstein of sexual assault and other crimes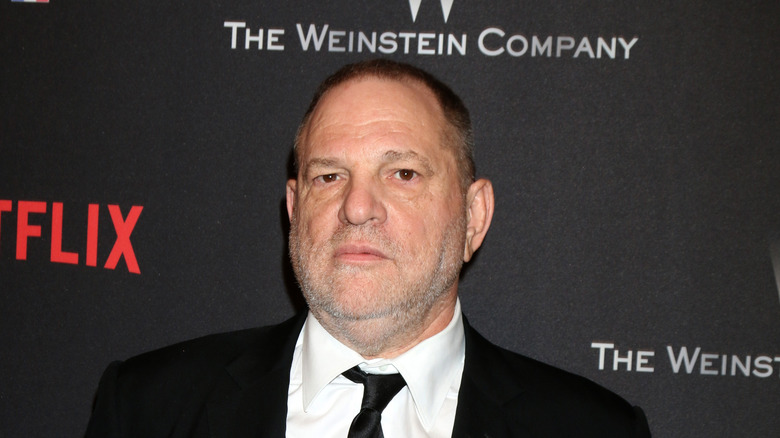 Shutterstock
Film mogul Harvey Weinstein is in prison based on the allegations of just two people, Miriam Haley and Jessica Mann, even though dozens of women (a whopping 87, according to USA Today) spoke out about the sexual abuse they experienced at his hands over the years. Weinstein was arrested in New York and charged with rape, committing a criminal sex act, sexual abuse, and sexual misconduct, in 2018, according to Biography. Investigators in California and London were also targeting the producer for sex crimes.
Before he went to trial, Weinstein posted $1 million bail and was ordered to wear an ankle monitor. He was later indicted on charges of rape in the first and third degrees, a first-degree criminal sexual act, and other felony sex charges. The entire time, Weinstein refuted the charges and indicated that the women were willing participants in his sexual conquests. At one point during the investigation, a spokeswoman told USA Today, "Any allegations of non-consensual sex are unequivocally denied by Mr. Weinstein."
In 2020, the producer was found guilty of committing a criminal sexual act against Haley and rape in the third degree. He was found not guilty of predatory sexual assault and rape in the first degree against Mann. Weinstein was sentenced to 23 years in prison and is a registered sex offender.
If you or anyone you know has been a victim of sexual assault, help is available. Visit the Rape, Abuse & Incest National Network website or contact RAINN's National Helpline at 1-800-656-HOPE (4673).
C-Murder may have been wrongly convicted
New Orleans rapper C-Murder, born Corey Miller, was convicted of second-degree murder for killing a teen named Steve Thomas in a nightclub in 2002. The rapper started serving a life sentence in Louisiana State Penitentiary in 2009, according to NBC News. However, there's a twist in his case: Since his incarceration, two major eyewitnesses came forward to recant their testimony. Plus, an unlikely ally has come to his defense: reality star Kim Kardashian.
In April 2020, the Supreme Court determined that jury verdicts in trials involving serious crimes must agree unanimously. In Miller's case, he was convicted 10-2. Kardashian, who is studying to be an attorney, tweeted at the time, "Since his trial, witnesses have recanted, new evidence of his potential innocence has come to light, and there are claims of jurors being pressured into voting to convict."
One witness, Kenneth Jordan, revealed that he was pressured to lie about C-Murder because he feared being imprisoned himself on unrelated charges. The other witness, Darnell Jordan, also claimed he felt pressured to lie under oath. Meanwhile, the convicted rapper has claimed he's innocent of all charges.
R. Kelly still has to go to trial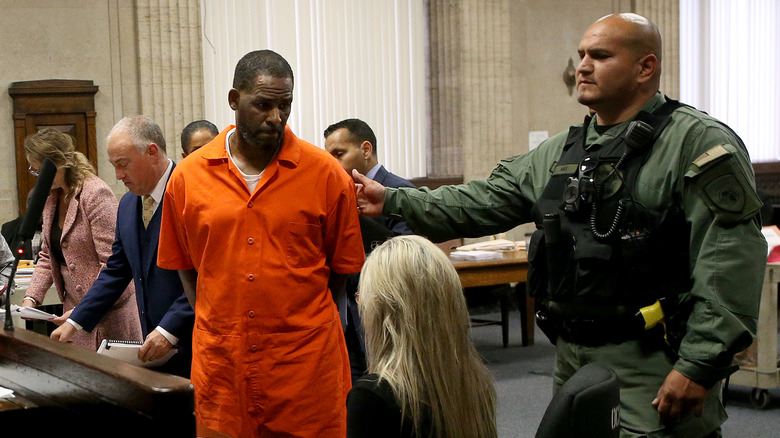 Pool/Getty Images
Singer R. Kelly was arrested by the feds on July 11, 2019, in Chicago. He and a few associates allegedly recruited young girls for sexual encounters, isolated them from their families, and controlled them so they wouldn't seek help, according to the Chicago Tribune. An indictment was filed in a U.S. District Court in New York City, and Chicago prosecutors also issued an indictment claiming Kelly paid off witnesses and victims in a 2008 child pornography trial.
The singer faces up to 20 years in prison for the New York case and possibly decades more for the Chicago case. He's also facing additional criminal charges related to sexual abuse filed in Cook County, Illinois. Trial dates in New York were postponed due to the COVID-19 pandemic. Kelly is currently in a Chicago federal jail and has been having a hard time in lockup. He was attacked by Latin King gang member Jeremiah Shane Farmer in August 2020. Farmer beat the star up while he was in bed, and Kelly reportedly sustained a serious concussion during the incident.
If you or someone you know may be the victim of child abuse, please contact the Childhelp National Child Abuse Hotline at 1-800-4-A-Child (1-800-422-4453) or contact their live chat services.
Paralympic athlete Oscar Pistorius shot his girlfriend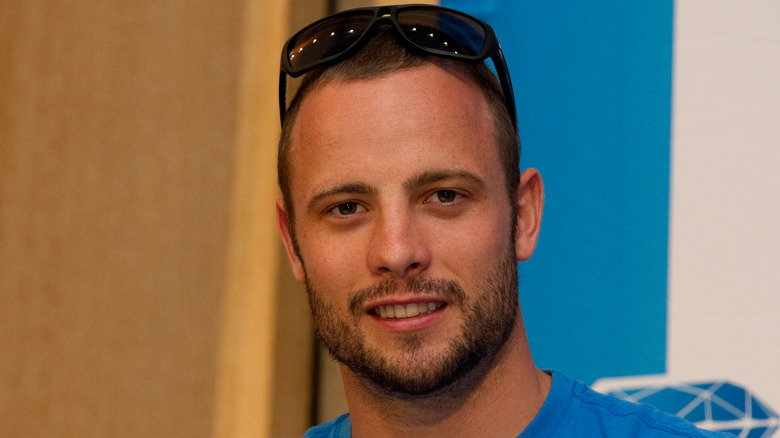 Shutterstock
Olympic and Paralympic athlete Oscar Pistorius shot and killed his girlfriend Reeva Steenkamp at his home in Pretoria, South Africa, on Valentine's Day in 2013. Pistorius was arrested and charged with murder, even though he insisted he killed Steenkamp by accident, believing she was a trespasser taking cover in his bathroom, according to Radio Times. The jury found him guilty of culpable homicide, and he was sentenced to five years in prison. He also received a three-year suspended sentence for reckless endangerment.
Pistorius was released from prison after serving just one year. Authorities later overturned the verdict and issued a sentence for murder instead, bumping his prison time up to an additional 13 years and five months. The athlete could potentially stay behind bars until 2030; however, he is eligible for parole in 2023.
Pistorius is also known as the "Blade Runner." Both of his legs were amputated when he was an infant, and he started running as a teenager. He won a gold medal during the 2004 Athens Paralympics, according to Biography. In 2012, he started running against non-disabled athletes and was the first amputee to compete in Olympic track events.
Shannon Richardson mailed poison-laced letters to President Obama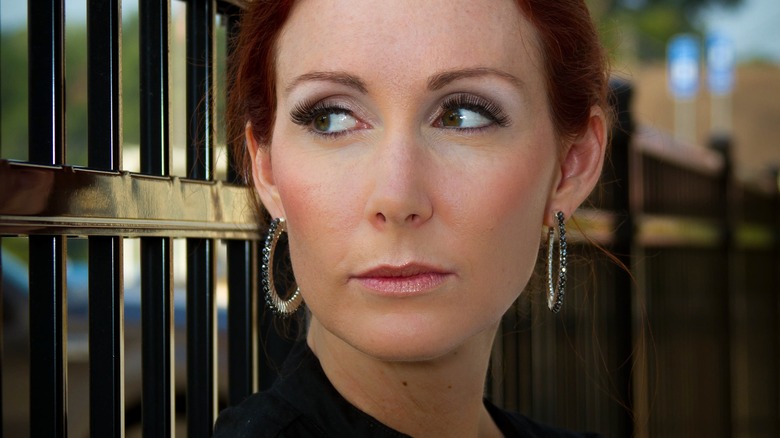 Leslie Morris/Getty Images
In 2013, actress Shannon Guess Richardson, known for her role on "The Walking Dead," pleaded guilty to developing, producing, possessing, and transferring a toxin with the intent to use it as a weapon, according to the Texarkana Gazette. She mailed threatening, poison-laced letters to then-president Barack Obama and two other people. Richardson bought supplies for the plot using a credit card and account under her husband's name, and she made the poison ricin using castor beans in the home she shared with her husband and four children. She was also pregnant while making the concoction.
She mailed the letters to Obama, New York mayor Michael Bloomberg, and a man named Michael Glaze, who was employed by Mayors Against Illegal Guns. The FBI collected and examined all of the correspondence. Richardson wrote about gun control in the letters and tried to set up her husband for the crime by planting evidence in his car and lunchbox. Despite her attempt to frame him, she was arrested in 2013 and eventually given an 18-year sentence.
Richardson is serving time in a federal prison in Forth Worth, Texas, and could be released in 2029. She is not eligible for parole.
Kidd Creole stabbed a stranger to death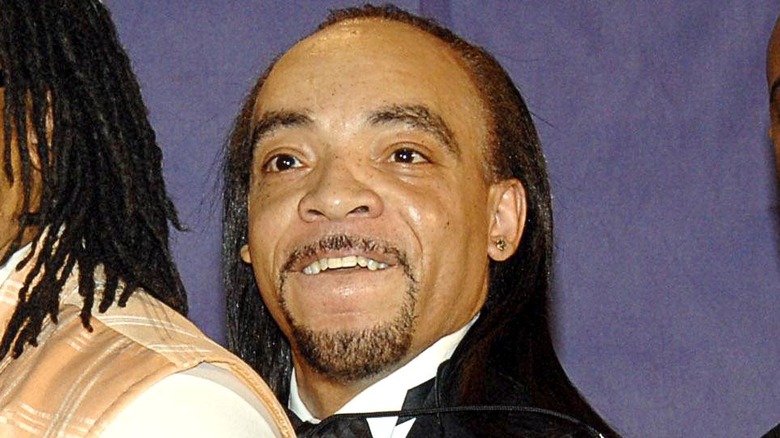 Shutterstock
Nathaniel Glover, aka Kidd Creole, is a founding member of hip-hop group Grandmaster Flash and the Furious Five, and he is currently being held at the Vernon C. Bain Correctional Center in the Bronx. He has been there since 2017 and has yet to go to trial, according to The Source. Glover, 61, was arrested and charged with murder in the second degree after stabbing a man named John Jolly in the chest. Glover and Jolly, a registered sex offender, had an altercation in midtown Manhattan.
During an interview in March 2021, Glover was eager to tell his side of the story. He has previously been labeled as homophobic but insisted he merely acted in self-defense and disputed reports that he had problems with the LGBTQ community. Glover claimed he was minding his own business when Jolly aggressively pursued him and appeared to have harmful intentions. Glover initially thought Jolly was trying to pick him up before the latter began to follow him. He is still waiting for a trial date and is struggling to stay positive.
He explained, "I'm suffering. I'm locked in a room 24 hours a day, 7 days a week, day in, day out, not knowing what my fate is going to be because my case is dragging on. It's very difficult for me right now."
NFL Star Sam Hurd led a double life as a drug trafficker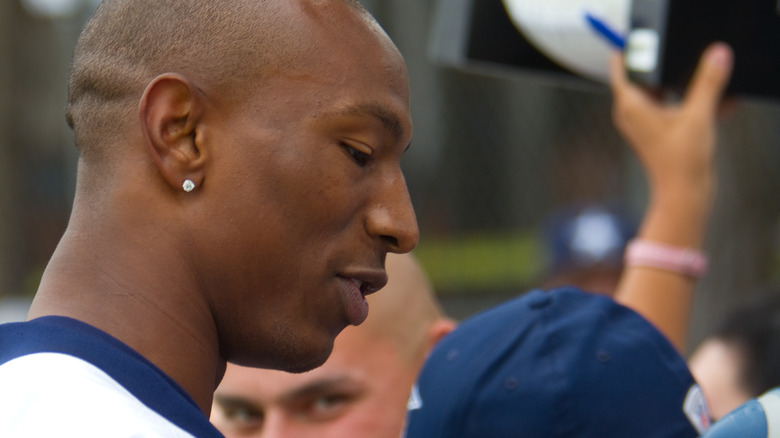 Shutterstock
Many people may not remember Sam Hurd, who was a wide receiver for the Chicago Bears and Dallas Cowboys. However, he was involved in some extracurricular activities that make him hard to forget. When he wasn't playing football, the athlete was running a drug ring. In fact, he was moving a whopping four kilos of cocaine, which cost $100,000, each week, according to Sportscasting.
Hurd sold the drugs to make a profit, and he had a partner and a fleet of vehicles to move the cocaine wherever it needed to go. In 2011, he revealed to an undercover officer that he wanted to boost his supply by up to 10 kilos per week in addition to 1,000 pounds of marijuana, which would have given him an overhead of $2 million a month. The information he divulged was enough for an arrest.
In 2013, Hurd was sentenced to 15 years in prison for purchasing and trafficking drugs in Chicago. He was just 28 years old. Before his arrest, he had signed a $5 million contract with the Bears, so he gave up a lot of cash after he was busted for drug running.