A Look At Frida Kahlo's Sad Childhood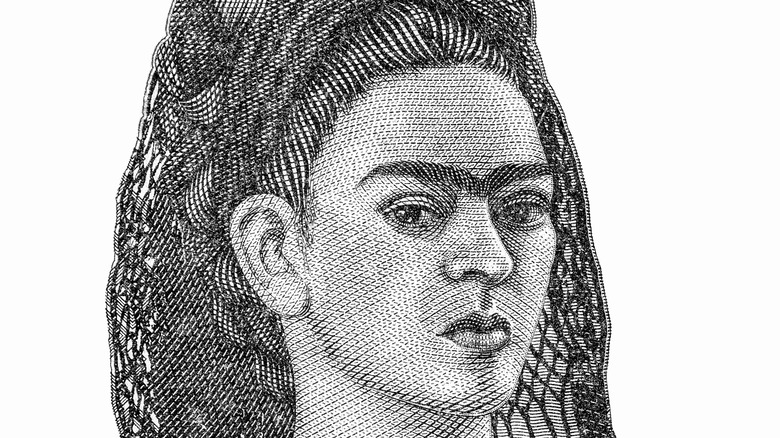 Shutterstock
Frida Kahlo painted some of the most arresting paintings, which are now considered national treasures in Mexico. Most people remember her for her distinctive look. While her adult life was nothing short of tragic, especially her volatile marriage to Diego Rivera, her difficult childhood shaped much of her personality.
According to The Art Story, Kahlo was born outside Mexico City in 1907 to a German father and Mexican-Indian mother. Her mother set strict rules for Kahlo and her four other sisters. She had two older half-sisters raised in a convent, and her mother was very religious.
She contracted polio at 6 years old, and she had to be isolated from her sisters and other children. The Frida Kahlo website noted she had always been in poor health as a child, but polio made things harder for her. Kahlo was bedridden for nine months and the disease left her with a limp. Polio made her right leg and foot grow thinner than her left, and Kahlo chose to wear skirts for the rest of her life to hide her legs.
One good thing to come out of Kahlo's childhood bout with polio was a closer relationship with her father. Those nine months she spent led her father to teach Kahlo about art. Her father was a photographer and encouraged his daughter to sketch and put her feelings into images.
Kahlo's father also encouraged her to play sports to recover, including wrestling, which was not common for girls at the time.
A reputation for being outspoken and brave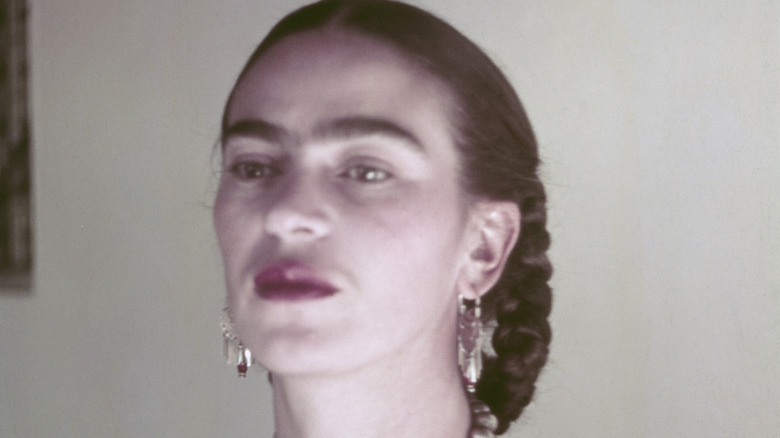 Michael Ochs Archives/Getty Images
At 13 years old, Frida Kahlo enrolled at the German College in Mexico. Even though her sisters were all educated in a convent school, her parents, particularly her father, wanted Kahlo to have an extensive education.
What were supposed to be lessons about the German writers and philosophers that inspired her father may have turned into something else. Vanity Fair reported a gym and anatomy teacher took an interest in Kahlo and may have had a "physical relationship" with her.
The purported relationship continued until Kahlo's mother discovered compromising letters. The Kahlos pulled their daughter from the German college and put her in the National Preparatory School, where she was one of only 35 girls in a school of 2,000 students.
Kahlo developed a reputation for being outspoken and brave in front of instructors, said the Frida Kahlo website. At the school, Kahlo first met her future husband Rivera, who was commissioned to create a mural on the campus grounds. Kahlo told a friend while watching Rivera paint that she will marry the artist one day and bear him a child. She was 15 at the time, and Rivera was already 36 years old.
While studying at the national school, Kahlo fell into a group of left-leaning students, explained Biography. They called themselves the Cachuchas, and they formed much of Kahlo's rebellious spirit and inspired much of her art later on. Kahlo also met a boy in the group.
Frida Kahlo's life-changing accident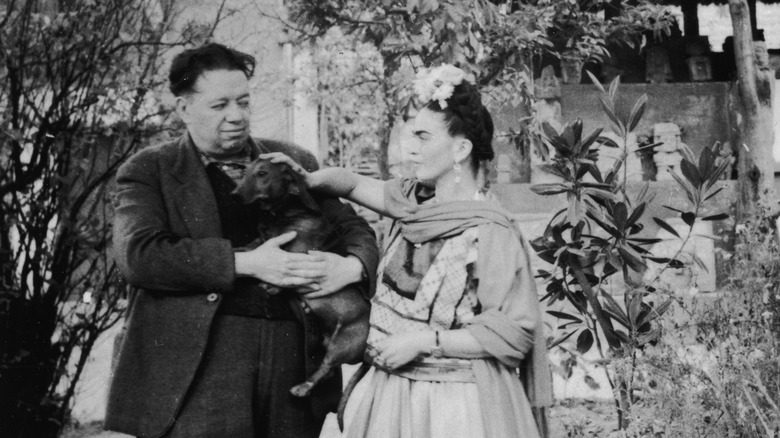 Hulton Archive/Getty Images
Frida Kahlo's first boyfriend, per Biography, was another student named Alejandro Gómez Arias. Reportedly, the two were often separated because of the political unrest in Mexico at the time. And with her parents disapproving of the relationship, Kahlo and Arias often wrote passionate letters to each other.
On one of the days Arias and Kahlo actually saw each other, they decided to board a bus. It was September 1925, and the two were coming from school on a gray, overcast day. But as the rain fell, the bus driver had a hard time controlling the vehicle, and it crashed while avoiding an electric streetcar.
Several passengers died immediately, but Arias escaped with only minor injuries. Kahlo, though, did not fare as well. An iron handrail impaled Kahlo through her pelvis. The Art Story said she suffered multiple fractures, a crushed pelvis, and injuries in her womb. Once again, Kahlo was bedridden. She spent months in bed and had to be fitted with a tight plaster corset. This caused her to abandon her dreams of becoming a doctor.
To help her deal with the injuries, Kahlo's parents set up a special easel while she was in bed, with the idea to allow her to work through her trauma. It was this near-fatal accident that helped Kahlo develop her signature artistic style.
Frida Kahlo eventually recovered enough to start leaving her room. She met Rivera again and the rest, as they say, is history.