How Much Arnel Pineda Is Really Worth
Gabe Ginsberg/Getty Images
From a young age, Arnel Pineda knew that whatever he did with his life, he would do it singing. According to his biography on his official website, the Filipino rock singer knew as a teenager that his voice was his "key to survival," and he joined his first band, Yjoz, in 1982, when he was just 15 years old. Since then, he has come a long way from his early life on the streets, selling scrap metal to eke out a living. Four years after forming Yjoz, the band — renamed AMO — was champion of the Philippines' Rock Wars contest, and two years after that, he was awarded Best Singer at the Yamaha World Band Explosion.
As it turned out, nothing was going to stop Arnel from realizing his dream, and in 2007, that dream came calling. After seeing him sing covers of Journey songs on YouTube, guitarist Neal Schon tracked him down and convinced him to fly to the United States to audition with the band. In December of that year, Journey made the official announcement that Arnel Pineda was going to join them as their new lead singer. He has been rocking with his childhood heroes ever since. So just how well has achieving his dream paid off? Let's take a look at Arnel Pineda's net worth and see.
Arnel Pineda never stopped believing, and now he's loaded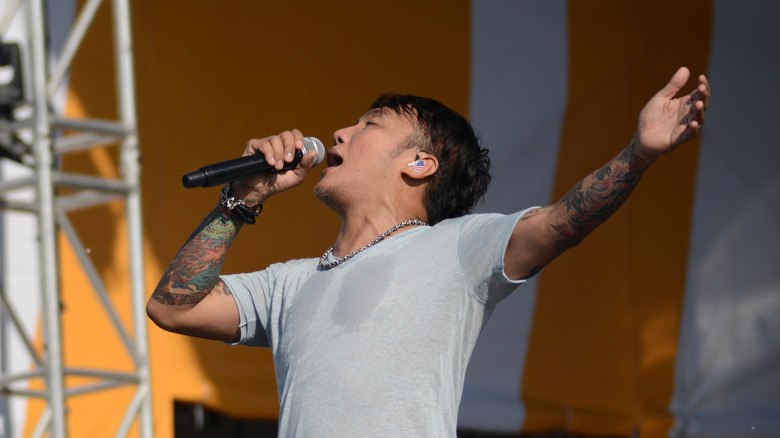 Shutterstock
Arnel Pineda became an instant success at the head of Journey. Fans and critics alike noted the extent of his vocal range and the similarity of his voice to that of original frontman Steve Perry. And realizing his dream has paid off handsomely for Pineda. According to Celebrity Net Worth, after more than a decade of singing with his favorite musicians, his net worth is now $20 million.
The move also paid off for Journey. They pulled in more than $35 million on their first tour with Pineda in 2008. Journey also released a new album that year. Featuring both new originals and past classics, "Revelation" became Journey's first platinum album in over a decade. The band went on to play the Super Bowl halftime show the following year (but what the performers make might actually surprise you).
Pineda has used some of that fortune to give back to his community and help young people in similar situations to those in which he struggled as a kid. The Arnel Pineda Foundation now works with underprivileged children in the Philippines, helping to provide them with a quality education, medical care, and other health services.