Sebastian Stan's New Pam & Tommy Photo Sets Internet On Fire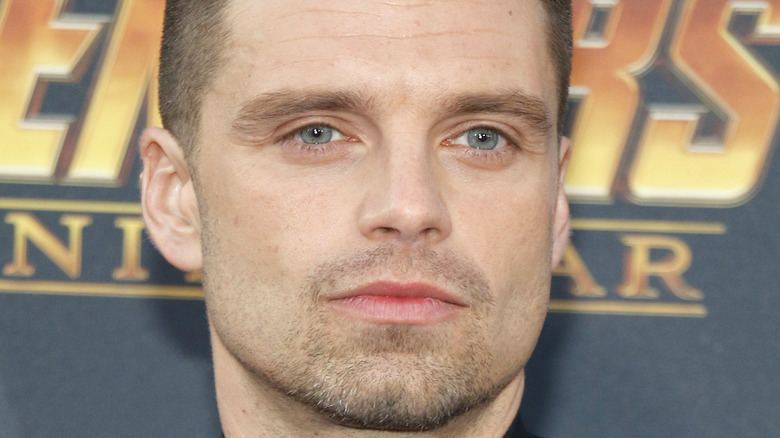 Shutterstock
Mötley Crüe drummer Tommy Lee and "Baywatch" beauty Pamela Anderson's relationship was the hottest thing going in 1995 after the pair seemed to couple up out of nowhere and get married 96 hours after they first met, according to Deadline. The rock star and the Playboy playmate's fiery romance didn't last long before a videotape of the couple having sex on a boat was stolen from their home and leaked to the public, and unless you lived under a rock, you either saw it or you heard about it. 
Various lawsuits were launched, settled or decided, but the video would live on as the first-ever viral celebrity sex tape, per Variety. Now, a new eight-episode limited series based on the couple's relationship and the leak of the sex tape, called "Pam and Tommy," is in the works for Hulu, and sneak peaks posted to Instagram by the actors playing Lee and Anderson are freaking the internet out because they're so. spot. on.
Stan Sebastian seems to embody Tommy Lee in set photos
Sebastian Stan, who plays Tommy Lee in the upcoming mini-series, posted a photo of himself as Lee on May 30, and it has already garnered nearly 2 million likes. Somehow Stan, known more for roles like Captain America, managed to not just capture Lee's look in the photo, but also his attitude. In the photo of Stan, he's dressed simply in black high top Chucks, no shirt, and an apron that says, "Kiss da Cook," but it's that facial expression that makes you do a double take. 
Stan isn't the only one in the film that is really embodying the real life character they're playing. British actress Lily James, who played Cinderella in a Disney live adaption of the movie and known as Lady Rose MacClare in "Downton Abbey," channels her inner blond bombshell as Anderson, which she shows off on her own Instagram page. 
Other set photos posted to Instagram by Stan show him twirling a drum stick in his fingers, a-la Tommy Lee, and another of Stan and James together as Lee and Anderson with Anderson gently tugging on his nipple ring with her teeth, just the way we remember them. 
According to Cosmopolitan, there is no official release date yet for the mini-series, but it's expected to drop sometime later in 2021.