Jimmy Page Once Lived In The Home Of This Occultist
Watal Asanuma/shinko Music/Getty Images
Famed Led Zeppelin guitarist Jimmy Page once owned the house of infamous occultist Aleister Crowley. Page bought Boleskine House, which was located near Scotland's Loch Ness, in 1971 (via Rolling Stone). Crowley lived there in the early 1900s, but the house had a dark history even before Crowley took possession of it. According to Rolling Stone, Page said that "the bad vibes were already there" before Crowley. There had been a church on the site that "burned to the ground with the congregation in it," he explained. A beheading also happened there, and the severed head reportedly could still be heard rolling around (via The Scotsman).
Page's interest in Crowley drew him to the possibly haunted property. He collected Crowley memorabilia (via The National) and owning Crowley's former home brought him closer to the controversial figure.
Born in 1875, Crowley was called "the wickedest man in the world" by the press (via National Trust). His interest in black magic, his philosophy of free will without any limits, and his sexual appetites unsettled many of his contemporaries. Crowley wrote philosophical works inspired by ancient Egyptian and Asian ideals and practiced rituals that involved animal sacrifice (via The Guardian). Page's fascination with Crowley led others to believe that the famed guitarist might also a Satanist, and Page hasn't directly commented on this rumor (via Rolling Stone). He did tell the magazine that he didn't want to "go on about my personal beliefs or my involvement in magic."
Jimmy Page owned Aleister Crowley's haunted estate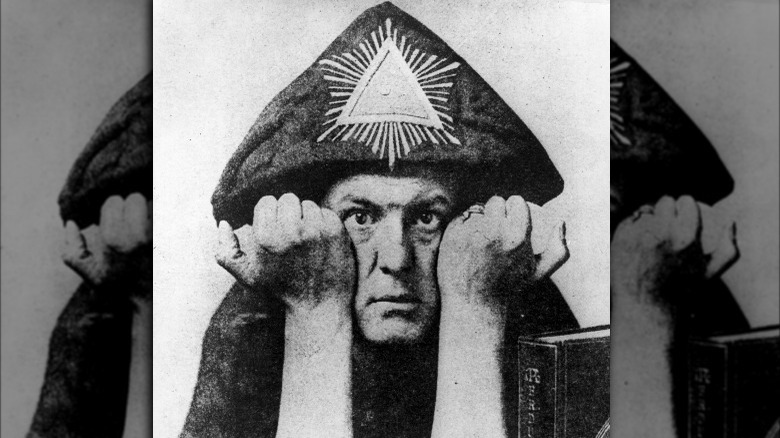 Keystone/Getty Images
In 1899, Crowley (pictured above) bought Boleskine House as a place for him to perform his dark arts (via The National). He believed that it would take six months of celibacy and being sober to fully prepare the site, but he couldn't quite take a break from his vices for that long. Crowley, however, did still manage to call forth some dark spirits. "The demons and evil forces had congregated round me so thickly that they were shutting off the light," Crowley once wrote (via The Guardian). Perhaps these forces may have contributed to the tragedies that occurred while Crowley owned the property, including the mysterious deaths of the lodge keeper's two children (via The Scotsman).
According to The National newspaper, Page reportedly conducted a ritual at the house based on Crowley's work with the other members of Led Zeppelin (except for John Paul Jones) to bring them success. But only a string of bad luck followed, including Robert Plant and his family getting in a serious car accident. Still, Crowley had an influence on the group. Crowley's motto of "Do what thou wilt" (via National Trust) can be seen inscribed on the band's "Led Zeppelin III" album (via Discogs).
Page held on to the property until the 1990s, once telling Rolling Stone that his main attraction to the place was "the unknown." Today, there are efforts underway to restore Boleskine House after two separate fires damaged the house in recent years (via BBC).