The Truth About The Men Suspected Of Killing Whitey Bulger
James Joseph "Whitey" Bulger was beaten to death in West Virginia's Hazelton federal prison on October 30, 2018. The Mob Museum reports at the time of his death, Bulger was serving two life sentences for a total of 31 crimes, including extortion, money laundering, racketeering, and murder.
As reported by The Mob Museum, Whitey Bulger was one of Boston's most "successful" organized crime bosses. Beginning in the 1960s, he was affiliated with a number of notorious crime families, including the Kileen gang, the Patriarca family, and the Winter Hill Gang. However, unbeknownst to his associates, Whitey was also working with the FBI.
In the mid-1970s, Whitey Bulger began working with FBI agent John Connolly, who was a former classmate. Although he provided Connolly with valuable information about Boston's crime syndicate, Bulger's own involvement in organized crime reportedly never waned. By the early 1990s, Bulger was suspected of dozens of crimes ranging from drug and weapons trafficking to murder.
By December 1994, a task force comprised of the Boston Police Department, the Drug Enforcement Agency, and the Massachusetts State Police gathered enough evidence to indict Whitey Bulger on nearly 50 criminal charges. However, as reported by The Mob Museum, FBI agent John Connolly informed Bulger of the imminent arrest and he managed to evade capture. Whitey Bulger was on the run for nearly 17 years prior to his arrest on June 22, 2011.
Whitey Bulger's death and the men suspected of killing him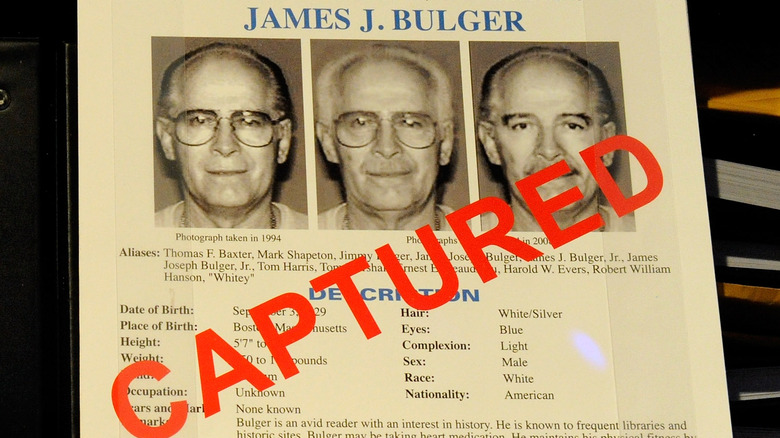 Ethan Miller/Getty Images
Whitey Bulger served time in a number of federal prisons. However, he was transferred to Hazelton federal prison on October 30, 2018. Within hours of his transfer, The New York Times reports the 89-year-old man was beaten to death "with a padlock that was stuffed inside a sock." Prison authorities said Bulger, who was in a wheelchair, was beaten to death in a corner that was not visible on the security cameras. However, cameras did capture two men moving the wheelchair prior to the attack.
Although he was never charged, prison officials believe Fotios (Freddy) Geas was one of two men responsible for the attack. Geas' longtime attorney, Daniel D. Kelly, said he has no knowledge whether his client attacked and killed Whitey Bulger, but he acknowledged that Geas "has a particular distaste for cooperators."
The Mob Museum reports Fotios Geas is serving a life sentence for a murder, which was reportedly related to organized crime. Authorities said Geas, who is a native of Boston, is a suspected "Mob hitman" who has always been vocal in his criticism of police informants. 
As reported by The New York Times, Geas and another inmate, who is also suspected of involvement in organized crime, were transferred to solitary confinement immediately following the attack. However, neither of the men were officially named as suspects or criminally charged in Whitey Bulger's death.