The Messed Up True Story Of The Mexican Ripper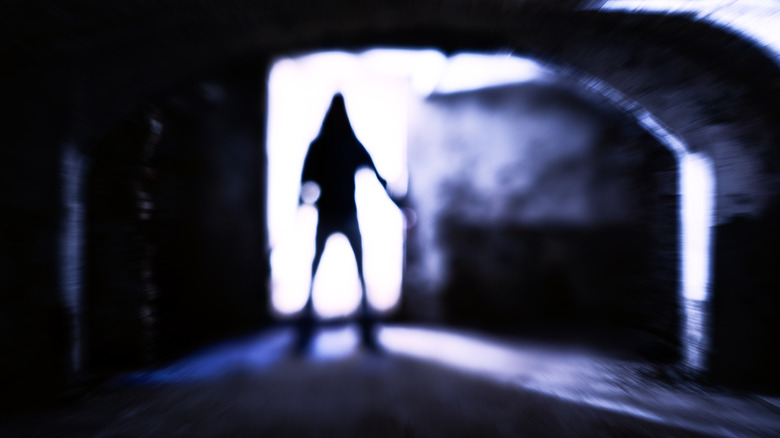 Shutterstock
In the late 19th century, while Jack the Ripper was terrorizing London's East End, a serial killer was on an almost identical killing spree over 5,000 miles away. Francisco Guerrero Pérez, who has since been called the Mexican Ripper, El Chalequero or the Consulado Strangler by historians and true-crime fans, reportedly killed more than 20 women in Mexico City from 1880 to 1908 and has the dubious honor of being Mexico's first recorded serial killer. Like Jack the Ripper, Guerrero Pérez targeted prostitutes, and criminologists believe that both men were motivated by a desire to punish those women who had occupations that were considered sinful. However, unlike Jack the Ripper, Guerrero Pérez made little effort to hide his identity, which eventually helped investigators arrest him.
According to a paper on the subject published on Research Gate, authorities were first alerted to the serial killer when the body of a 40-year-old woman was found in the Consulado River on October 18, 1887. She had been allegedly working as a prostitute before she was brutally assaulted and then had her throat slit. After talking to locals, police were told that many such women had been either strangled or slashed and their bodies left in the river over the past seven years. Two months later, a second corpse was found just meters away with an almost identical murder profile.
Authorities were able to catch Guerrero Pérez within months
A neighbor allegedly alerted police that the Mexican Ripper was Guerrero Pérez, and he was arrested just months later in 1888. Sadly, an investigation made by the Mexican newspaper El Universal claimed that prostitutes in the area were well aware that Guerrero Pérez was a serial killer but did not approach authorities for fear of being punished due to their occupations (via Cultura Colectiva).
In addition, one of the names given to Guerrero Pérez was "Chalequero," which is widely believed to be a reference to the Spanish word for a vest, chaleco. Historians believe that Guerrero Pérez was fond of the fashion garment and did not stop wearing vests despite the fact that the serial killer moniker openly referred to his attire.
Once arrested, Guerrero Pérez went on trial and was originally sentenced to death. However, then-President Porfirio Díaz took pity on him and lowered his sentence to just 20 years. Guerrero Pérez was released in 1904 after his papers were accidentally sorted into a file that granted prisoners clemency. His freedom meant that he was able to claim the life of one last victim — another 40-year-old woman. Her body was found four years after his release, floating in the Consulado River.
Guerrero Pérez was arrested and sentenced once more and was given the death penalty again. However, he died in prison at 70 years old from a cerebral thromboembolism before his execution.