The Heart-Wrenching Death Of Liz Sheridan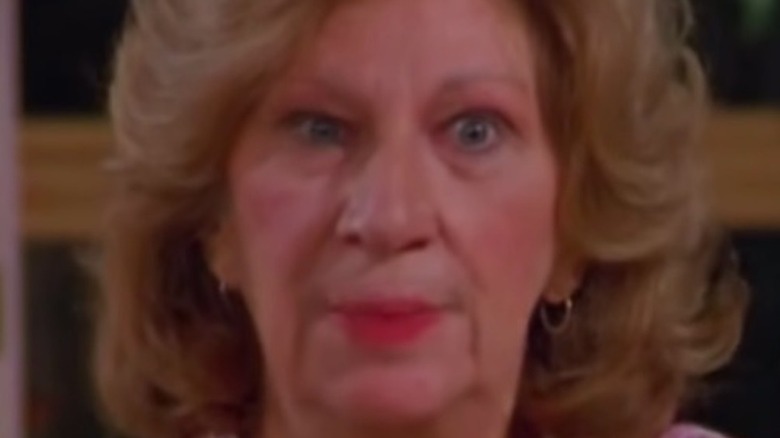 Columbia Pictures Television
Actress Liz Sheridan died on April 15, 2022, at the age of 93. Perhaps best known for her role as Jerry's mother Helen on the sitcom "Seinfeld," Sheridan had a long career as a dancer and singer as well as an actress on stage and screen. According to Deadline, she died peacefully in her sleep of natural causes shortly after her 93rd birthday.
Users have been posting their condolences on social media since the news broke. "Your presence and light will be missed! Rest In Peace," one user wrote. "Now the parents are reunited," wrote another, referring to the 2020 death of Jerry Stiller, who played George's father on "Seinfeld."
ABC News' Dave Kunz shared one of his memories of the actress: "I once saw her in the post office, not long after 'Seinfeld' had ended. I think everybody in there recognized her!"
According to her manager Amanda Hendon (via ABC News), the actress "was always very grateful to her fans and felt blessed to have enjoyed decades of work in the entertainment business."
Liz Sheridan's early life
Per IMDb, Elizabeth Ann Sheridan was born on April 10, 1929, in Rye, New York, to singer Elizabeth Poole-Jones and concert pianist Frank Sheridan. According to Metacritic, she was raised in Manhattan and worked as a singer and a dancer in New York in the early 1950s. During this time, she met actor James Dean and the two began a romantic relationship, per People Magazine. Sheridan later wrote a book about her time with James Dean, "Dizzy & Jimmy: My Life With James Dean: A Love Story," and their relationship was also detailed in the James Dean biography "Rebel: The Life and Legend of James Dean." Sheridan called her relationship with James Dean "just kind of magical. It was the first love for both of us."
Per People Magazine, Liz Sheridan and James Dean met in January 1952 at a dinner hosted by a mutual friend and immediately hit it off. According to Sheridan, they both shared a fascination with bull fighting and "he looked kind of lost. But Jimmy wasn't a rebel, and he had no cause. I think he was just shy." They lived together twice during the relationship. After his appearance in the Broadway play "See the Jaguar," Dean's career took off. "He was being hauled away into this career, and I couldn't follow him," said Sheridan.
Liz Sheridan got famous in her 50s
In 1953, Liz Sheridan moved to the Caribbean to continue dancing, singing, and playing piano and bounced back and forth between the islands and New York for a decade. She met her eventual husband, musician Dale Wales, in 1960; they married in 1985, as reported by Showbiz Cheat Sheet. 
Throughout the 1970s, Sheridan appeared in many Broadway shows, per the Internet Broadway Database. She moved to Hollywood in the early 1980s and amassed a large number of supporting roles on various television shows. She came to prominence in 1986 when she got the role of nosy neighbor Raquel Ochmonek on the sitcom "ALF." Per the IMDb, she played the role until 1990, at which point she started her eight-year run as Helen Seinfeld on "Seinfeld." Sheridan appeared in several movies in the 2000s, including 2009's "Play the Game" in which she shared a steamy scene with Andy Griffith.
She is survived by her daughter.